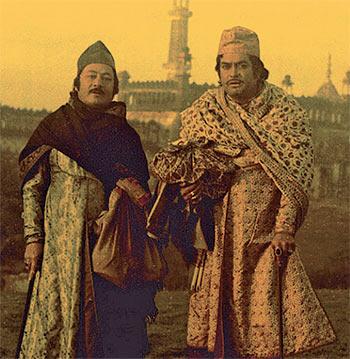 From Pakeezah to Ishaqzaade, from Shatranj ki Khilari to Umrao Jaan, the great city of Lucknow has made its way to the wonderful world of Hindi films.
The tinkle of the ghungroo, bright chandeliers, the soulful strains of the sarangi, the leathery beats of the tabla, the fragrance of incense, courtesans in rich silken graces, night-long mushaira, melt-in-the-mouth kebabs, flaky sheermal and tehzeeb that is as legendary as the mazes in Bhulbhulaiya.
String all these together and you are in the Lucknow of yore.
Unexpectedly, a song in Bobby (1973), Aksar Ek Ladki Iss Haal Mein, invokes this Lucknow.
Rishi Kapoor and Dimple Kapadia are shyly exhorting each other to say what's in their heart. At this, the 21-year-old hero remarks: 'Dekho, jis tarah Lucknow ke do nawaabon ki gaadi/Pehle aap, pehle aap... karte nikal gayi thi/Us tarah hamaari pehle tum, pehle tum, pehle tum mein yeh masti bhari rut na chali jaaye.'
It was only in royal Lucknow that a report of the pleasure loving badshah's daily activities could send the British resident into an uncomprehending fog, as shown in Satyajit Ray's Shatranj Ke Khilari (1977).
The king in question was Awadh's Wajid Ali Shah (Amjad Khan), patron of the arts, music, poetry and refined pursuits. A bewildered General Outram (Richard Attenborough) peruses how Shah spends a profitable day listening to a court singer, composing a poem on the bulbul, flying kites and attending a mushaira.
Lucknow's stories invariably end up revolving around the Revolt of 1857, which not just ended Awadh, but also a way of life. Shatranj Ke Khilari, Junoon (1978), and to a small extent Umrao Jaan (1981) show the entry of the British Raj into this city where the aristocracy had only memories of their ancestors' fights to extol. Their own swords were raised mostly in defence of their izzat, easily hurt at the breach of protocol.
Image: Saeed Jaffrey and Sanjeev Kumar in Shatranj Ke Khilari.
In Shatranj Ke Khilari, two nawabs (portrayed by Sanjeev Kumar and Saeed Jaffrey) retreat to the countryside only to be left alone in peace to play chess. The dethroning of their ruler is the least of their concerns.
True Lucknavis, they ensure an arrangement for kebabs and paranthas is in place.
In Junoon, Shashi Kapoor (playing Javed Khan, a feudal lord) is equally obsessed by his carrier pigeons and the beautiful English girl (Ruth, played by Nafisa Ali) from the family he shelters from fellow mutineers.
Umrao Jaan features biriyanis being made with enviable precision and a courtesan (played by Rekha) being trained in Kathak and Urdu poetry.
In Pakeezah (1972), the Lucknow tawaif again, immortalised by Meena Kumari, lights up mehfils with her ghazals and impeccable footwork. Her beautiful feet win her the admiration of a Lucknavi noble, who meets her inside a railway compartment.
Modern Lucknow, as the capital of Uttar Pradesh, is yet to create such legends. But the city has begun to find a place in films again, now that a certain kind of gangster chic is in vogue.
In recent times, Lucknow has played home to SSP Ajay Kumar (Arshad Warsi) fighting organised crime (Sehar, 2005) and to the young protagonists caught in the web of feuding families in Ishaqzaade (2012).
Saif Ali Khan's Bullet Raja (2013) is the latest addition to the list of gangster thrillers filmed in the city of nawabs.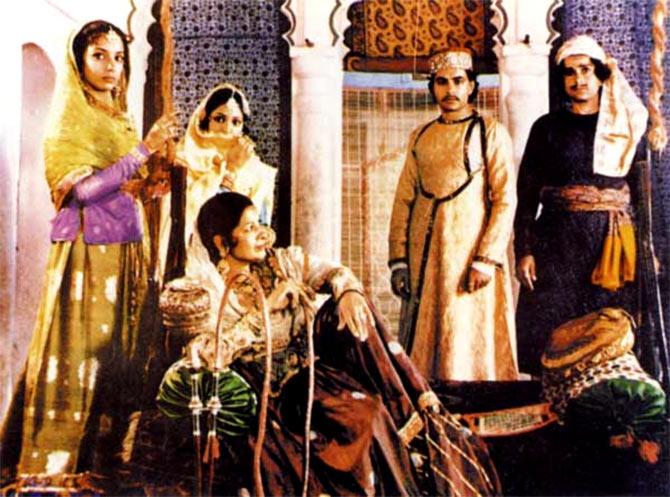 Image: Shabana Azmi, Deepti Naval, Sushma Seth (sitting) and Shashi Kapoor in Junoon.
Lucknow's reputation as a city of culture, gracious living and rich cuisine has continued to this day, promoted in no small measure by Hindi films. Liberally sprinkled with Raj-era buildings -- including the famous Residency -- and boasting two superb imambaras (Shia shrines), it is a pleasant trip into history.
Eating out is a major highlight, especially for the kebab lover.
A slice of the Empire in India, the Lucknow Residency is where General Outram (Attenborough), in Shatranj Ke Khilari, plots the death of Awadh.
'Are his poems any good?' he asks the Urdu-speaking officer (Tom Alter), and complains that having to be hugged by the king makes his uniform reek of attar for weeks.
It was such attitudes that led, among other factors, to the Revolt of 1857. The fury of this armed uprising is seen in Junoon.
Today, the large collection of gardens and ruins that makes up the Residency offers a fascinating historical glimpse of the beginning of the end for the British Raj.
Built in 1800, the Residency became the stage for the most dramatic events of the 1857 War of Independence, the Siege of Lucknow, a 147-day siege that claimed the lives of thousands. The compound has been left as it was at the time of the final relief and the walls are still pockmarked from bullets and cannon balls.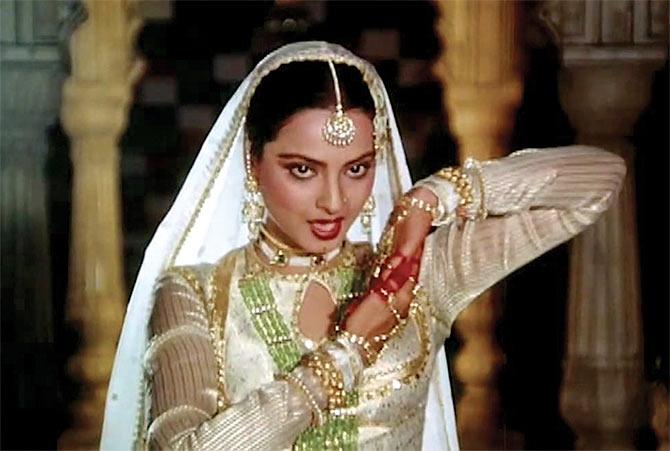 Image: Rekha in Umrao Jaan.
This tomb-cum-mosque is to Lucknow what the Howrah Bridge is to Kolkata and the Gateway of India to Mumbai.
Satyajit Ray's picturisation of its domes and minarets in Shatranj Ke Khilari is memorable.
As dawn is heralded by notes of the shehnai, Mirza Sajjad Ali (Sanjeev Kumar) and Mir Roshan Ali (Saeed Jaffrey) furtively make their way out of town so they can play chess without interruption.
Conman Ricky Bahal (Ranveer Singh) takes a bus from Bada Imambara to Hazratganj and makes his way right into the heart of Saira (Aditi Sharma; Ladies vs Ricky Bahl, 2011).
The Imambara was used as a stand-in for a Pakistani mosque in the confrontation scene in Gadar (2001), where Sunny Deol uproots a handpump and takes on hostile Pakistanis.
The colossal building is worth seeing in its own right, but the unusual labyrinth of corridors inside its upper floors make a visit to this imambara particularly special. The ticket price includes entrance to the Chhota Imambara, the clock tower and the baradari (summer palace), all walking distance from here...
A small entrance to the left of the central hall leads to the Bhulbhulaiya, an enticing network of narrow passageways that winds its way inside the upper floors of the tomb's structure, eventually leading out to rooftop balconies.
Just beyond the Bada Imambara is the unusual but imposing gateway Rumi darwaza, said to be a copy of an entrance gate in Istanbul. Over the road is the beautiful tila wali masjid.
About 500 metres beyond the Bada Imambara, through a second beautiful gateway, is another tomb that was constructed in 1832 by Mohammed Ali Shah, who is buried here, alongside his mother. Smaller than the Bada Imambara but adorned with calligraphy, it has a more serene atmosphere.
Getting lost in the maze of alleyways in some of the city's older districts is a highlight of a trip to Lucknow. The bazaars in these tight lanes, overlooked by centuries-old buildings, are where traders have made their livings for generations.
One great area to explore is Aminabad; take a rickshaw to the legendary Tunday Kebab; after dining on possibly the country's greatest mutton kebabs, step out into the lanes and get lost.
Chowk, northwest of here, is even older and more chaotic. Everything, it seems, is made and sold here -- from the thin edible silver foil that sweets are wrapped in, to chikankari.
Excerpted from Filmi Escapes -- Travel with the Movies, with permission from Lonely Planet Publication Pvt Ltd.