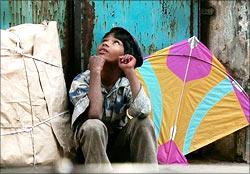 A stirring film about reconciliation and healing set amidst India's biggest kite festival in Ahmedabad,
Patang
was declared the Best Film at the South Asian Rising Stars Awards in New York.
It beat
Kahaani, Vicky Donor, Corrode
and
Gattu.
Patang'
s director Prashant Bhargava, who grew up in Chicago, also won in the Best Director category triumphing over Sujoy Ghosh (
Kahaani,
which received a Best Screenplay award), Karan Gour (
Corrode
), Shoojit Sarkar (
Vicky Donor
) and Gurvinder Singh (
Alms for a Blind Horse
).
The awards were given by the South Asian International Film Festival (SAIFF) which is holding its ninth edition running through October 31.
The evening also honoured Kabir Bedi, stage and theatre actor whose hits include the benchmark Italian TV series
Sandokan.
When he heard from SAIFF that he was being given an award, Bedi says he wondered why he was being considered for awards meant for rising stars. "May be I have always been a rising star," he quipped.
Prashant Bhargava and his producing partner, Jaydeep Punjabi, have been taking Patang across America and Canada, showing it in city after city in commercial movie theatres, for the last 10 months.
The film has received glowing reviews from The New York Times and several other mainstream publications and a fabulous rave by the widely syndicated Chicago Sun Times critic Roger Ebert.
"But getting recognition from our own media is very very important to us," said Bhargava. "We want many more Indian Americans and Indians in Canada to see our film in the theatres and take their American and Canadian friends along. Word of mouth is very important for a film like this as we have hardly any budget to advertise it."
The films were chose by a five-member jury headed by TV personality Rajeev Masand and included TV and stage actor Maulik Pancholy (NBC comedy Whitney, and also the NBC series 30 Rock) and singer and actress Janina Gavankar.
Gavankar confessed she had thought it would be an easy job to select her best film but found many compelling films. She had a new 'schooling' in South Asian movie aesthetics, she said.
The SAIFF gala evening saw the best actor award going to Nawazzuddin Siddiqui for Gangs of Wasseypur 2 and Humaina Malik for Bol.
Other winners included best supporting actor/actress for Parambrata Chatterjee (Kahaani) and Huma Qureshi (Gangs of Wasseypur 2), and best composer (Sneha Khanwalker, Gangs of Wassepur). Khanwalker's competitors included Anurudh Ravichander (3) and Amit Trivedi (Trishna).
SAIFF is a non-profit organisation that exhibits films from South Asia (ie India, Pakistan, Sri Lanka, Bangladesh, and Nepal) and within the Indian diaspora.