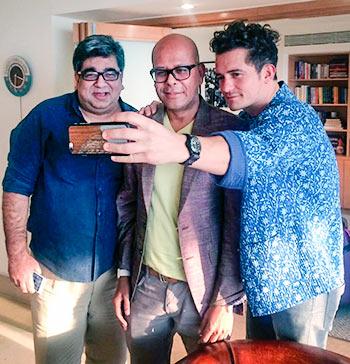 Prime Minister Narendra Modi's sartorial tastes seem to have found favour in Hollywood.
Pirates Of The Caribbean actor Orlando Bloom, who spent a quiet Christmas weekend in India, expressed a desire to own jackets like the ones worn by Modi.

Designer Narendra Kumar was summoned to producer Sheetal Talwar's residence in Mumbai, where Orlando was a house guest.

Apparently, Orlando has ordered what he calls 'Modi jackets' in as many colours as possible.

Talwar confirms, "Yes, Orlando wanted the kind of jackets our prime minister has made famous across the world. I called Narendra Kumar home, and we are getting around 10-12 of those jackets in different colours custom-made for Orlando."

The British actor left India on Sunday. His jackets will follow as soon they are are ready.
In the picture: Sheetal Talwar with Narendra Kumar and Orlando Bloom.