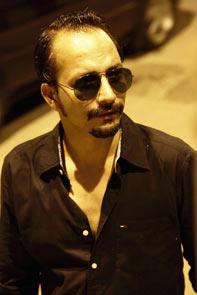 After Dabbang 2, Deepak Dobriyal will be seen in Prem Ratan Dhan Payo with Salman Khan and Lollypop since 1947, where he plays a common man.

Ajay Devgn was one of the first Bollywood actors to play a character modelled on Aam Aadmi Party leader Arvind Kejriwal. The film, Prakash Jha's Satyagraha, starred Amitabh Bachchan, Kareena Kapoor, Manoj Bajpai and Arjun Rampal in pivotal roles.
Now, it is the turn of the talented actor Deepak Dobriyal.
In the political satire, Lollypop Since 1947, Dobriyal has been cast as an aam aadmi, an ordinary man, who becomes a political force to reckon with.
Dobriyal, whose character is closely modelled on Kejriwal, says: "I play a salesman who becomes a Member of Parliament. It's a character that every Kejriwal supporter will immediately recognise."

Dobriyal, who injured his eye badly in an accident last year, says the role required immense preparation, especially since it is being made by a member of a political family.

"The film is being directed by Anirudh Chautala, who is former Haryana chief minister Devi Lal's grandson.

"Lollypop Since 1947 has a very clear wake-up message for the masses. It's very close to what Arvind Kejriwal has attempted to put forward."

Deepak's next film is Sooraj Barjatya's Prem Ratan Dhan Payo, in which he says he has a substantial role.

"Salmanbhai's company is lucky for me. I had just a few scenes with him in Dabangg 2. But commuters to this day stop my car at the traffic signal and call me 'Gainda Bhai', my name in Dabangg 2."

Apparently, Salman Khan was so impressed with Deepak during the shooting of Dabangg 2 that he wanted Deepak's role to be extended.

The actor laughs, "We had already shot my closing scene in Dabangg 2, where I get my head shaved off. So I couldn't shoot any more. But this time, in Soorajji's film, I'll have a lot more scenes to shoot with Salmanbhai."