Sanskaari censor board makes a comeback...
Three biggies come together for a sports pic...
Subhash K Jha's Bollywood buzz.
IMAGE: Varun Dhawan in the song Suno Ganpati Bappa Morya from Judwaa 2.
David Dhawan, it seems, crossed the "limits of decency" (and I quote a censor board source here) when he got son Varun to play Lord Krishna in a Judwaa 2 song playing the -- no, not the flute -- but the saxophone.
Outraged, the censors clamped down on David's "harmless fun" (as the film's team describes it).
Says a source close to the film, "It was all in fun. In a song-and-dance sequence Varun dresses up as Lord Krishna and plays the saxophone. The censor board has asked all the shots of Varun as Lord Krishna are to be removed."
To David's shock, the censor board accused him of hurting religious sentiments.
'How can your son play Lord Krishna?' they argued, forgetting that the BJP's blue-eyed boy Akshay Kumar had played Lord Krishna in Umesh Shukla's OMG: Oh My God.
'And how can Lord Krishna play the saxophone? It's blasphemous!' the censors declared, leaving Dhawan and producer Sajid Nadiadwala no choice but to remove the ostensibly offensive references.
"You can't cast any actor as Rama or Krishna," a censor board source tells me on condition of anonymity.
"Human beings can no longer play God."
Unless you are Akshay Kumar.
***
Akshay, Salman, Karan team up for sports biopic
Photograph: kind courtesy, Akshay Kumar/Instagram
Akshay Kumar, Salman Khan and Karan Johar's proposed historical on the Battle Of Sargarhi has fallen through.
But the team has not disbanded. Very reliable sources tell me that the super trio will reunite for another film.
Says the source, "It was felt by them that a historical may not be the right vehicle for the historic coming together of the trio. They will now do another film, most probably a sports biopic which will star Akshay as planned. Karan and Salman will co-produce the film, again as planned."
The sports film won't be about cricket or hockey as the team feels enough has been written about those games.
***
No kissing for Tom Cruise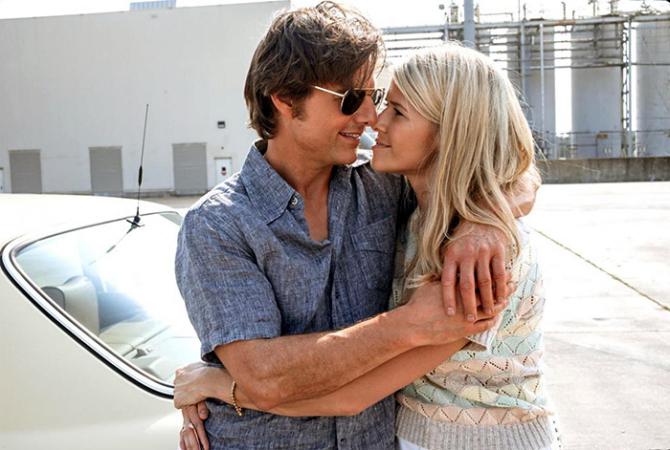 IMAGE: Tom Cruise and Sara Wright in American Made.
If everyone thought extended smooching would now be permissible after Pahlaj Nihalani's exit from the censor board, think again.
For, if sanskaari Pahlaj forbade Daniel Craig from kissing Monica Bellucci for an extended time in Spectre, Tom Cruise's steamy kiss with Sara Wright has just been "seriously curtailed" in Doug Liman's American Made.
Sources say Tom's torrid smooch with Sara has been served a sanskaari slap on the lips.
The censor board -- with Prasoon Joshi as chairman -- has cut the smooch and accompanying love-making scenes by "50 percent".
After a heated discussion on the steamy smooch, sources tell me, the censor board members decided that the kiss was unnecessarily prolonged.
Or as a source aware of the development put it, "Tum Tom Cruise ho toh apne ghar mein jo karna hai karo (So what if you are Tom Cruise, do what you want at your home)."
So if Danny couldn't kiss for long during Pahlaj's tenure as censor bossman, Tom's smooch gets trimmed on Prasoon's watch.