Netflix, Amazon Prime gain market share at the cost of Indian platforms Hotstar, VOOT, Jio Cinema.
Yuvraj Malik reports.
Illustration: Dominic Xavier/Rediff.com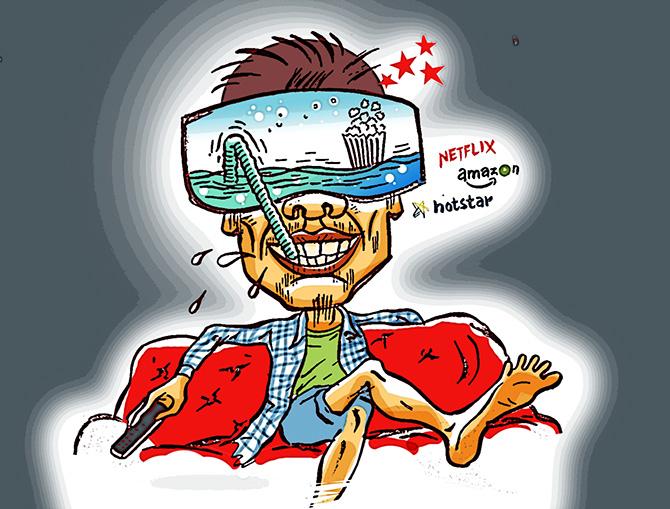 Just like the smartphone segment, the video streaming space (also known as OTT or over the top) in the country is witnessing a fierce fight between indigenous and global players with the latter gaining a stronger foothold in the domestic market.
According to the latest data, Netflix and Amazon Prime Video, two of the dominant players globally, have steadily grown their market share in the country this year at the expense of local firms such as market leader Hotstar, Jio TV and Jio Cinema.
Los Gatos, California-headquartered Netflix saw its market share grow to 6.3 per cent till October from a mere 0.5 per cent as in the beginning of the year.
Amazon Prime Video's share grew more than two-and-a-half times to 10.8 per cent from 4 per cent, according to KalaGato, a market intelligence firm.
The figures are based on installed user base derived from a sample of over one million unique smartphone users.
Viewership over mobile comprises 83 per cent of the total video consumption online, according to Comscore.
As Indian users took to cheaper smartphones and faster and cheaper data, backed by a wave of Internet proliferation of sorts triggered by Reliance Jio, the demand for video OTT platforms has also shot up.
Local audience, like their counterparts in the developed markets, are also opening their purse strings for video subscription services.
A telling statistics is that over two dozen OTT services have sprung up only in the last 18 months. This includes offerings from leading media houses like Balaji Telefilms (Alt Balaji), Viacom 18 (VOOT) and ZEE Media Corp (ZEE5).
While Netflix and Amazon Prime Video, which launched services in India in 2016, have an early mover advantage, as their growth is primarily seen being driven by their expansive content library and superior product experience built on a trove of data and insights from operations in other geographies.
"There are two to three factors that drive this. One is the range of content and titles they provide owing to their access to deeper and broader content, with them being global players. The second differentiation is technology and user interface: How good their recommendation engines are, how they are able to anticipate and predict what the consumer wants, and how you present the relevant content to the consumer in an easy-to-search fashion," says Ajay Gupta, a partner at A T Kearney who looks at communications, media and technology practice at the consulting firm.
"The third driver is the creation of synergies between the e-commerce and content business, as has been in the case of Amazon. That's an interesting synergy because ultimately it's the same target audience that is internet savvy," he adds.
The fact that Amazon Prime Video comes bundled with the company's next-day delivery service has brought it huge number of users.
Netflix also signed up with Airtel wherein the telecom operator gave a three-month subscription of Netflix with every Airtel post-paid connection.
"Almost two lakh users came to Netflix through the Airtel tie-up, which was rolled out in August," says an analyst tracking the company.
Even as the overall base of users that consume on demand video streaming service is growing with more first time users coming on the internet, Indian OTT platforms seem to be not able to maintain their market share.
While Hotstar continues to the leader in the OTT space in the country, the Star India-owned company's market share has slid to 30.4 per cent as on October from 36 per cent at the start of the year.
Hotstar is the go-to platform for content from Star India's bouquet of channels like Star Plus, Sab TV and Colors TV and caters to a strong audience of sports viewers.
"OTT demand in India is growing on the back of cheaper data and smartphones, the very concept of prime time is changing as a result libraries need to be larger and cater to a broader audience than they used to," says Aman Kumar, chief business officer, KalaGato.
"The market is in a stage where users are spoilt for choice. So, all these indicates that platforms who have bigger libraries and provide quality content will win."
Jio TV and Jio Cinema, the apps that come bundled with Jio mobile connection, have also seen their market share dwindle. Jio managed a 25 odd per cent market share for Jio Cinema, its main OTT offering, by shipping it pre-installed in its low-budget Jio Phones that was launched in July 2017.
The dip in the apps installed base is because of a slowdown in Jio phone sales in anticipation of the launch of a newer model, telecom experts say.
Sony Liv is the only Indian app that registered user growth in the period under review, growing its market share from 3.9 per cent in January to 6.7 per cent in October. It had exclusive streaming rights for the FIFA World Cup that was held in June and July, and also the latest season of Kaun Banega Crorepati.