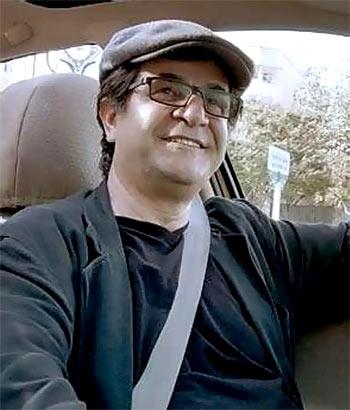 Hollywood stars had a strong presence at this year's Berlinale, but the results were mixed.

The biggest disappointment at the Berlinale is the very small representation of Indian films.
Aseem Chhabra reports for Rediff.com on the movies from the Berlin Film Festival.

How does the Iranian master Jafar Panahi watch Woody Allen's Midnight In Paris?

Well, just like other Iranians, he gets a bootleg DVD.
That little fact about life in Iran is revealed in the third feature film Panahi has made since the Iranian authorities barred him from making films.
Taxi, Panahi's delightful little film, in which the director drives a cab around Tehran giving rides to assorted characters, premiered on the second day of the 65th Berlin International Film Festival.
That Panahi, left, is able to make films at all indicates that the ban on him for his political activism has no teeth.

Since the filmmaker is not allowed to travel outside Iran, Taxi came 'unaccompanied' to the Berlinale.
His delightful and feisty 10-year-old niece Hana, who also acts in the film as a school student studying filmmaking, made it to the festival. She appeared briefly on stage after the first screening.
Taxi is one of the 19 films playing in the competition.

If a critics-scoreboard run every day by Screen International is to be believed, it is one of the front-runners for the Oscars to be handed out next weekend.
***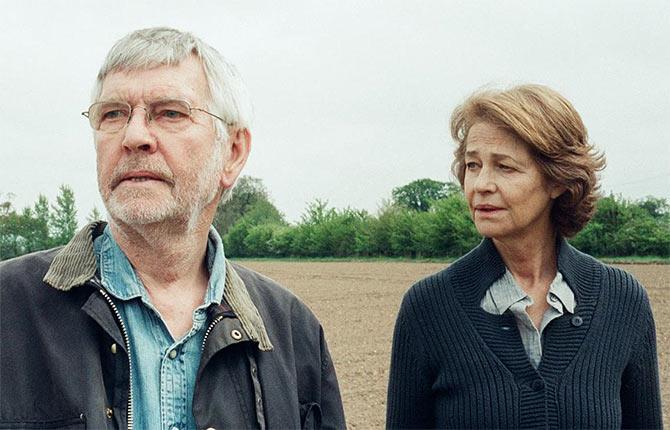 Image: Tom Courtenay and Charlotte Rampling in 45 Years.
Everyone I talked to is still mesmerised by British filmmaker Andrew Haigh's deeply felt drama 45 Years. The film examines the childless marriage of an elderly couple played by Charlotte Rampling and Tom Courtenay.
The week the couple is set to celebrate their 45th wedding anniversary (they could not mark the 40th anniversary because the husband was undergoing heart surgery), a secret from the husband's past is revealed and that puts a severe strain on the marriage.
Haigh, whose previous work includes the heartbreaking gay drama Weekend, brings warmth and depth to his quiet little film.
Rampling, who appears rarely in films, has never been better. It is a performance that has awards written all over.
If 45 Years performs well at the art-house box office, Rampling could be a front-runner for next year's best actress Oscar.
***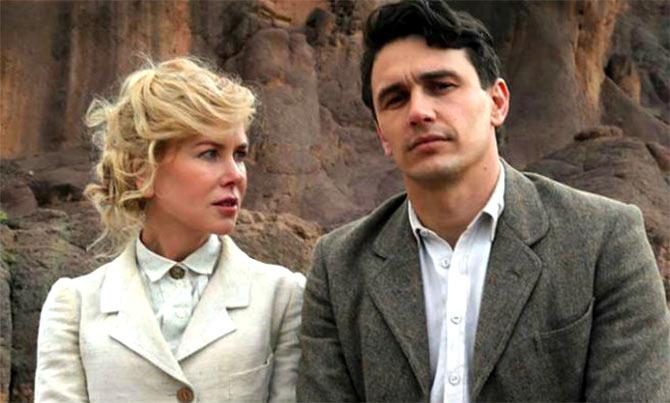 Image: Nicole Kidman and James Franco in Queen Of The Desert.
Hollywood stars had a strong presence at this year's Berlinale, but the results were mixed.
German master Werner Herzog brought his magnum opus Queen of the Desert to the festival with Nicole Kidman playing the lead role of Gertrude Bell -- a Lawrence of Arabia-like figure who is credited in the film for having demarcated the lines between Arab countries.
Herzog is very highly regarded in Germany and around the world, especially for his exceptional documentaries. But he fails miserably with the flat Queen of the Desert.
Kidman looks too old for the role and James Franco seems disinterested as her lover. The biggest shocker is Robert Pattinson who appears briefly in the film as T E Lawrence.
The role of Lawrence -- immortalised by Peter O'Toole in Lawrence of Arabia -- should never be tried by any actor now or in the future. Pattinson looks very unconvincing in the role.
***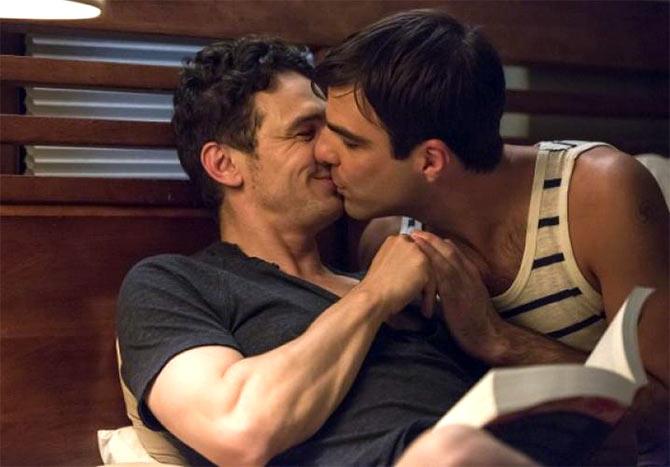 Image: James Franco and Zachary Quinto in I Am Michael.
But Franco gives a very moving performance in another film, I Am Michael.

He plays the real-life Michael Glatze, a gay rights activist living in the heady days of sex and parties in San Francisco with his partner Bennett (Zachary Quinto).
Michael has a change of heart and slowly proceeds to renounce his gay lifestyle and eventually becomes a converted heterosexual and a Christian preacher.
I Am Michael is a sad, disturbing film. Franco plays the role with a lot of conviction, charm and deep feeling.

We care for his character until the end, even though he is struggling through confusion and ends up making decisions that many consider wrong.
***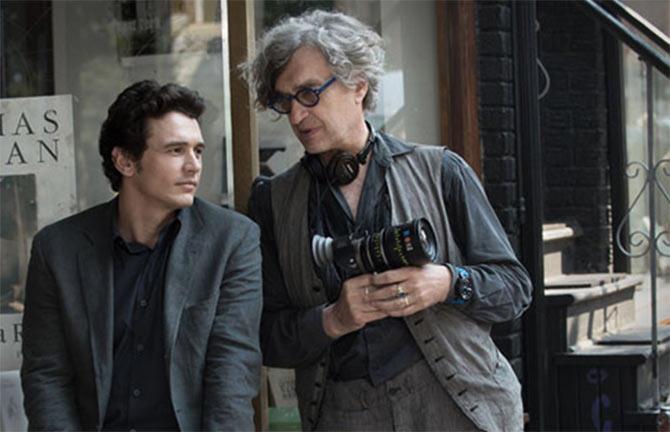 Image: James Franco and Wim Wenders in Every Thing Will Be Fine.
Franco also appeared in a third film at the Berlinale -- German master Wim Wenders's Every Thing Will Be Fine.
Like his documentary Pina, Every Thing Will Be Fine is also shot in 3D, although it is not clear why the director chose the format for a narrative film.
Every Thing works otherwise -- a very tragic story about an accident, a child's death and how it impacts the lives of many people.

Franco once again shines, playing a tormented writer living in Quebec.
Speaking at a press conference, Wenders said he was interested in making a film about healing. "There are many films about wounding others," he said. "I wanted to show how one can heal oneself."
***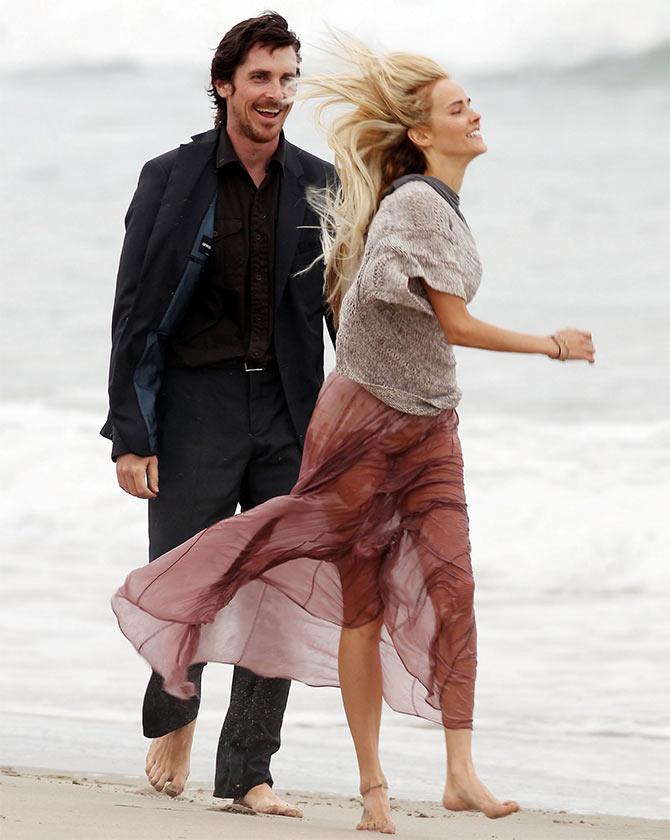 Image: Christian Bale and Teresa Palmer in Knight Of Cups.
Another Hollywood film at the Berlinale, Terrence Malick's Knight of Cups, divided critics and audiences.
Like the filmmaker's last two works, Tree of Life and To the Wonder, the new film plays with its narrative track that leaves the viewer confounded.
The film is beautifully shot by the Mexican cinematographer Emmanuel Lubezki (he is up for an Oscar for his work in Birdman), but it can be a taxing experience.
***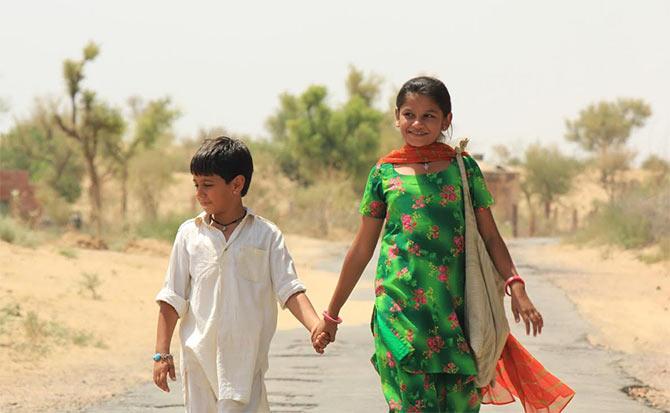 Image: Krrish Chhabria and Hetal Gada in Dhanak.
The biggest disappointment at the Berlinale is the very small representation of Indian films.

Last year there were 10 Indian films -- from Imtiaz Ali's Highway to a restored version of Satyajit Ray's Nayak and Mani Kaul's Ghashiram Kotwal.
This year there is only one film playing in the Generations section -- Nagesh Kukunoor's Dhanak.
Apparently, other new Indian films were recommended to the festival programmers too but they only selected one.
Dhanak is a children's film, about a young brother and sister travelling across Rajasthan looking for Shah Rukh Khan in the hope that he can help restore the boy's eyesight.
Dhanak proved to be popular among the German audience, especially young children who were in awe of the Rajasthani setting and asked very engaging questions.