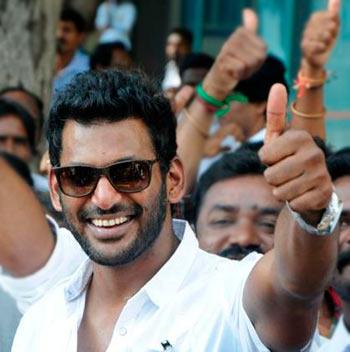 The South Indian Film Artistes Association, also known as Nadigar Sangam, conducted its high-profile elections on Sunday, October 18.
Amidst intense drama and tight security, retired Madras High Court judge E Padmanabhan guided the elections.
The current president Sarathkumar and his team, who have continued in office unopposed for three terms, nearly a decade, finally met their match in the young Vishal.
Vishal led his team -- comprising veteran actor Nassar, Karthi, Karunaas and Ponvannan, referred to as the Pandavar Team -- to a dramatic victory.
Nassar, competing against Sarathkumar, won with a margin of over 100 votes.
But it was the fight between Radha Ravi and Vishal that drew more attention.
Vishal won with 1,445 votes, while the veteran actor had to be content with just 1,138 votes.
Actor Karthi, who ran for treasurer, won with a margin of over 350 votes.
Voting began as early as 7 am at the St Ebbas School in Mylapore, Chennai. Huge crowds gathered to watch their favorite stars cast their vote. Around 300 police personnel were deployed under the direction of the Joint Commissioner of Police.
The entire film fraternity, including leading actors like Rajinikath, Kamal Haasan, Gauthami, Vijay, Arya, Sathyaraj, Prabhu, Suhasini Maniratnam, Revathi, Raadhika, Khusbu, Vadivelu and many others showed up to exercise their choice.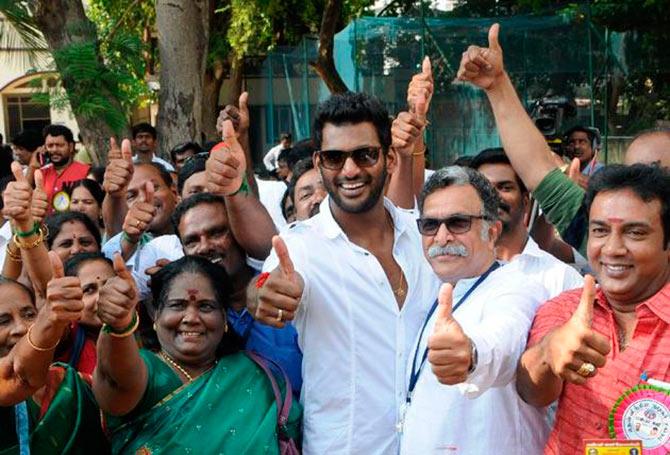 Things progressed smoothly until noon, when a visibly agitated Vishal rushed to the sea of reporters outside claiming he was assaulted. He added that the opposing team was attempting to disrupt the election and that he would ensure that the voting continued despite any problems.
It was later reported that the problem began when actress Sangeetha canvassed for a vote inside the polling area. This angered Sarathkumar, who protested. Vishal, who intervened, was believed to have been roughed up.
He retired to his van, where he is believed to have been treated by a doctor.
Sarathkumar later addressed the media and clarified that it was just an argument and not a fist fight as reported by Vishal.
Several artists spoke to the media after casting their vote, but remained diplomatic. Sarathkumar's daughter Varalaxmi Sarathkumar, who is rumored to be dating Vishal, announced that she had voted for her father, but this would not affect her friendship with Vishal.
Voting came to an end at 5 pm.
After the results were announced, both Sarathkumar and Radha Ravi wished the Pandavar Team well and assured them of their cooperation, while the exuberant winners promised to live up to their manifesto pledges.
Now, it remains to be seen if the obviously divided film fraternity can patch up their differences and work for the benefit of the association.