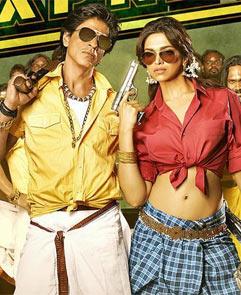 The Chennai Express music album is above average with some standout tracks, writes Joginder Tuteja.

Shah Rukh Khan, Deepika Padukone and Vishal-Shekhar -- the hit Om Shanti Om team returns with a lot of promise.
With popular lyricist Amitabh Bhattacharya joining them, expectations were high from this super group.
The album kick-starts with a foot-tapping potential chartbuster -- One Two Three Four.
The ferocious beats coupled with some highly energetic singing by Vishal Dadlani and Hamsika Iyer are reason enough to enjoy this number strongly reminiscent of popualr 1980s tracks from South Indian films.
The South flavour continues to be prominent -- as is expected in a film that has 'Chennai' in the title -- with Titli. This one has a semi-classical beginning and reminds one of San Sanana from Asoka.
The song has a serene quality; it is the kind of number one expects from Shah Rukh when he goes for a romantic rendezvous. It could serve as a good companion on a peaceful, long drive.
While the rendition by Chinmaye and Gopi Sunder is good, what takes the cake is the Dubstep version of the song which is experimental in tone.
The romantic flavour continues with Tera rastaa chhodoon na with Amitabh Bhattacharya's vocals. He is joined by another relatively new entrant, Anusha Mani, who is good as well. However, considering the fact that this could well have been the highlight romantic duet in the album, it doesn't really cover the distance.
That's surprising since Vishal-Shekhar have come up with some terrific melodious love songs in the past. But the overall impact of this flagship number isn't as terrific as one expected it would be.
The gap is filled by Kashmir main tu Kanyaumari which has similar beats in the beginning as Vishal-Shekhar's Dildaara (Tashan). The similarity ends once Arijit Singh takes centrestage and guarantees himself yet another hit after the chartbusters he crooned for Aashiqui 2.
A smile-through number, which could well have been composed by R D Burman in the '70s for a Rishi Kapoor-Neetu Singh starrer, this lovely number has Neeti Mohan and Sunidhi Chauhan joining Arijit behind the mike. The song stands out because of its simplicity.
What is definitely not simple, but riotous is Ready steady po. A racy jam session could have been sustained by this fast-paced Hinglish number, which would have worked well at the beginning of the album.
The coming together of new entrants Brodha V, Smokey, Enkore and Natalie Di Luccio with support from Vishal Dadlani, this one deserves to be played along with the theatrical promo.

In comparison, the one that is actually playing in the promos so far is the title song Chennai Express, which is just about average. Oh yes, it is good to hear S P Balasubramaniam after a break. However, not only does his voice seem ill-suited for Shah Rukh Khan, but overall the song is not remarkable.
Jonita Gandhi, another new singer, gives Balasubramaniam company in this other Hinglish number.
The album concludes with Chennai Express Mashup which, as is the trend, fuses every song in the album. Yet again, though, the beats that stand out are the ones from Ready steady po
The overall outcome is more than satisfactory with none of the songs being an absolute downer and a few even standing out.
The ones that catch your attention are Ready steady po, followed by One two three four and Kashmir main tu Kanyakumari.
Rohit Shetty is said to have kept the narrative of Chennai Express quite fast -paced, and the music should complement that overall flavour of the film.

Rediff rating: