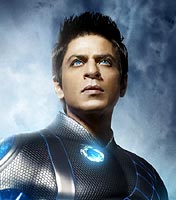 M
ovie critics may have panned Shah Rukh Khan's latest release but did it live up to YOUR expectations?

Shah Rukh Khan's Diwali release
Ra.One
hasn't gone down too well with movie critics here at
Rediff.


Review 1:
Ra.One: What a letdown!

Review 2:
Ra.One is SRK's most expensive midlife crisis

Review 3:
Why Ra.One disappoints

Review 4:
Ra.One disappoints New York
Readers Review on
Ra.One 

Even
as we are thoroughly disappointed with the film, we are asking you, our readers to tell us what you felt about the movie?
Did you think it lived up to your expectations? Did Shah Rukh Khan impress you as he has always done or did you think it was all sound and no substance?
Tell us what you think about Ra.One!
Click here and post your comments!