Sexual harassment is something women face every day.
It could be a leer, a wolf whistle, comments, touching, pinching, squeezing to a lot worse.
It happens all over the world.
Every day. Across all economic strata.
As it just happened in Hollywood, with a powerful Oscar-winning producer, a man so drunk with his own sense of invincibility that he saw nothing wrong in preying on young women who were attempting to make a career in the world of cinema.
The New York Times' expose of Harvey Weinstein's disgusting conduct led to many actress admitting they had been harassed by the producer.
Among them was Alyssa Milano, who spearheaded #MeToo on Twitter – a campaign that saw thousands of messages pouring in by the second, as women shared their horrific experiences.
Last year, in India, a movie had the same impact.
In his afterword to the book, Pink: The Inside Story, Pink's writer-producer Shoojit Sircar explains why the movie was a turning point in his personal and professional life: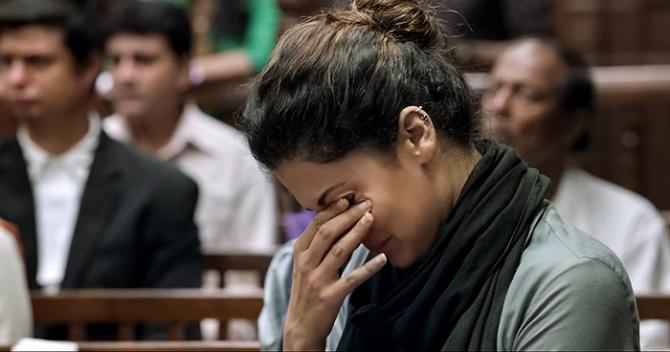 IMAGE: Pink, which saw Tapsee Pannu put in a powerful performance, changed Shoojit Sircar's life in many ways.
Like every film I make, Pink, too, has been a journey filled with learnings both as a film-maker and also a person.
In some way, Pink is the result of what I think about women empowerment and the manner in which the entire concept has been perceived by men.
The desire to make a film that would address society's limited understanding of something as basic as consent or equality in a direct, brazen manner might have been brewing in my mind for a few years since Tony (Aniruddha Roy Chowdhury) pitched Pink, but the decision to make it perhaps happened in a single moment.
Witnessing an interaction between two generations of women -- my mother-in-law and my daughter -- where the elder asked the younger one to 'sit properly' in her own home in front of her own family, made me realise how we continue to contribute to an environment that insists on defining boundaries for women.
One film cannot change anything and all of us involved in the making of Pink know that it is but a drop in the ocean. But it is these small steps that can reduce the distance between where we stand and where we ought to be.
Something that is felt deep within eventually ends up finding its own form.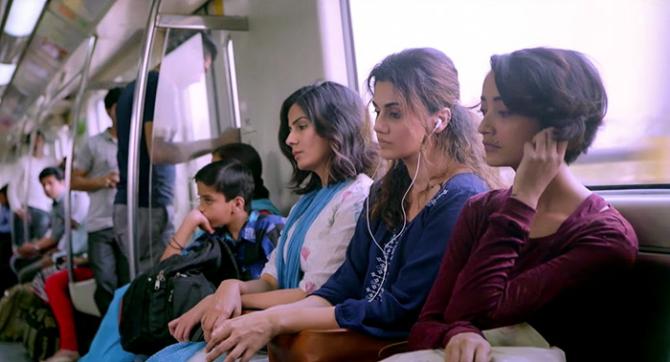 IMAGE: The film's cast -- Kirti Kulhari, Taapsee Pannu and Andrea Tariang.
For me, equality is something ingrained and invariably finds its way into the narratives of films, be it Vicky Donor or Piku, but the way it happened in Pink went beyond what one envisaged.
One of things that I really wanted to convey through Pink was: when you are together, when you stand up to someone together, it could help overcome all odds.
The bond between the three women in the film was what they needed to take on 'the armies of the status quo'.
It is true that Pink was a film waiting to be made, and yes, it is also true we happened to be among the first to have the desire or even the guts to design a conversation around things that have happened far too many times in real life.
There has been great love showered upon Pink from audiences all across the country and criticism as well, some of it much valid.
The one reaction that made it worth every single moment came from the family of Suzette Jordan, whom the media labelled the 'Park Street Rape Victim'. They said that they wished Suzette was alive and had watched Pink because this is exactly what happened to her every day in court.
* * *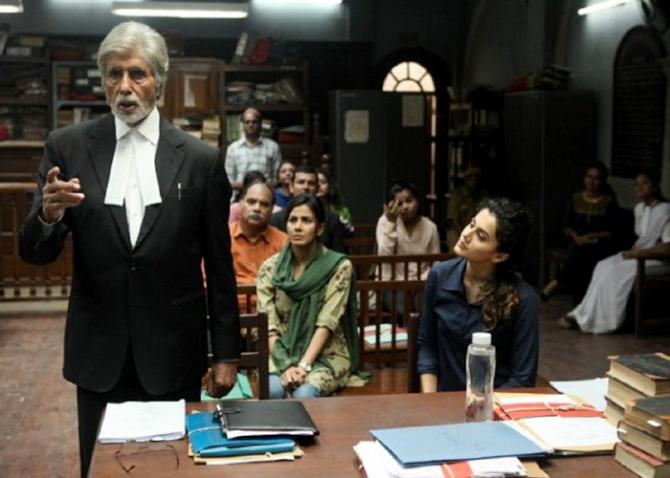 IMAGE: Amitabh Bachchan played their lawyer, the man who insisted that when a woman says 'No', it means 'No'.
There is no denying that popular Hindi cinema or Bollywood can do much more and much better when it comes to real-life issues.
I believe that I have been lucky with the films I made but, five or ten years ago, a film such as Pink would have been seen as an 'art' film.
This makes me believe that, somewhere, Bollywood has started listening to what the audience seems to be telling us.
I have done my part, I will keep doing it with every film.
Excerpted from Pink: The Inside Story by Gautam Chintamani with the permission of the publishers, HarperCollins India.