'Disney is presenting Black Panther as Manoj Muntashir's film.'
'Such a big studio, a billion dollar film is being released as Manoj Muntashir's film.'
'It is in the same space of Baahubali, which I wrote.'
'The film has got a kingdom, kings, treachery... things which are very much up my alley.'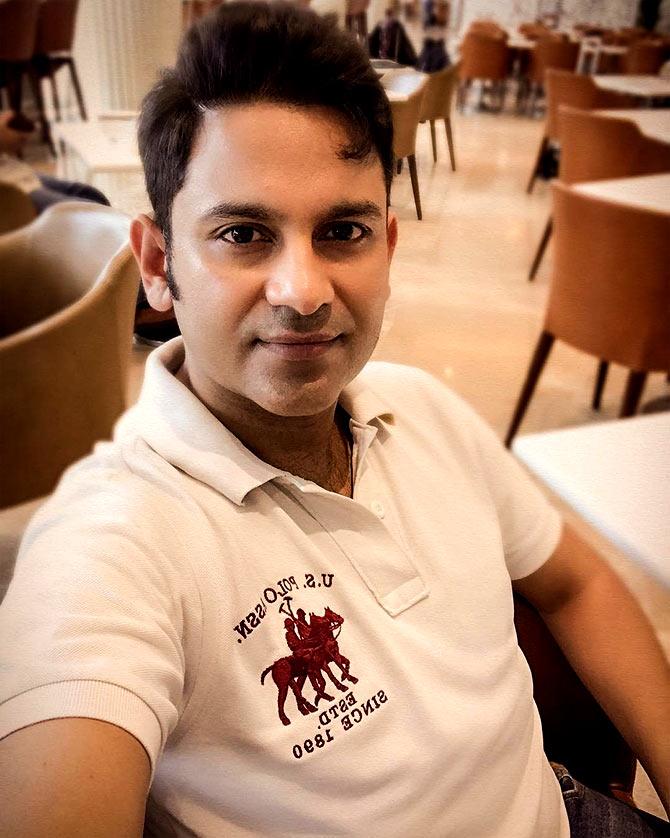 Lyricists in Bollywood rarely get their due.
And yet, there are some like Manoj Muntashir, who has made quite a name in filmi circles. In fact, he says the Hollywood release Black Panther is being presented on his name.
The other release of the week, Neeraj Pandey's Aiyaary, also has his contribution.
Muntashir first tasted success with Galliyan (Ek Villain).
"Galliyan got me a lot of recognition which was long due."
"I realised while writing Baahubali that everything is false. I am translating what is written in Telugu. I realised this is not the way to do it. I expressed my desire to Rajamouli sir to rewrite the film with a Hindi mindset. He loved what I had written, and asked me to go ahead. I reworked the entire culture of the film," Manoj tells Rediff.com's Jahnavi Patel.
What is the process of writing lyrics like? Is there a lot of back and forth with the composer?
Not really; it's about the chemistry.
If we don't gel, we shouldn't make songs.
If (composer) Mithoon and I don't gel, we will still remain friends, but we won't make songs (together).
Song-making has to be seamless, organic.
While we sit, we have to inspire each other because we are the first two people in the song. That's the process.
In my case, I work only with friends.
Have there been any disagreements?
Yes, but one of us convinces the other.
Disagreements are only in the initial stage. We do not go ahead with the differences.
We can't make a song where he thinks A and I think B.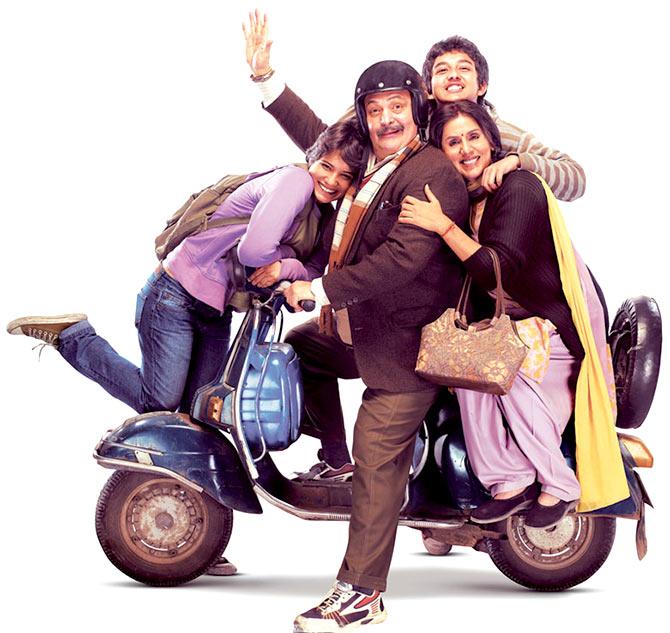 You wrote all the songs for Do Dooni Chaar, but work still did not come easy. What was that phase like?
It was quite heartbreaking.
Not too many people know about this National Award-winning film.
This was the first time Meet Brothers, Anjjan, Ankit Tiwari and I collaborated.
We hoped this would be our big launch in the industry.
The film worked -- it went on to win a lot of awards, but people who actually created the music went unnoticed because it wasn't a musical film.
I completely disappeared (after that) and went into television.
I started doing a lot of television, working 365 days a year.
Singers and composers are still recognised. Do you think lyricists don't get their share of appreciation?
I am getting recognition; I do not have any complaints.
In the film-making business, nobody is the boss. We are all on a common platform, trying to create something that is ultimately beneficial to all of us.
As a writer, I am very humble and polite. I am ruled by only one thing: That's my song.
I listen to only one person: That's my composer. He knows where I am going wrong.
All the composers I have worked with have been kind enough to put my name in the forefront.
No composer (that I have worked with) has tried to take all the credit.
Do you think the reason people agree to not have their name on the forefront is that at least they are getting work?
Haan, but that is insecurity.
Whatever wrong happens to us is because of our own insecurity.
It is you, who is weak and have happily accepted a degraded position in the food chain.
Why am I here and writing songs? Because God has given me talent.
He is my boss, no one else.
I am collaborating with wonderful people who are brilliant in their craft.
Every song has a story attached to it. Manoj shares anecdotes from some of his popular songs.
Galliyan, Ek Villain)
Galliyan has a very interesting story.
It was one chilly January morning in 2014.
I got up at 6 am and was out on a morning run.
A stone that was installed the previous night on a street near my house caught my attention. On that stone was written Govindji Shroff Marg.
We writers have OCD (Obsessive Compulsive Disorder). Sometimes we have this compulsive disorder of over-analysing words.
So that phrase -- Govindji Shroff Marg -- got stuck in my head.
Govindji Shroff lane, Govindji Shroff path, Govindji Shroff galli, gaaliyan, how romantic!
In the next 90 seconds, I had the mukhda on my phone: 'Yahin doobe din mere. Yahin hote hain savere. Yahin marna aur jeena, Yahin Mandir aur Madeena. Galliyan teri galliyan'
I had a lot of composer friends, so I sent them these lines. Each one reverted, saying it's very bookish and no, it's not good.
Ankit Tiwari woke up at noon. He saw the phone and called me. He said he loved it and asked if he could compose it.
He went for a walk in the afternoon and came up with a tune. Yeh pura gaana walk pe bana hai (the entire song was made on a walk).
The next day, he shared the song with (director) Mohit Suri.
We know he has a clear and vivid judgement when it comes to music. He either picks a song or says no.
Within five minutes, it was okayed.
After three months, the song was released and then what happened is history.
The entire album was a great package.
If you think only about your song, it will not work. Ek Villain was a great album and won awards because every song was great.
After that, I signed 15 odd films.
Saathi Rey, Kapoor & Sons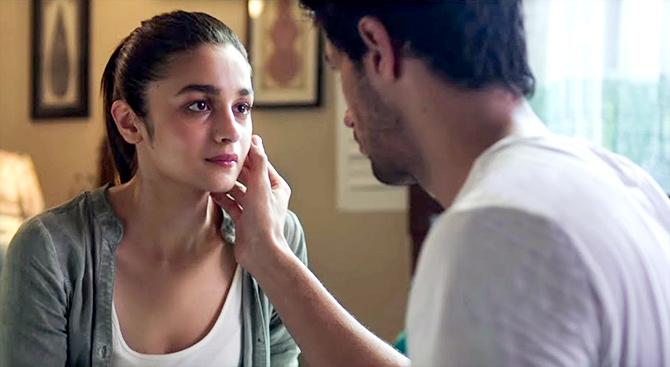 The film was ready. I wasn't a part of that musical galaxy.
Then, there was a situation when the father dies. There was background music for that scene.
When (producer) Karan Johar was watching the rough cut, he realised we could have a song there.
He shared this with (music supervisor) Azeem Dayani; he is the one who brings the music to Dharma Productions.
Arko (Mukherjee, composer) and I had collaborated on Rustom.
The three of us met, and within 15, 20 minutes, the song was made.
This time, the tune was composed first. The tune that Arko had in place did not require poetry and heavy words, it just required talking, prose.
Phir Bhi Tumko Chaahunga, Half Girlfriend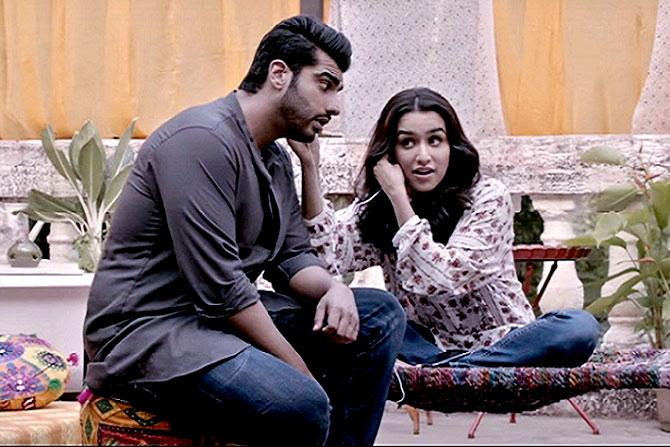 This song was written in 2001 when I had no connection with Bollywood.
I had gotten married a year before, and had gone to Kashmir for some work.
I was at the Dal Lake. There were shikaras, Chinar ke ped (maple trees) and some lines popped up in my mind:
Ye sabz chinaro ke patte, jab shakhaon se gir jayenge.
Jab jheel ka paani sukhega aur saare kawal kundalayenge.
Ye wadiyan jab so jayenge aur aawaze kho jayengi,
Meri jaan main uss khamoshi mein bhi pyaar ke nagme gaunga,
Main phir bhi tumko chahunga, Main phir bhi tumko chaahunga.
I wrote three stanzas in a jiffy.
Then, time passed by, 14 or 15 years, and I didn't get back to that nazm(verse).
Nazm is a format in Urdu poetry, which cannot be customised by a composer to make it film-friendly.
Some people don't understand these nuances and wonder why we cannot.
But people like Mithoon and Mohit Suri understand that if the writer is saying this is a nazm, there is a certain integrity attached to it and it cannot be tampered with.
Mohit happened to listen to these lines and said 'This is my song for the next film.'
I told him it was a nazm, not a song.
The last time a nazm worked in a film was in the 1970s. It was in Kabhi Kabhi Mere Dil Mein Khayal Aata Hai. Back then, we had Khayyam and Mukesh.
In today's times, such films aren't made. If we fit a nazm in a film, it will not work.
But Mohit asked me to give it to him, and see the magic. He was confident.
After 7, 8 days, he called me to see what Mithoon made.
I listened to the song alone in his studio, there was a dim light... there was no Arijit (Singh, singer) back then.
I remember I was in tears.
I couldn't believe this kind of justice could be done without altering a word.
When Shraddha (Kapoor, who sings the song) sang it, her voice choked. She became so emotional.
M S Dhoni: The Untold Story album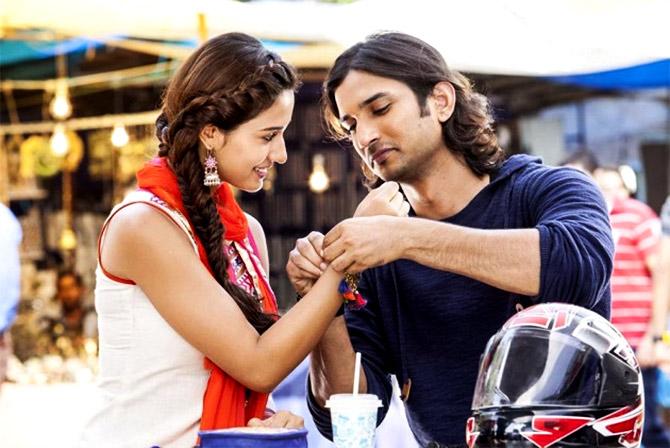 Dhoni happened because of Neeraj Pandey who is a dear friend.
My first big break was Galliyan, but I had written for Neeraj Pandey's Baby even before Galliyan.
I met Neeraj through a common friend. I had a nazm, which I had written in my college days. While chatting, I made him listen to it with no intention of asking him to use it in a film.
Neeraj has a great taste for poetry.
He is the only director in the industry who knows Ghalib, Jaun Elia and Mir Taqi Mir at the back of his hand.
The nazm was:
Main tumse pyaar nahi karta.
Par aisi koi shaam nahi jab main awara sadko par tera intezaar nahi karta.
Main tujhse pyaar nahi karta.
After 10 days, he sent the tune to me, composed by M M Kareem.
I called and asked him what it was for.
He said he was using it in his film, with my permission.
I told him he didn't need my permission.
That's how my association with Neeraj Pandey started.
I have been an integral part of his films... Rustom, Dhoni, Naam Shabana, Aiyaary...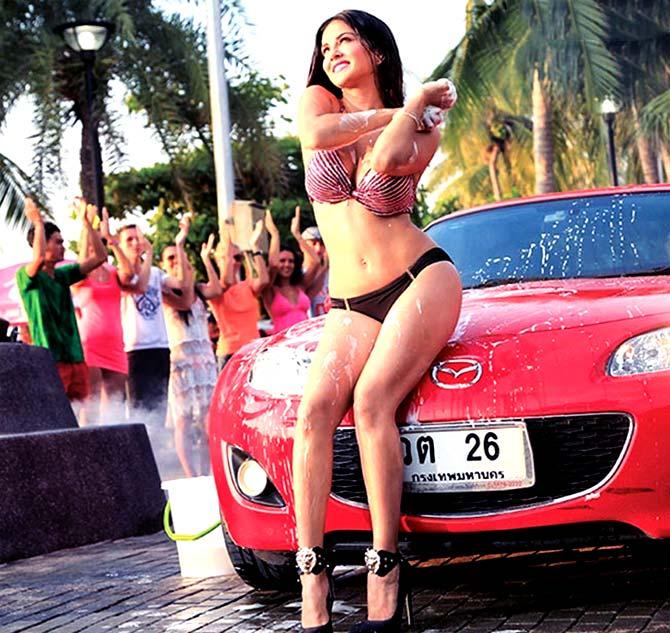 Is there more pressure to do an entire album, as compared to a song?
It depends how you approach the song.
An album can be approached either as a pressure test or an opportunity to do what you always wanted to do.
I take the second route.
Ever since I was a kid, I wanted to write songs.
Every film is a new excitement, new trip.
To outsiders, it may seem that the director bosses around, but it doesn't happen that way.
We are the bosses of our craft and they (the directors) trust us.
You wrote the Rom Rom Romantic song for Mastizaade. How different is the process?
I am not undermining the film or demeaning the process of creating cinema of that sort, but it's not my kind of cinema and music.
I am not too proud of it.
Why did you take up the project?
Over-enthusiasm.
I was like a kid in a candy shop.
All my life I had waited to write songs and then Galliyan worked.
I got so many films I got blinded by that thing ke ye bhi karlu,vo bhi karlu (I wanted to do everything).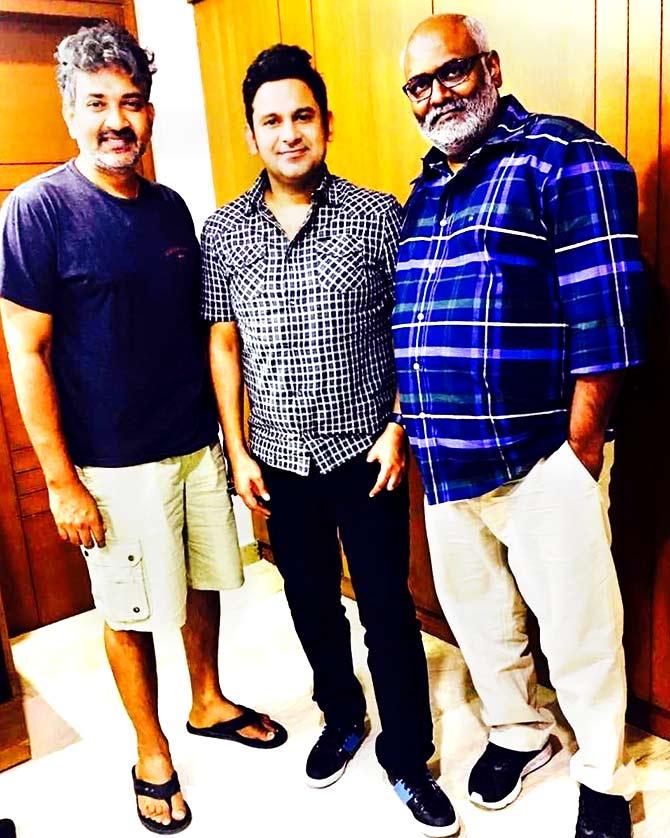 You wrote the Hindi dialogues and lyrics of the Baahubali movies.
Sometimes, aapko aapki aukhat se zyaada mil jaata hai (you get more than you deserve). That is Baahubali to me.
Today, I will feel very proud that yes, I saw the scope and I knew that it would be big, but I had no clue...
This happened during the cricket World Cup in Australia.
Neeraj Pandey and I had started putting Dhoni together, but it got delayed. So we decided to make an anthem for the World Cup and gift it to team India.
The anthem's music was being created by M M Kreem.
I was reading some lines to Kreem sir, when a gentleman walked in the door. He had a beard and was wearing rubber chappals.
He placed a stool in one corner of the studio and sat there.
In five minutes, he said goodbye to Kreem sir and went.
After three days, I get a call from (S S) Rajamouli sir's office that he wanted to meet me regarding a film.
They told me he was making Baahubali, and that he wanted me to write the Hindi part of it.
I said I would write the songs.
They said he wanted me to do the dialogues.
I thought he was confused. I had never written dialogues in my life.
I went to Hyderabad and met him. I tried to convince him that 'Don't choose me for dialogues'.
But he just smiled, and said, 'You are the one who will do Baahubali for me.'
I agreed. I negotiated the money and they paid me more than I deserved and more than I demanded.
I realised while writing Baahubali that everything is false.
I am translating what is written in Telugu. I realised this is not the way to do it.
My name is attached it, so let me do something that has never been done before.
I expressed my desire to Rajamouli sir to rewrite the film with a Hindi mindset.
I told him just let me do three scenes.
He loved what I had written, and asked me to go ahead.
I reworked the entire culture of the film.
When the film released, I remember the critics wrote that it doesn't look like a dubbed film.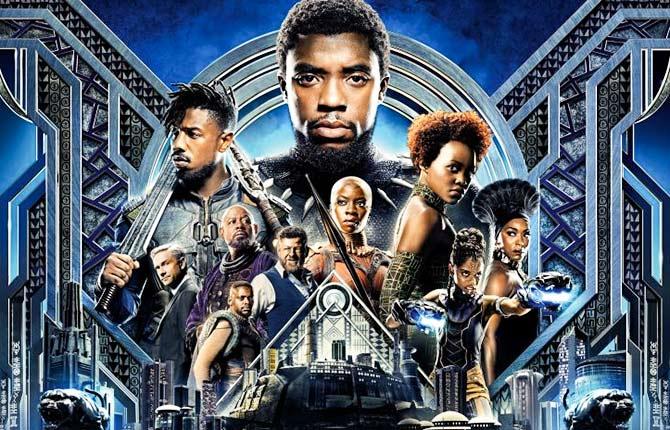 Did you follow the same route for Marvel's Black Panther?
Yes. I am happy about my fraternity because as writers, as you rightly said, we have been on the backseat, we have never been the face of the film.
Disney is presenting the film as Manoj Muntashir's film.
That gives me great pride -- not for my personal victory, but for my fraternity.
I feel great that at least someone from us (is getting that recognition).
Such a big studio, a billion dollar film, the first look of the film is being released as Manoj Muntashir's film.
It is in the same space of Baahubali.
The film has got a kingdom, kings, that kind of treachery... things which are very much up my alley. But there are no songs.
How seriously do people take the lyrics of a song?
When you are happy, you dance on the music.
When you are sad, you understand the lyrics.
No song can be immortal if it doesn't have great lyrics.
If there is a song like Lag jaa gale ke phir ye hasi raat ho na ho, you know that's the power of lyrics that make you hold onto the song so tight.