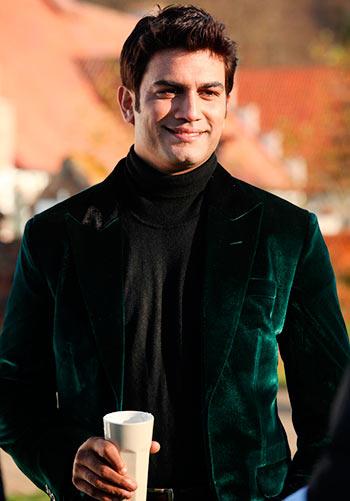 'I am happy with the kind of roles I am getting. I started off with character roles in television. I believe in Lambha khelo Rahul Dravid bano!'
Sharad Kelkar chats with Rediff.com contributor Rajul Hegde.
Did you know that actor Sharad Kelkar is the Hindi voice of Baahubali?
"Yes, Prabas' voice is mine," Kelkar reveals. "Baahubali was a very good experience; I worked with one of the most talented directors (SS Rajamouli). Initially, they had dubbed with someone else but Rajamouli was not happy. So someone suggested my name, as I am doing a Telugu film."
This is not the first time Sharad has lent his voice for a film.
He has dubbed for the Hindi versions of Mad Max (yes, we're talking about THIS film), Furious 7 and Exodus: Gods and Kings.
"I have dubbed for a lot of English films but not professionally," the Saat Phere: Salone Ka Safar actor says. "When I am not shooting, I dub for films. It's a kind of exercise for my voice."

Image: Riteish Deshmukh and Sharad Kelkar in Lai Bhaari
The actor was last seen as the villain in the Marathi hit Lai Bhari, and he says he is choosy about work. Though he has got many Marathi film offers after Lai Bhari, he has signed only the biopic on the late politician, Gopinath Munde.
"I liked the subject and the belief of the director. I am playing Gopinath Munde. I was surprised when they asked me to play his role. I refused thrice, as I felt I don't look like him. Also, I don't know the language, as he was from Beed (a city in central Maharashtra), which has a different Marathi accent. But the director was so convinced that I finally said yes. I will play the leader from his young age till his demise," Kelkar said.
"I wasn't sure if my looks or acting was close to him at 22 to 35 years of age. But when I aged to 45 years in the film, with prosthetics and make-up, I was shocked to see myself in the mirror. I was transformed completely! When I show a photograph of myself in that get-up to people in Maharashtra, they say 'Gopinath Munde hai na?'"
The film is expected to release next year.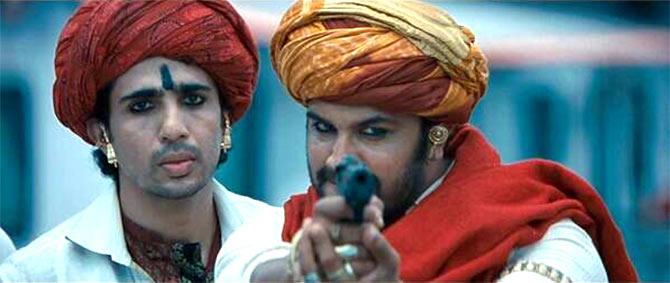 Image: Gulshan Devaiah and sharad Kelkar in Goliyon Ki Raasleela Ram-Leela
But before that, he will be seen in Nikhil Advani's Hero, starring Sooraj Pancholi and Athiya Shetty.
"I am happy with the kind of roles I am getting," he says. "I started off with character roles in television. I believe in Lambha khelo Rahul Dravid bano!"
Sharad will also be seen on television after a gap of almost two-and-a-half-years, essaying the title role in upcoming TV show Agent Raghav on &TV. It will start from September 5.
He plays an investigative agent in the show. Raghav's mind is his weapon, as he's an expert in mind reading and body language.
"In real life too, I observe people and think I can read them. I have a strong sixth sense and get very strong vibes about people," Kelkar says.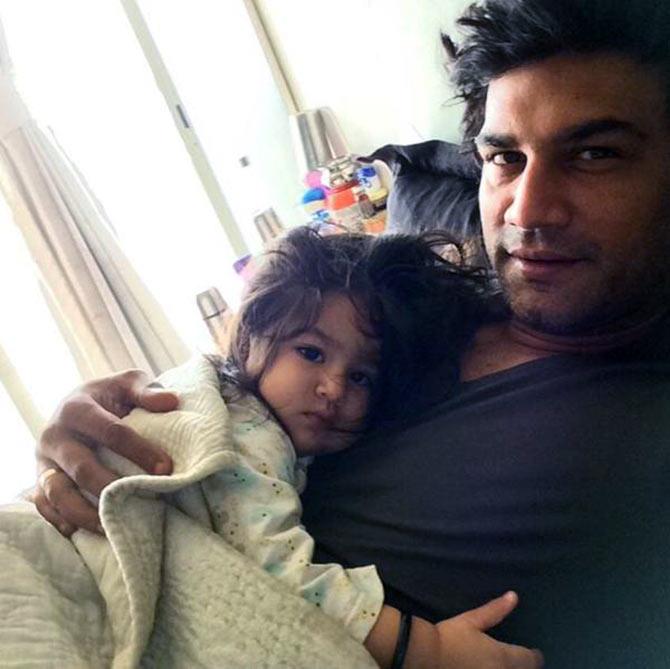 Image: Sharad Kelkar with his daughter Kesha. Photograph: Sharad Kelkar/Twitter
When he's not busy with his films and TV shows, Sharad's two-year old daughter keeps him busy.
"My daughter has been lucky for me," he says. "I did Lai Bhari when my wife was expecting and Hero after my daughter was born. I didn't get much time to spend with my daughter, as I was busy with films. Now I get enough time to spend with her. She's trying to stand now. I'm glad I have not missed that part," he says.