'A lot of fraud films are being made in the name of realistic cinema.'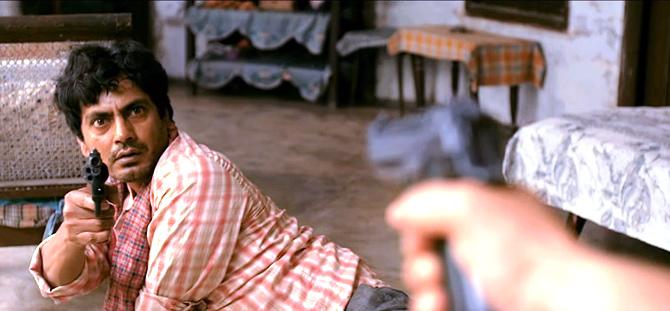 Nawazuddin Siddiqui is a rare down-to-earth actor.
Unchanged despite all the national and international acclaim.
Warm. Soft-spoken. Honest.
When Jahnavi Patel reminds him that he had visited the Rediff.com office a couple of years ago, he says immediately, "Yes, of course. Kaisa chal raha hai sab? (How are things?)"
He looks exhausted, and when we ask him about it, he replies, "Theek hai, ab toh adat pad gayi hai' (It is okay, I've gotten used to it)."
Nawaz tells all about Babumoshai Bandookbaaz, his coming film, and how he arrived at this point in his life.
What about Babumoshai Bandookbaaz convinced you to take it up?
Films, which have quirkiness, fascinate me.
I like films which are a little weird, a little hat ke. There should be something absurd.
I don't like films with a simple track, where there is a hero and a heroine.
My director Kushan Nandy puts his own thinking into a scene to make it different, absurd and quirky.
You have always picked characters that have shades of grey. Why is that?
Characters with grey shades have humanness in them. I like playing characters which exist in real life.
A boy and a girl who fall in love and randomly start dancing, I don't see that in real life.
Because we are used to seeing such roles, we feel these characters exist.
I don't enjoy such roles because they are one-shaded characters.
If a boy loves someone, he does all the good things.
Aisa koi duniya mein hota hai kya insaan? (Is there such a person in the world?)
Then there's a girl who is very beautiful and she is ready to give up her life for her boyfriend. I don't see such people.
Ek hero jo accha hi aacha hota hai aur ek villain jo bura hi bura hota hai, in do characters mein mazza nahi hai (a hero who is always good and a villain who is always bad, there's no fun in playing such characters).
I enjoy characters with grey shades.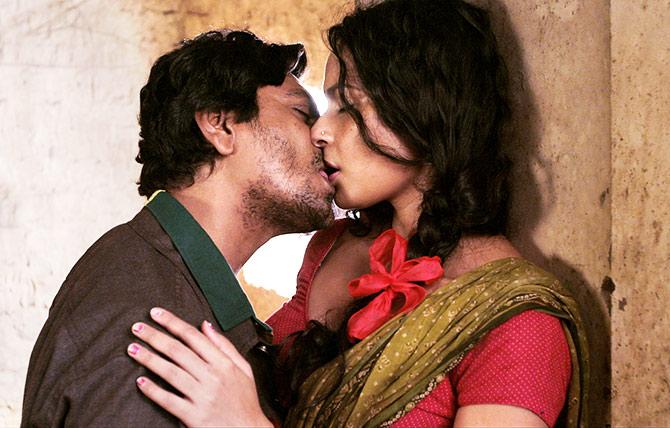 IMAGE: Nawaz and Bidita Bag in Babumoshai Bandookbaaz.
Bidita Bag is quite good in the trailer. Is it an advantage when your co-actors are as good as you?
Of course!
If you see the steamy scenes, you will see that she has done them with so much openness.
She had faith in us and it was our responsibility not to break it.
Being a woman, there is a little hesitation when you do (intimate) scenes in front of the entire unit -- be it a girl or a boy, there is shyness.
We have trusted each other and the director. That's why the scenes turned out to be good.
Bidita throws herself into a situation. That can happen only when there is faith in each other.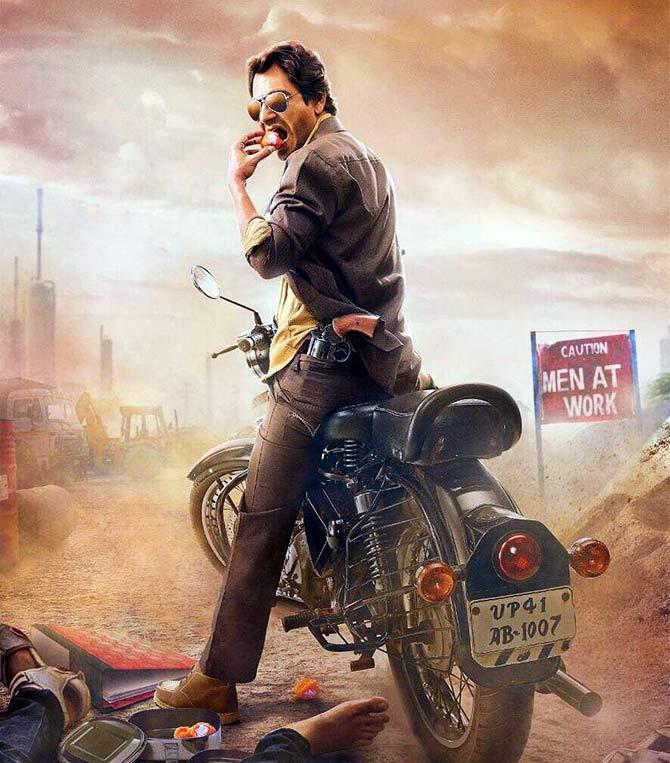 IMAGE: Nawaz in Babumoshai Bandookbaaz.
Were you nervous about the steamy scenes?
Nervousness tab hoti hai jab ek dusre ki mind mein khot hota hai (you feel nervous when you have impure thoughts in your mind).
If you know that the scene is going to be like this, then you have to do it. There should be no other thought.
Initially, there was a little hesitation, but the way Bidita showed faith, the scene reached another level.
Bidita's part was supposed to be played by Chitrangda Singh. Director Kushan Nandy had said that she had shot for the intimate scenes, but wasn't happy with the script.
Other reports say that she wasn't comfortable with the intimate scenes.
What exactly happened?
The intimate scenes were already shot, so there was no question of not being comfortable.
Maybe, as the director is saying, she was not convinced with the script.
Maybe she wanted to get some things changed because of which there was some problem between the director and her.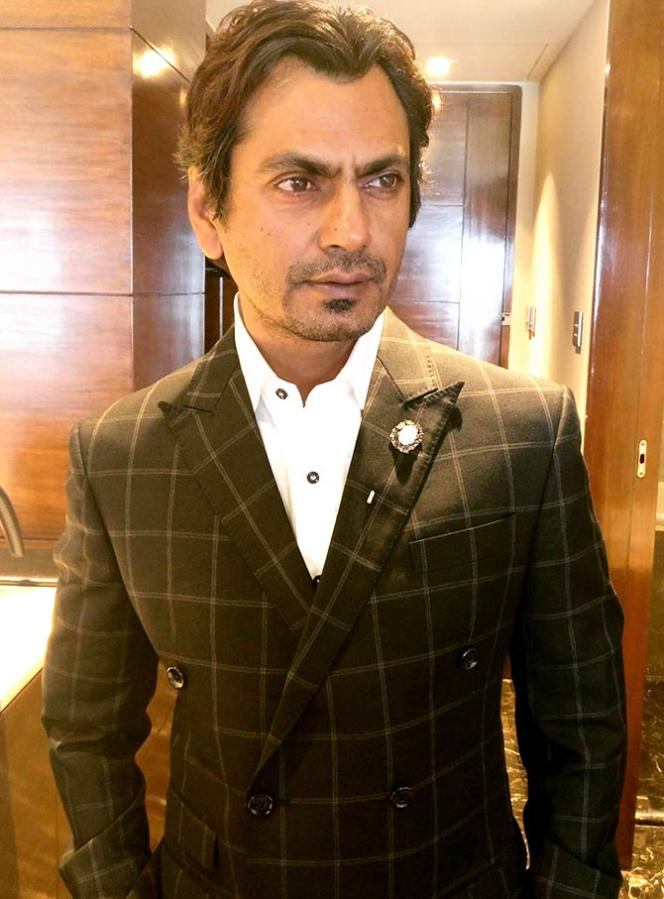 IMAGE: The handsome man. Photograph: Kind courtesy Nawazuddin Siddiqui/Instagram
You had tweeted, 'Thank U 4 making me realise dat I cannot b paired along wid d fair & handsome bcz I m dark & not good looking, but I never focus on that.'
Do you think this industry is obsessed with fair actors instead of acting talent?
It is not the problem of the industry, it is the problem of society.
Every person has his/her own perception, but when you go deep, the definitely of beauty is different.
I had read this (casting director Sanjay Chouhan's tweet) in the news, so I gave an answer to that.
Maybe that person didn't even want to say it that way, but I gave a reply.
It was written that it is weird to cast someone fair and handsome opposite Nawaz. So I felt that I am not good looking because I am not fair.
So I tweeted about it, that's it.
But acting should be more important.
Of course!
In our industry, work is appreciated more; it (racism) doesn't exist much.
If it did, I wouldn't be working here.
There are many more (who have) my complexion; they wouldn't be working either.
But this exists in society.
It starts with our home only: 'Bahu gori leke aana (they have a fair daughter-in-law)'.
Or even the audience, they feel that the hero should be fair.
So it is the audience's problem, not the industry's.
SEE: Nawaz speaks about life before becoming famous. Video: Hitesh Harisinghani/Rediff.com
Do you take up commercial films to give yourself a break from content-driven films?
I don't want to categorise cinema like this is an art film, this is a commercial film...
I am an actor and want to explore all genres.
Like I did Munna Michael. I enjoyed it because it was a light-hearted film. It was a fun film for me.
At the same time, I am doing Manto.
I don't think films should be categorised.
The director gives a task, a role to an actor, then it's your choice if you want to do it or not.
Do you think Bollywood is experimenting with content-driven films?
No, there is a lot of more content left.
There are many topics which are yet to come.
The content is very less now.
Commercial films have their own way of functioning.
A lot of fraud films are being made in the name of realistic cinema also.
It has become very cliched.
There is no variety in films that are called 'realistic'. That should be more.
Like in Marathi films, you get different content.
The amount of exploration in Marathi films regarding content isn't there in Hindi films.
Would you like to do a regional film?
If I get something like Court, Sairat or Fandry.
If there is content like this, I will do it.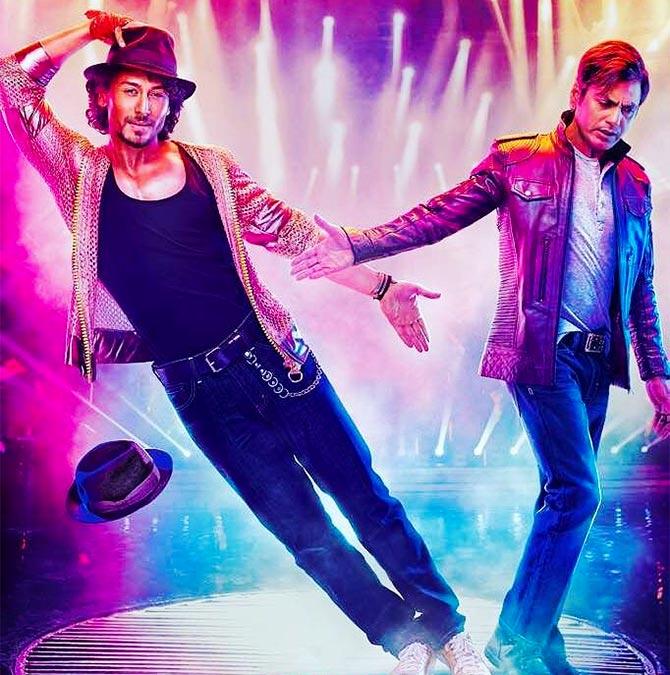 IMAGE: Nawaz and Tiger Shroff in Munna Michael.
Munna Michael didn't work at the box office. Was it disappointing?
Kyu box office pe aise hi bahut saari filme chalti hai jo bakwaas hoti hai par bahut badi hit hoti hai (there are many such bad films which become hits at the box office).
Just because the films don't work doesn't mean that the performance is bad.
I have seen films that have become big hits with bad performances.
Because films become hits, you don't say anything about it nahi toh koi jhaad dega, aisa lagta hai dar (you feel scared someone will yell at you).
There are films which haven't worked, but the performances have been brilliant.
Performances have nothing to do with a film's business.
Jagga Jasoos has a glimpse of you in the end. Is there a sequel?
I don't know about a sequel.
Anurag (Basu, director) had told me to do the part, so I did.
Have you looked back at your career and analysed what went right or wrong?
I think mere career mein zyaatar acchi baatein hi hui hai (my career has been mostly good).
I wasn't expecting this much, honestly.
I didn't come here with big dreams of being a star.
I was used to working and acting, be it in theatre, films or television serials.
It was important for me to keep on working.


---
NAWAZ, OUR FINEST ACTOR
---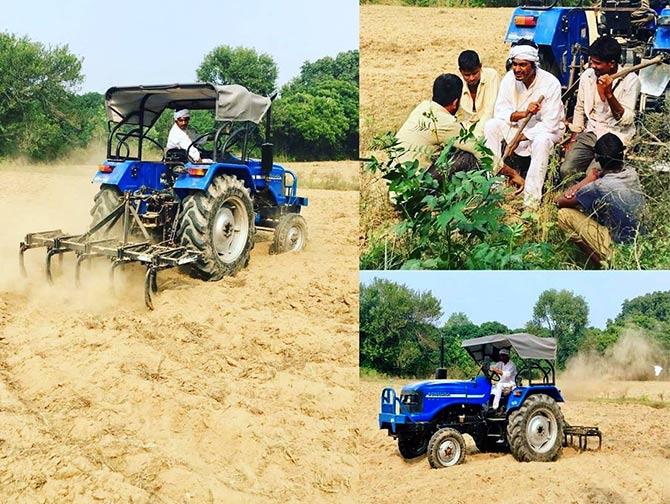 IMAGE: 'Ploughing in my farm for Mustard, hopefully this will be irrigated by Centre Pivot System...!!!'. Photograph: Kind courtesy Nawazuddin Siddiqui/Instagram
Did you want to give up at any point?
No, that thought never came because I knew nothing besides this. I would have done this only.
If I wouldn't get films, I would have done workshops with people.
Or I would have gone to the interiors of Chhattisgarh and done theatre and workshops with the Adivasis.
I would have done that if I wasn't here, but I would continue doing this (acting).
I would do anything related to the movies.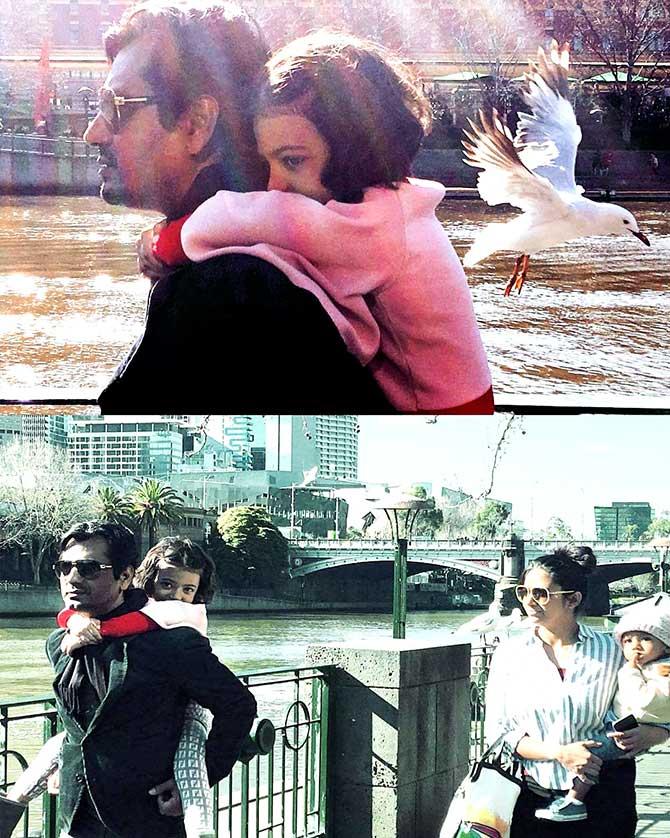 IMAGE: Nawaz chills with wife Anjali and children Shora and Yaani in Melbourne. Photograph: Kind courtesy Nawazuddin Siddiqui/Instagram
Do you get enough time to spend with your family?
I get very less time. They know I am busy.
When I get time, I meet them.
My wife understands this. My kids also know that their dad is shooting.
Do you miss that family time?
No, I don't. It's a routine kind of a thing. Like people do a job, we do this.