'We went around with the story, but no one came forward to finance it. They would say 'Who would want to watch this?' Or they would say 'Ek to ladka dal do is me.' We said no, we didn't want to compromise.'
Pan Nalin discusses the making of Angry Indian Goddesses, which wowed audiences at the Toronto film festival with Aseem Chhabra/Rediff.com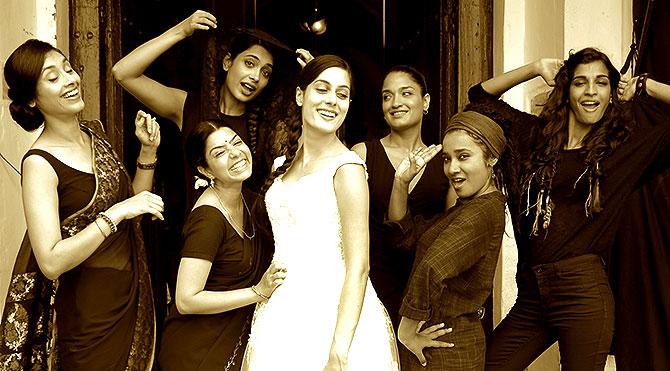 Pan Nalin, a self-taught filmmaker, started his career making wedding videos to finance his fine arts education in Baroda. He later attended the National Institute of Design, Ahmedabad.
His films have played well at international festivals and been released theatrically in Europe and elsewhere. He is best known for his feature film, Samsara, a spiritual love story set in Ladakh, and later the documentary, Ayurveda: Art of Being, to date the highest grossing Indian documentary.
These films were followed by another narrative film, Valley of Flowers, featuring Milind Soman and Naseeruddin Shah. Two years ago, he brought a lovely documentary, Faith Connection, to the Toronto International Film Festival. The film focused on the interconnected lives of people during the Kumbh Mela.
Nalin's latest film, Angry Indian Goddesses, was declared the first runner-up in the prestigious People's Choice Award at TIFF.
The film is about seven women who gather in a house in Goa for a wedding. After a period of intense bonding and self reflection, they encounter tragic events that will change their lives forever.
Aseem Chhabra spoke to Nalin, below, left, in Toronto about how he cast the film, and then created a warm and natural atmosphere on the set that encouraged an organic style of filmmaking.
Nalin, I was very impressed with the casting of the film. You have a great chemistry between all the women.
The casting was a pretty big challenge. We had almost shortlisted 800 girls. Dilip Shankar is the casting director. And we auditioned almost 200 of them. The idea was if we can succeed in creating the group, then we knew half the battle was over.
It had to look like that they had history, and they share pain and laughter. We said we were not going to rush until the casting process felt right.
When did you start the casting process?
We started in 2013 and then it went on for at least six-and-a-half months.
Your script was ready by then and you knew the characters you were looking for?
Yes. I had written three extra characters. I knew at the back of my mind that if I didn't find the right characters I could replace them with the extra characters. It was going to be an organic decision. We were not stuck with six or seven women.
It was like a jigsaw puzzle. We wanted a trophy wife from Delhi and we needed a CEO from Bangalore. So organically it became a group, which by itself was very interesting.
We wanted each talent to know the persona of the character they were playing. It was not just working with the script. When they came in we would ask -- tell us, for instance, Pam's character, or Lakshmi's. We asked them to tell us what was not written. So they started imagining the back history of each character. One character had studied up to the seventh standard, another had two brothers.
And once they were chosen we nourished these back stories.
And did you work with them before? It almost feels like they could have spent a month together to get to know each other.
You are very close. They were in the house for literally three-and-a-half weeks, building these characters. There were lots of meditation, yoga and how not to act exercises.
We told them that we had purposely underwritten the screenplay, because these days the tendency is to overwrite.
We have just too many script doctors and script labs mushrooming everywhere to make it perfect. But in the process we forget the meat, the heart and the soul of the story. You might have a great script that has been to many labs, but then you find it lacks the energy.
We wanted to make a film where actors don't have to follow the camera. In a normal traditional shoot you give them a mark and say 'Come and stand here, don't miss the mark or the focus will be lost.' We did the opposite and told them that they would be totally free.
If we were shooting a scene in the living room, they could go to the kitchen, they could go upstairs or run. We would light the whole place, shoot in such a way that we would follow them.
They were given a lot of room to improvise, especially with the dialogues. We said, 'These are the lines and ideas that have to communicated, but you don't have to say it as it is written.'
That is why the three-and-a-half weeks workshop was important for them to build their characters.
One of them said, 'I always repeat things.' And my response was 'Okay, that's your character, you can repeat. But it should look natural.'
I liked the house where the film is mostly shot. It almost becomes a character in the film. What kind of thought went into the production design and the art?
We realised that because of the host character Frieda, it was going to be a Goan Christian house. She has left the modern world of fashion photography in Mumbai and come back to her roots.
The first thought was to go and find a nice Portuguese house where we felt that a Goan family had a history. And then you could have a Hindu maid, like Lakshmi's character.
What triggered the idea behind the story?
That idea came about six years ago. We went around with the story and presentation, but no one came forward to finance it. They would say 'Who would want to watch this?' Or they would say 'Ek to ladka dal do is me (Put a man in it).' We said no, we didn't want to compromise.
And as we met more and more women and they would say to us that male directors were obsessed with telling stories about male bonding.
'Kabse aap bana rahe ho (how long have you been making) Rang De Basanti, 3 Idiots, Dil Chahta Hai?' They asked 'What about us? What about our stories?'
Then films like Kahani and Queen were box office successes and suddenly there was an interest. This time we were told 'Those films did well, because those actresses are big stars. So you need stars in your film.' And it was impossible to make a film with seven big Bollywood female stars.
We had no financing until Gaurav Dhingra from Jungle Book Entertainment came forward as the producer.
And then you added in the script the rape issue, which makes it more topical?
Yes, we researched and the script started getting nourished. And we realised that women wanted us to talk about these things. We knew our film was incomplete without these issues being discussed.
But how do you find a good balance to talk about things like rape and homosexuality? And we wanted people to come and watch a buddy film where they discover these conversations.
Anything you can tell me about the shooting experience?
Unlike other films this shooting was very organic. Nothing was scheduled and I kept the management part out of the production process.
When I made Valley of Flowers, I couldn't believe the bureaucracy. There was so much paperwork being done and I said 'Oh my god, why is all this essential?' And somewhere the human element was getting lost.
So here even though it was often chaos, I didn't want 5 am wake-up, 6 am pick-up. That's one part everyone started enjoying. And I know some of the actresses when they went to work on other films they said to me, 'What did you do to us? You have spoiled us and we can't work elsewhere.'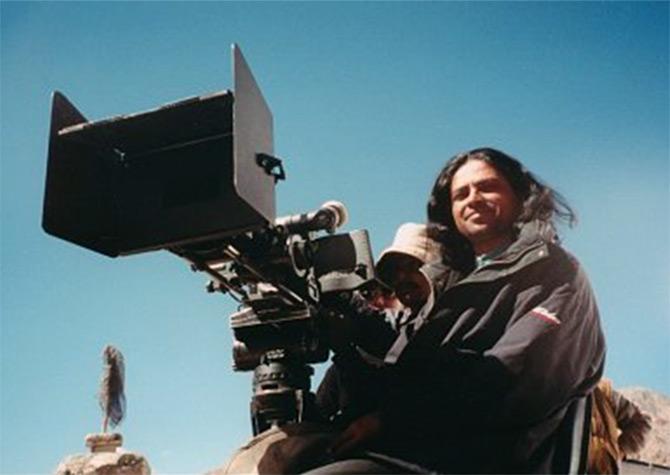 What does it mean for a male filmmaker when you have only women actors on the set?
They would be gossiping and chatting sometimes, but they had total trust in me, so I was included in everything. To such a point that they would sometimes cry with whatever problems they were experiencing. So it was true friendship and bonding with people I didn't know.
And they realised that somewhere they were connected. I told them that only if you understand your character from the core, then that anger will be justified.
Otherwise I cannot justify the climax, because it would look fake. So I wanted these women to feel the others were like them.
Did you consider making them speak partly in English or making the film entirely in English?
I wanted them to work with the languages they speak, which are Hindi and English.
Although the film is more in Hindi.
We wanted one common language, but we didn't want to impose. But it was an organic choice for each actress.
How do you think audiences in India will react to this film with not very well known actresses? Tannishtha (Chatterjee) is the only actress I had known before this film. The trailer and the look of the film are very attractive.
It's a very big concern, because India is an unpredictable country. But the moment we released the trailer when it crossed the 200,000 figure, I thought this is crazy. There was suddenly a lot of buzz. We hadn't released the poster. Most people in India don't know me.
If you go to our Facebook page we got 5,000 likes very quickly and from very different parts of India. First I thought this would only appeal to the metro cities. But you see people from smaller towns coming and liking the page and the trailer. That's very encouraging.
Normally we have to go show the film to opinion makers, but Shekhar Kapur, Farhan Akhtar, Kalki Koechlin tweeted right away. I don't know these people. Normally I have to request them (opinion makers) for branding and they would charge me some money.
A lot of women's associations have contacted us. We did some test screenings. They were fantastic.
At the press screening people applauded at the end.
After the first screening a reporter from Los Angeles wrote to us that this was the first screening she had attended where people had clapped. It's nice that people are reacting to it so positively.
When are you releasing it in India?
We want to open sometime in November. It will be an important release. We are trying to get at least 500 screens.
The film has already been acquired in France for distribution. Germany, Canada and Argentina are also very keen.