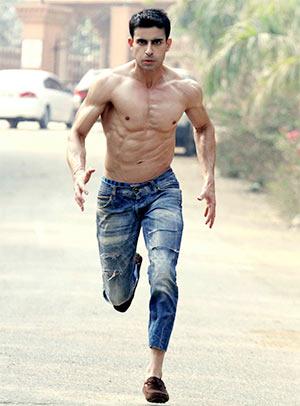 Actor Gautam Rode is ready with his upcoming television serial, Maha Kumbh.
"I play a man named Rudra. He is mysterious, enigmatic, aggressive and secretive. He lives in a shamshan ghat. Maha Kumbh is the story of Rudra's journey," Rode says.
The ambitious epic scale of presentation is unique to Indian television. "The serial will take me all over the world. We've already shot in Poland, Allahabad and Varanasi. We soon head for Europe."
"We're doing two seasons of 60 episodes each," he adds. "We have already shot 20 episodes."
The initial episodes were shot by Arvind Babbal, whom Gautam holds in the highest esteem. "He shot the initial parts of my Saraswatichandra. He's among the best talent I have worked with. We don't look at Maha Kumbh as just another serial. We would like viewers to see what we see. We haven't had a game-changer on Indian television for a very long time. We hope this one will make difference to the way audiences look at the home-viewing medium."
Maha Kumbh will replace another game-changer Devon Ke Dev Mahadev on the Life OK channel. The mythological had made Mohit Raina into a household name.
Rode began shooting for Maha Kumbh just days after Saraswatichandra closed down. "It was a 360-degree turn for my performing abilities. I feel blessed to have two contrasting roles one after another. Maha Kumbh blends elements from Hindu mythology with the international espionage thriller. Nothing like it has ever been attempted on Indian television."
Rode feels Indian television should stop being seen as a stepping stone to cinema. "Everyone who comes to the entertainment industry wants to be a film actor. Who wants to be a television actor by choice? I want to change the perception of Indian television as being the poor man's medium," he says.
Rode has found no time for love lately. "I am single, and my mother is worried. She wants me to get married. Now that I'm in my 30s, I can't wait for the work-load to slow down. I need to find someone who will accompany me in my professional journey."