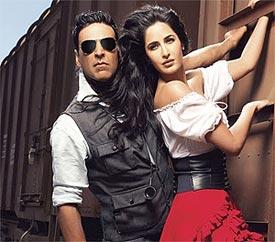 Raja Sen reviews Tees Maar Khan. Post YOUR reviews here!
 
There are some filmmakers who request, nay, demand a wilful suspension of disbelief.
 
Farah Khan, on the other hand, sticks a revolver in your back and orders you to fork over your disbelief as you walk in the door. And even as our arms do obediently rise for Tees Maar Khan, they do so more to facepalm in whatmighthavebeen exasperation rather than applaud boisterously, as they did with her earlier films.
 
Which is a real shame, considering the source. Vittorio De Sica's 1966 film After The Fox -- of which TMK is an official remake -- is quintessential Farah material.
The Italian neorealist, while developing a contrived, loony plot -- about conmen staging a fake movie production in order to pull off a gigantic heist -- took the opportunity to skewer all and sundry, from Tony Curtis to John Huston to buddy Federico Fellini and even himself. Who better, then, to helm a remake than our very own Sultana of Spoof?
 
Yet that glorious Bollywoodity of her last two films hasn't been given free rein here, with a mediocre script weighing the film down and turning it into 'just another Akshay Kumar project.' And we all know how those turn out, even if Kumar is in better form this time than in the recent past.
Tees Maar Khan looks better, is better acted, and provides far more laughs than the standard Bollywood comic project, but judging Farah by the bar she's set for herself, it has to be termed a disappointment.
 
Applause, however, must go to her for breaking the ice and bringing out the performer in Katrina Kaif. Ever-dazzling, here the star is the film's biggest delight, her gorgeous bimbette modelled on those spectacular European dimwits like Claudette Colbert or Emmanuelle Beart. She bounces around, jawdropping, as she overacts or rushes off for more makeup and more rollers, and Kaif plays the part with immaculate, old-school abandon. It is a slapstick standard part, the distracting, silly siren you can't take your eyes off, and Katrina nails it, stealing every scene she's in, if just by the way she yells 'Tabrezzz.'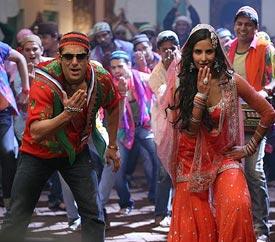 That Tabrezz is Tabrez Mirza Khan, played by Akshay Kumar in what is clearly a return to form. He's more restrained here -- and immediately more likeable -- but isn't helped by poor lines masquerading as stunners, by dialogues which have no business being in a film here repeated over and over again.

The main flaw, then, lies in the writing. The plot is borrowed, yet, beyond the original conceit, remains nearly nullified behind a smokescreen of sight gags and farce.
Weighing in at just over two hours, the pace never slackens, and yet the flab can be felt, especially in the second hour. There is so much that could have been done, and so much that is lazily let down. Even the grand train robbery the film is building up towards turns out as uncomplicated as pie, even if aided by an inspired choice of song. And the product placements are just embarrassing.

And yet, Tees Maar Khan gives us a lot to smile at. Akshaye Khanna does immensely well as an actor with his eyes singularly trained on his Oscar-acceptance speech, Anil Kapoor lampoons his own Academy Award enthusiasm with glee, and Arya Babbar impresses as an easily hoodwinked cop.
Some gags are in poor taste -- about dark skinned directors and albinos made up as Britishers -- but others have the director's trademark exuberance. Also, a pair of earnest policemen, seemingly straight as nails, turns out to be gay: not bad for an industry where we can't spell homosexual without turning wrists immediately limp.
 
The thing one has to appreciate about Farah is how old-fashioned her cheekiness is. Tees Maar Khan might be so silly it hurts, but its antecedents are those loony 1970s farces like Hera Pheri or Namak Halaal or Bombay To Goa, not any of these interchangeable Priyadarshan/Bazmee movies. Hers are films that rely on star-driven characters letting their hair down, and here as Kumar does a Bachchan and Kaif a Zeenat, we realise that's the only way the filmmaker likes telling her stories.
 
Tees Maar Khan opens with a creepily animated baby kicking around in reaction to the crook-infested Bollywood cinema his mother feasts on. Like Farah, this too is a child of old-Bollywood. An infant wailing around to Tees Maar Khan, however, might not grow up to the same cocksure swagger. Om Shanti Om remains a much safer bet for that.
 
Rediff Rating: