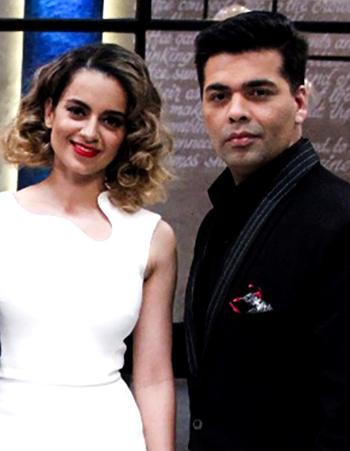 Karan Johar has criticised Rangoon actress Kangana Ranaut for constantly playing the 'victim card' and blaming Bollywood for 'terrorising' her.
Kangana had appeared on Johar's celebrity talk show Koffee With Karan, where she called him the 'flag-bearer of nepotism'.
'I am done with Kangana playing the woman card and the victim card. I am done,' Johar said during a session with Anupama Chopra at the London School of Economics, India Forum.
'You cannot be this victim at every given point of time, who has this sad story to tell about how she has been terrorised by 'bad Bollywood'. If it is that way, then leave,' he added.
On an episode of Koffee With Karan, Kangana said Johar would be perfect to play the role of a 'stereotypical Bollywood biggie who is snooty and completely intolerant to outsiders, the flag-bearer of nepotism, the movie mafia' in her biopic if it is ever made.
Johar said he may not have agreed with her comments but he let it air as he respected her point of view.
'She had a great prospective and point of view. Everyone lauded her for coming on to my show and (how she) 'gave it off to Karan'. I was gracious enough to not cut anything and let it be that way. I could have edited it as it was my show. I cut none of it. I said, 'No, let the world listen to her opinion and she must voice it'. I gave her the platform,' he said.
Earlier, during a chat session on Twitter, someone had asked Johar, 'Was Kangana correct about nepotism?' He had replied, 'Not entirely! She made an impact with her sweeping statements! That was fun... for her! And the show.'
In the picture: Kangana Ranaut and Karan Johar on Koffee With Karan