Hope this film will teach Indians the value of their rights and the perils of exchanging those for 'economic development' or promises of a better future by a populist leader, notes Utkarsh Mishra.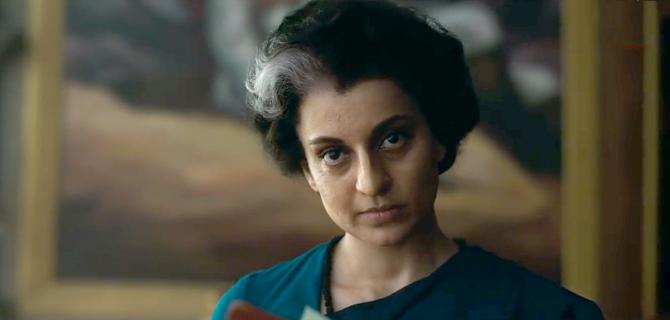 Kangana Ranaut released a teaser of her new film Emergency on the 48th anniversary of the proclamation of internal emergency in India by the Indira Gandhi government.
It shows Kangana's Mrs Gandhi saying that 'no one can stop me from protecting this country. After all, India is Indira and Indira is India.'
First of all, Mrs Gandhi never said that.
These were the words of the then Congress president Dev Kanta Barooah, a man who could put to shame even the most ardent of sycophants.
This is one glimpse of the 'creative liberties' this film would supposedly take to fulfill its objective.
However, the line 'no one can stop me from protecting this country' suggests that hopefully, the movie will not glean over the excuses Indira Gandhi offered for her decisions.
The Emergency was proclaimed on June 25, 1975, almost two weeks after an Allahabad high court judgment held Mrs Gandhi guilty of misusing the official machinery in her election campaign and overturned her election to the Lok Sabha, making it very difficult for her continue as prime minister.
It also barred her from contesting any election for six years.
However, she was given a window to appeal the judgment in the Supreme Court.
While her appeal was pending, and legal experts were confident that the high court order would be overturned, there was a massive outrage demanding her resignation.
The 'Total Revolution' launched by Jayaprakash Narayan, or JP, was already underway. And this latest blow by the court could prove to be the last nail in the coffin.
Hence, the most drastic measures had to be taken to retain power. And they were taken.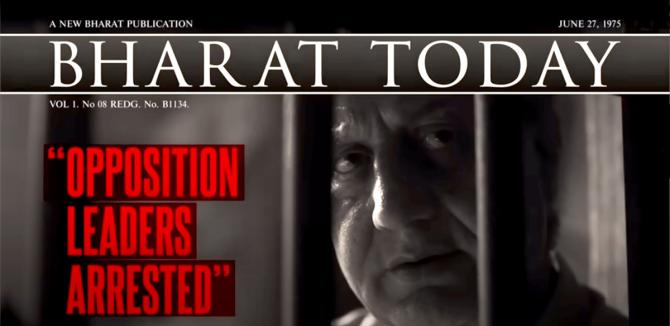 Mrs Gandhi never agreed that the Emergency was a way for her to cling to power.
She had her reasons, and see if these sound familiar: She claimed that 'foreign powers were conspiring with her domestic opponents to get rid of her and they had lots of money at their disposal'.
She also said that she had to stay for the sake of the country. 'What else could I have done except stay? You know the state the country was in. What would have happened if there had been nobody to lead it? I was the only person who could, you know.'
The Emergency was 'declared to save the country from disruption and collapse', she said, and also attacked the Western media for 'India-baiting' while there were 'more visibly authoritarian nations such as Pakistan and China'.
She spoke of India's past glory and also about duties of the modern citizen. It was during the Emergency that a chapter on Fundamental Duties was added to the Constitution.
Haven't we, in recent times, heard how it is imperative to perform one's fundamental duties to avail one's fundamental rights?
And while the teaser suggests that the suspension of people's basic rights, the suppression of press and free speech and the rampant authoritarianism would form the main themes of the movie (alongside, perhaps, Gandhi family baiting), it must also show what foreign journalists in India reporting on Emergency experienced.
A British journalist found that the 'Emergency was widely welcomed by the middle class' because it finally ended years of mass protests and demonstrations and brought a sense of calm to the day-to-day life.
Mrs Gandhi had said that while she had denied her people freedom, she would give them bread in exchange. And this was largely seen as happening on ground.
A government official told a visiting American journalist that 'only foreigners cared for such things as the freedom of expression'.
The journalist also found the business community especially pleased with the Emergency.
I really don't understand why it all sounds so contemporary over four decades later! Anyone? (Just asking, not insinuating anything, absolutely no.)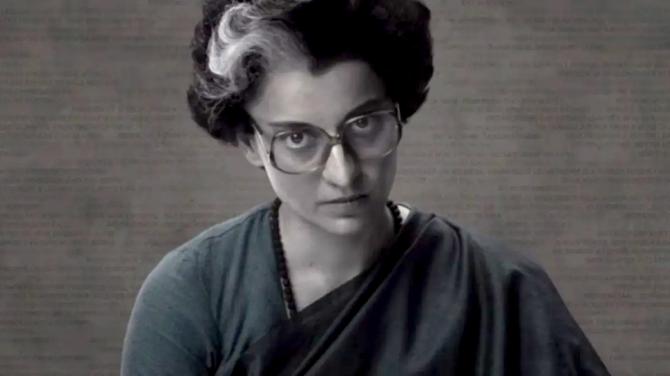 So while the movie would feature the struggle of the then Opposition leaders, political activists, journalists and common people who went to jail at that time, it should also show that there was an even larger section of the population that was not concerned with the hardships of the former at all. In fact, it somehow thought they deserved it and maintaining order was more important than upholding rights.
Hope this film would be able to teach Indians the value of their rights and the perils of exchanging those for 'economic development' or promises of a better future by some populist leader (No, I did not burst into a guffaw while writing this sentence. And needless to say, Kangana is a phenomenal actress).
Lastly, given that we are witnessing perhaps the fastest growing rate of the number of sycophants in the country's politics today, it is pertinent to look at what happened to D K Barooah, the man who coined the phrase 'India is Indira and Indira is India'.
He was known for his fealty towards Indira Gandhi and her son Sanjay.
Another adulatory phrase, or rather a couplet, he wrote for Mrs Gandhi, which is remembered to the day, was 'Indira, tere subah ki jai, tere sham ki jai, tere kam ki jai tere naam ki jai (Indira, victory to your mornings and your evenings, to your name and to your deeds)'.
While Indira Gandhi's appeal to the Supreme Court was pending and calls to her resignation were growing stronger, this great loyalist reportedly offered her a swap, that he become PM and Mrs Gandhi become the Congress president, and once the Supreme Court decided in her favour, they could happily exchange positions once again.
However, Sanjay Gandhi nipped this offer in the bud, as he felt that Barooah would not leave the PM's chair once he got it.
And here lies a lesson for all the sycophants: If you are one, there will always be suspicions about your integrity. Even among the masters you bow down to.