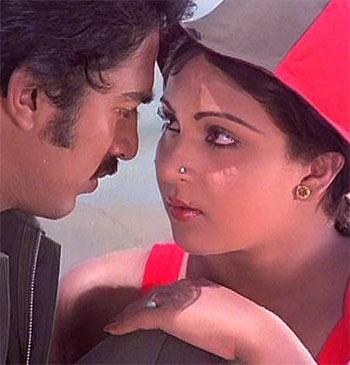 Veteran actress Rati Agnihotri, who made her Bollywood debut with K Balachander's wildly successful romance drama Ek Duuje Ke Liye, remembers the late filmmaker.

It's very hard to believe that he is gone.
Some days ago, I was shooting in Punjab and I got a call from Chennai inviting me for a get-together on December 24.
They wanted to honour K Balachanderji and Bharathi Rajaji by inviting all the actors and technicians who had worked with them in the 1970s and 80s.
I was launched in Tamil cinema by Bharathi Rajaji and in Hindi cinema by Balachanderji. I was very fortunate to have been launched by the best.
I couldn't attend that event because I needed to be with my ailing mom.
Balachanderji meant so much to my career and to me as a person.

He not only discovered me for Hindi cinema in Ek Duuje Ke Liye, he also guided me through the film.
My dad was approached and we immediately agreed because the film was produced by the great L V Prasadji and directed by the stalwart K Balachanderji.
Ek Duuje Ke Liye was a remake of Balachanderji's Tamil film Maro Charitra.
My dad saw the original before saying yes to the remake.

But I was not allowed to see it because Balchanderji didn't want me to be influenced by the earlier film.
So I had no idea what the film was all about. All I knew was that I had a great producer, director, and co-star in Kamal Haasan.
When I first came on the sets I was really scared of Balachanderji.

I wondered if he was angry with me. He had these really huge eyes which would look straight at you.
But he never ever shouted at me -- I was so young then, just 16 -- and so raw.

I knew none of the emotions I had to express. Balachanderji would whisper comforting words and I would do the scene.
I just followed what he said. I was like a sponge, absorbing all that I was given.
he would talk to me in Tamil, then in English.

Prasadji, Balachanderji and Kamalji would pull up their chairs and explain the scenes to me. That's how I managed.
I couldn't have done it without these three great artistes to guide me through Ek Duuje Ke Liye.
Talent is all very well. But what really matters is luck.
I was lucky to have Balachanderji as the director of my first Hindi film.

Image: Kamal Haasan and Rati Agnihotri in Ek Duuje Ke Liye