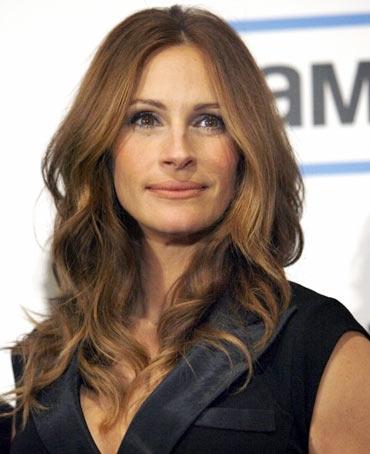 Last week we discovered Julia Roberts was a practicing Hindu.
Now comes word of Julia visiting a Hindu temple in Calabasas, California.
Narasimha Bhattar, the temple's chief priest, tells Sandip Roy how he came to meet the actress.
Julia Roberts came here perhaps one or one-and-a-half months ago to shoot a commercial. I think it was for Elle magazine -- you know like a photoshoot. I remember she came in the morning, perhaps 9 or 9:30. And they stayed the whole day maybe till 4 or 5 pm.
They did a photoshoot outside the temple and at the entrance. I have been the chief priest at this temple since 1984-1985. So I came out and was introduced to her and did a namaskaram. She did a namaskaram back.
I asked her if she had been to India. And she said she had gone to India to shoot her film (Eat, Pray, Love).
"I love India. It is such a peaceful place," she said.
She looked very nice. She had worn Indian clothes and a lot of flowers.
I don't know that she is a practicing Hindu or not. That was the first time I saw her. She came with her children. I did not ask her about being a Hindu and she did not say anything either.
We didn't do anything special for her. We didn't perform any aarti or anything. This is just a place for our holy ritual. And we follow our own customs. Once we had greeted each other, I went back to my work.
At first, they wanted to take photos with me and her. But then they only did pictures of her alone in front of the temple. That was okay with me because I don't want to do commercials like that in the temple.
I didn't take a photo with her or take her autograph. I am not that kind of a person.
I have been here for over 20 years, and have seen many celebrities coming. One of the Beach Boys comes here often. I have also met Richard Gere.
Photograph: Mario Anzuoni/Reuters