'It is great that I am making this film after 20 years with my son.'
'People loved some 8 to 10 scenes in the original and we have got some of it in this film.'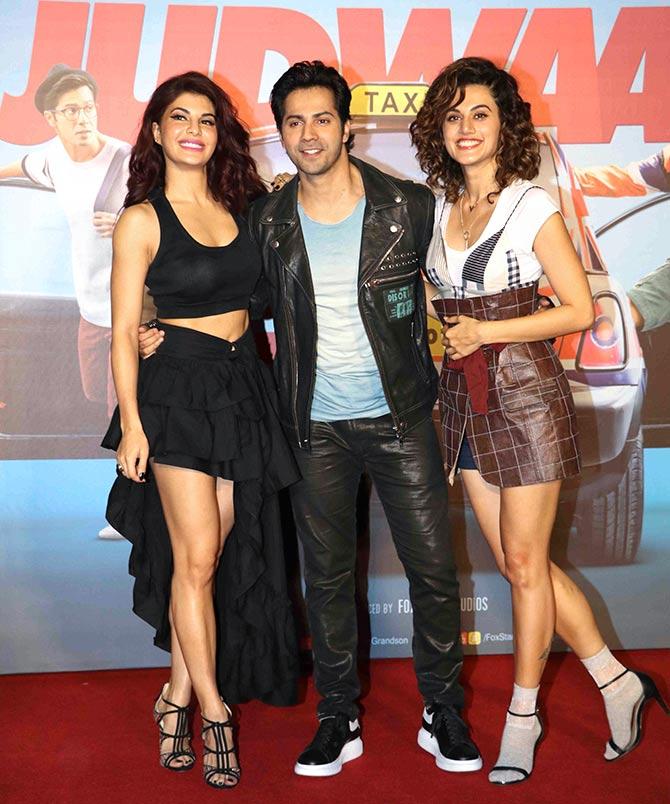 Varun Dhawan has stepped into Salman Khan's shoes for the Judwaa sequel, and the trailer hasn't disappointed us at all.
But can Varun match up?
"Pressure and expectations will be there," Varun says about the comparisions with Salman.
"I am happy there are expectations. If there wasn't, that would have been a problem. I want people to have expectations from my films, thinking there will be some entertainment in my films."
"I am here for the audience, I work for them. The day that passion goes away, I won't be here," Varun says at the film's trailer launch.
Karisma and Rambha played the leading ladies in David Dhawan's 1997 movie.
Jacqueline Fernandez and Taapsee Pannu take over in the follow-up.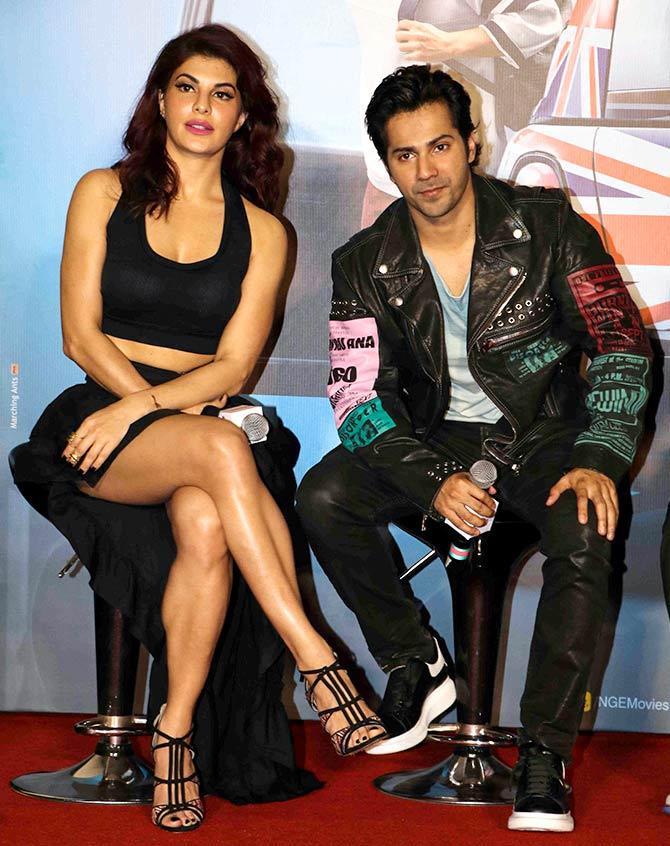 "I play Karisma's part," Jacqueline says. "The pressure is high. She is a fantastic actress. I hope I have made David sir proud with my work."
Jacqueline, who has watched Judwaa a few times, adds, "I feel blessed to be a part of this film. I have worked with the Dhawans -- Rohit Dhawan (in Dishoom) -- and now, David Dhawan and Varun and they are the most amazing and wonderful people."
"You make sure you do justice and give your best. I have followed David sir's instructions."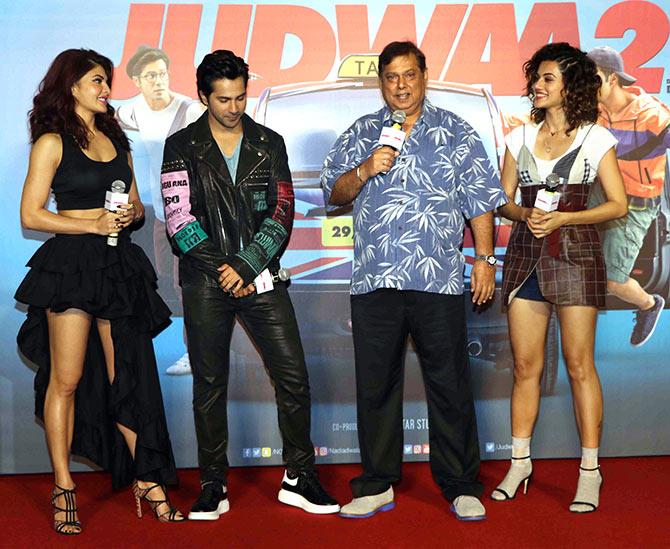 Taapsee, who has played intense roles in PINK and Naam Shabana, says she had a great time shooting Judwaa 2.
"People have often told me I look good in real life. I don't understand if that is a compliment or a comment. I have compensated all in Judwaa 2. I hope no one says this again after the release of Judwaa 2," Taapsee adds.


David praised Jacqueline and Taapsee, saying, "Jacqueline has done well, she has done it beyond my imagination. Both the girls are so good and prompt."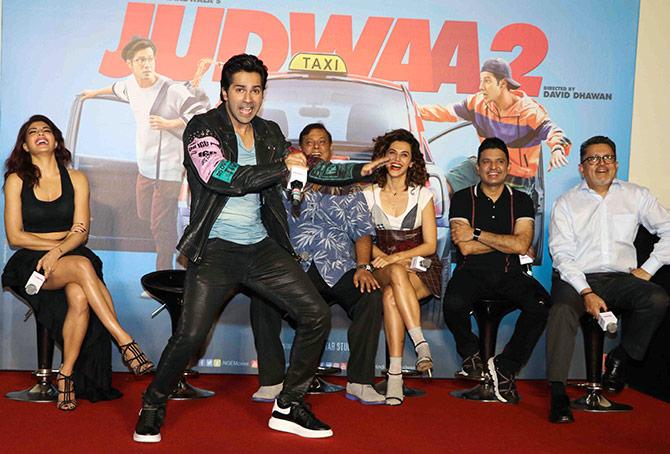 Varun says the sequel would not have been possible without Salman as the superstar made the two characters of Raja and Prem iconic.
"He will remain the original Raja and Prem. I hope we have done a good job," he says.
The actor was a kid when he saw the original Judwaa and had liked the songs, dance and action in the film.
"I enjoyed watching Salmanbhai. I get transported to this world when I watch (his) films in theatres with my family. After that, I wanted to be in this (film) world, so I want to entertain people as much as I can," he added.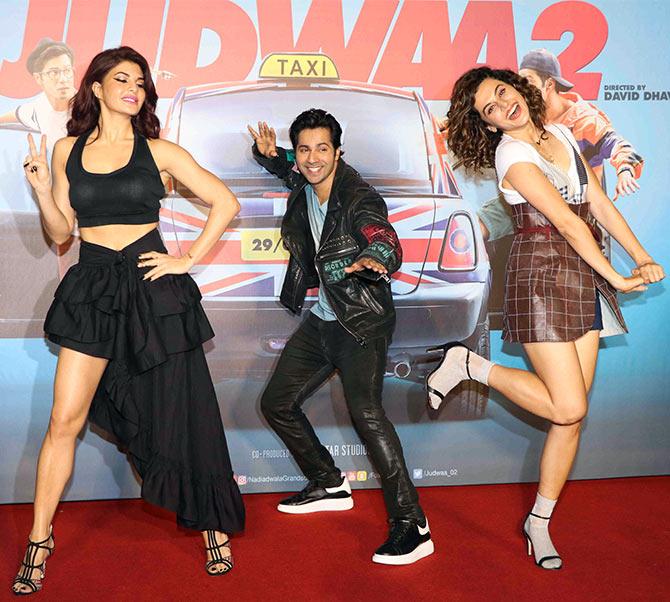 David, who had collaborated with Salman for the first time in Judwaa, said the actor is still as natkhat (naughty) as he was while working on the comedy.
"Salman is a seasoned actor... When he gives a shot, you would feel that he is not interested, but he is the most interested actor on sets. He did a good job," David Dhawan says.
"He works from the heart, there is thehrav in his performance. It was my first film with Salman and it was superb working with him."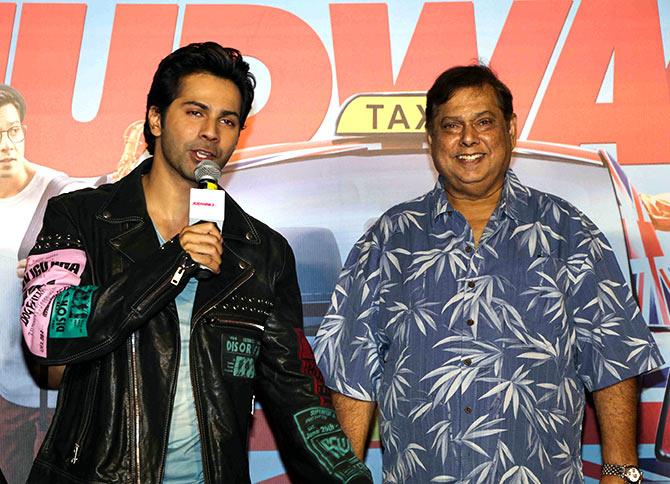 Judwaa 2 will be David's second film with son Varun after Main Tera Hero.
"It is great that I am making this film after a gap of 20 years with my son. People loved some eight to ten scenes in the original film and we have got some of it in this film as well," says David.
"It is today's film," the director adds, "the look is different. We have got two popular songs back, Chalti Hai Kya Nau Se Bara and Ounchi Hai Building."
Varun reveals his father asked him to watch Gulzar's Angoor for reference.
"That film has been a big inspiration for me. Sanjeev Kapoor was brilliant in that, he is one of the best actors in Indian cinema. I also liked Sridevi in Chalbaaz," Varun says.
In Judwaa 2, Salman will be seen in a cameo, but Varun says the superstar will not be a part of the promotional activities.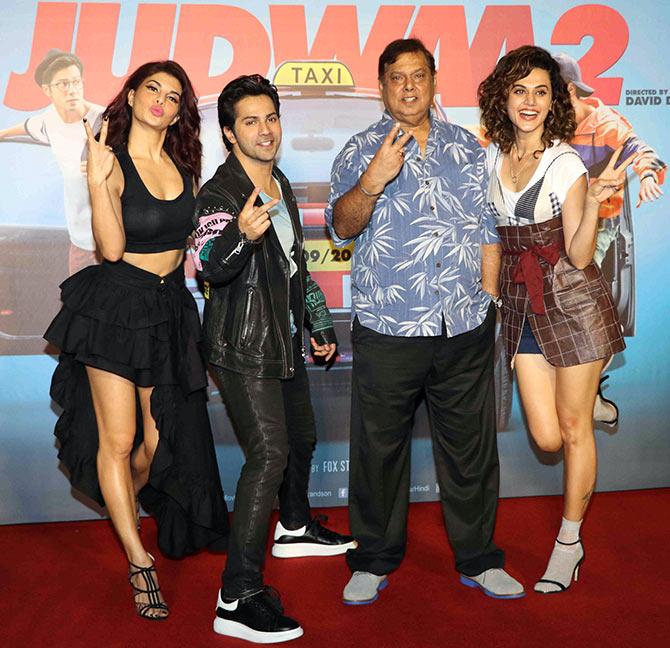 Varun will begin work on Shoojit Sircar's October soon.
David Dhawan and Govinda were a hit pair, making 19 films together.
Would he like to work with Govinda again? "Why not?" David asks.
"I make films to entertain the audience. I have worked with all actors, but Govinda is different. He has created history. Now I am working with my son."
Photographs: Pradeep Bandekar