Victoria & Abdul tells the true story of the unexpected friendship between Queen Victoria and her young Indian servant.
Monali Sarkar reports.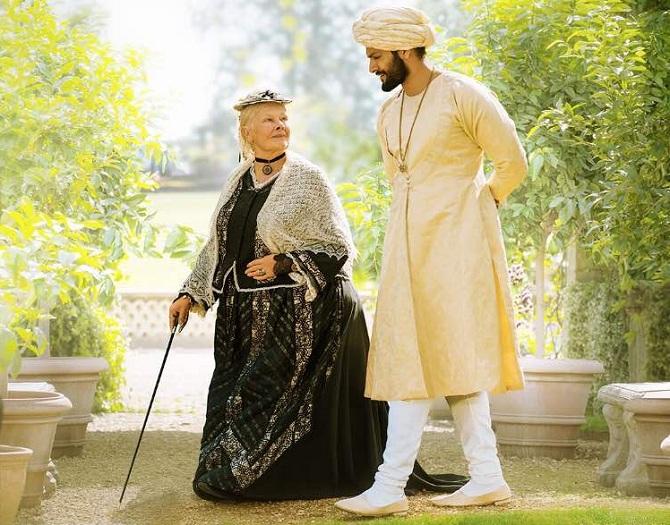 IMAGE: Dame Judi Dench as Queen Victoria and Ali Fazal as Abdul Karim in Victoria & Abdul.
The trailer of Victoria & Abdul -- which was to be launched at the 70th Cannes Film Festival, but had to be cancelled due to the Manchester terror attack -- was finally unveiled on Tuesday evening.
Starring Dame Judi Dench as Queen Victoria and Ali Fazal as a young Indian clerk called Abdul Karim, the film tells the unexpected but true story of the deep friendship between the two.
According to Shrabani Basu, the author of the book on which the film is based, 'The tall, handsome Abdul Karim was just 24 years old when he arrived in England from Agra... An assistant clerk at Agra Central Jail, he suddenly found himself a personal attendant to the Empress of India herself.'
'Within a year, he was established as a powerful figure at court, becoming the queen's teacher or Munshi, and instructing her in Urdu and Indian affairs. Devastated by the death of John Brown, her Scottish ghillie, the queen had at last found his replacement.'
However, the intense and controversial relationship, led to a near revolt in the royal household.
In the trailer, by the time Queen Victoria meets Abdul she is 81 years old and the longest serving British monarch.
The next two minutes provide an intriguing peek into how Abdul went from being servant to teacher to confidante.
'Everyone I love has died and I just go on and on. What is the point,' she tells Abdul.
'Service, your majesty,' he says. 'You are here for a greater purpose.'
They have 'upset the order of everything,' but Queen Victoria isn't backing down. In her own words, she hasn't 'been as happy as this for years.'
For Basu, Victoria & Abdul was not just the story of 'how a young Indian Muslim came to play a central role at the heart of the Empire, and his influence over the queen at a time when independence movements in the sub-continent were growing in force.'
To her, at its heart, it was 'a tender love story between an ordinary Indian and his elderly queen, a relationship that survived the best attempts to destroy it.'
Whether that is at the heart of director Stephen Frears's Victoria & Abdul as well will become clear when it hits the theatres in September.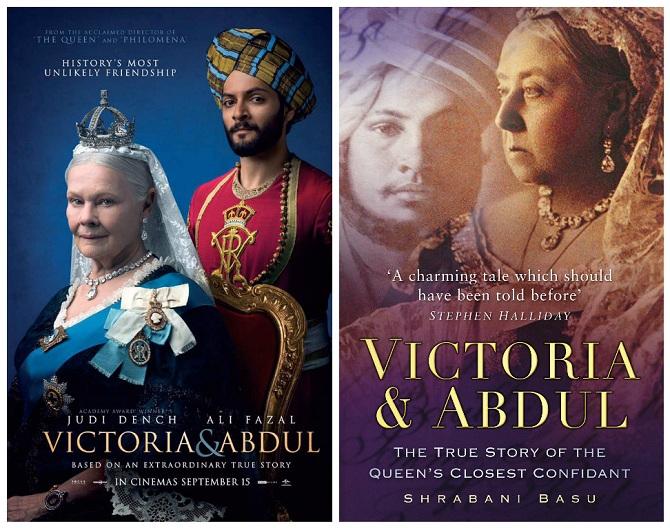 IMAGE: Shrabani Basu's book has been adapted for the screen by writer Lee Hall.
The film also stars Eddie Izzard, the late Tim Pigott-Smith and Adeel Akhtar.
Fazal, who was at the film's trailer launch in India, said Dench was upset that she could not come to India for the event.
'She was a little heartbroken... I really hope we can make her come. She is really gunning for it, we all are. We also have a busy schedule ahead, so we don't know what's going to happen in the next few months,' he told the media.
Dench has earlier come to India for the shoot and promotions of The Best Exotic Marigold Hotel andThe Second Best Exotic Marigold Hotel, and Ali spoke about their conversations about India, food and Bollywood.
Asked about Dench's perception of Bollywood films, he said, 'Unfortunately (song and dance). We hate that. I told her, that's not Bollywood. We are much more than that.'
This is not Fazal's first outing in a Western film; he was part of Fast & Furious 7 (2015).
Describing his experience of working in the West, Ali said not putting on an 'Appu accent' was his first fight.
'That's not an Indian accent,' he said at the trailer launch. 'I was very adamant about certain words that the western culture doesn't understand. These are the words and names you can't pronounce any other way. If you have a point, people listen.'