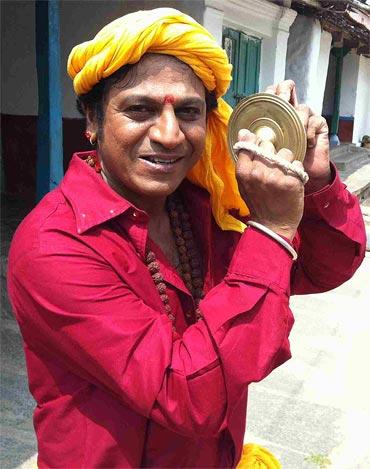 It's been a little over a week since Kannada film Jogayya has released.
So, has the hype around actor Shivarajkumar's 100th film helped it sail through the first week? Hardcore Shivarajkumar fans and, of course, the director-producer couple Prem-Rakshita have maintained that collections have been ringing at the box office and that distributors and exhibitors have nothing to complain about.
However, it is not lost on the film industry and audiences that the story has failed to come up to expected standards.
Of all the things promised, only Shivarajkumar's performance and lavishly shot songs have delivered. The bigger disappointment was the inability of audiences to experience a 3D song that Prem had been advertising as the highlight of the film. Forget tier two cities, barring a few multiplexes, theatres in Bangalore itself have failed to provide viewers with this facility.

Three days after the film's release, theatres are not running to full houses. But the team says that it is because the film was released in over 200 theatres, over 50 in Bangalore alone, that the crowd has been spread out and thus the empty halls.

 And as for the content, they say that it is not possible to please everyone.
"With festival holidays round the corner, hope still floats for Jogayya. This being a mid-week release and the salaried class being more likely to watching the film during month end, it is too early to predict the future of the film," notes senior film journalist Subramanya.

With exhibitors having paid huge amounts as non-refundable advance, the film is sure to be in theatres for some time to come, but how many people will go back pleased with the story remains to be seen.

Whatever the case, it is the hype that has led to the failed expectations. From the heroine's selection, film launch, getups to the 3D song, Prem left no stone unturned to keep the film in the news. But it failed to add up to anything substantial. This being Shivanna's100th film only added to the disappointment.

Century jinx!

It's not the first time that the 100th film of a popular actor has not met people's expectations. The 100th films of actors Rajkumar (Bhagyada Bagilu), Vishnuvardhan (Satya Jyothi), Ambareesh (Honkongnalli Agent Amar), Uday Kumar  (Sedige Sedu) and Aarti (Agnata Vasa) were also not crowd pullers.

"What you have to remember is that media exposure was not all that much those days. As far as I remember Rajkumar's Devata Manushya and Shabdavedi had created a lot of interest. But then again when it came to his films and the films of other good actors, people thronged theatres, be it the 50th, 60th or the 100th. Also, earlier, if it was an actor's hundredth film, efforts would be made to make the film's music, story, dialogues and screenplay different. These days the stress is more on the publicity rather than the story," says film analyst Srikantgundappa.
 
It may be recalled that Tamil superstar Rajnikanth's 100th venture Sri Raghavendra was also a failure at the BO. Throwing light on the project, senior film journalist of Film News, Anandan, says, "Rajnikanth's first film was with Balachander and thus he was keen that he direct his 100th film as well. But Balachander was not comfortable with the genre and chose to produce it under his banner and had S T Muthuraman direct it. The film didn't do well and theatre owners suffered further as government had made the film tax free. All the same time it had fabulous music by Ilayaraja. A host of talented actors including Kannada actor Vishnuvardhan were cast in the film."

Then again it was not just Rajnikanth whose 100th outing was uneventful. MGR's Olivillaku; Gemini Ganeshan's Seetha; Prabhu's Rajakumaran; Tamil Nadu chief minister and former actress Jayalalitha's Thirumangalyam and Roja's Pottuamman were also unimpressive. Kokila' Mohan, who is a known name among Kannada and Tamil audience also didn't receive a favourable response to his 100th film. His Kannada film Kokila ran to packed houses even in Chennai but his 100th Tamil film fizzled out in two days.

"At one point artistes stopped announcing their hundredth film as they felt it was a jinx. Many actors like Sujatha and Sripriya refused to celebrate the milestone. Nenjathaiallitha was Karthik's 100th film. But it was only after it ran for 25 weeks that he announced that he had struck a century," says Anandan.

100th time lucky

It's not like 100 has proved unlucky for all stars. Tamil actor Kamal Haasan's Rajaparvai was a hit. The film told the story of a blind man. Director L V Prasad who had starred in Alam Ara, India's first talkie, was also part of the cast.

Current superstar Suriya's father and actor Sivakumar's 100th film Rosappu Ravikkaikari was also a success. The film was a remake of actor Lokesh's Kannada film Prasangada Gendethimma. Actor turned politician Vijayakanth's Captain Prabhakar had also run to packed houses.

Telugu superstar Cheeranjeevi's Lankeswaradu was a hit too. The film also introduced Prabhu Deva as an assistant choreographer. Krishna's Alluri Rama Raju also raked in the moolah.

Coming to the Malayalam industry, film observer Ajay says that though superstars Mammootty and Mohanlal (in fact, Mohanlal's 300th film will be released soon) have never made it a point to establish the fact. "Here they don't believe in numbers, they just concentrate on making good films," he says.

In conclusion, like Srikantgundappa says, "There is no set formula for success, be it one's first film or the hundredth. Film makers should just be able to sense the political, cultural and social trends that are prevalent at a given time and make films in sync with the times. But most of today's film makers are failing to do their homework before calling the shots and that's where the problem lies."   
 
Coming back to Jogayya, Shivarajkumar's performance was most definitely the high point of the film. If only the story had backed him up, it would have been a perfect gift for his 25 years in filmdom. This is hoping that he backs his act with solid scripts in the future.