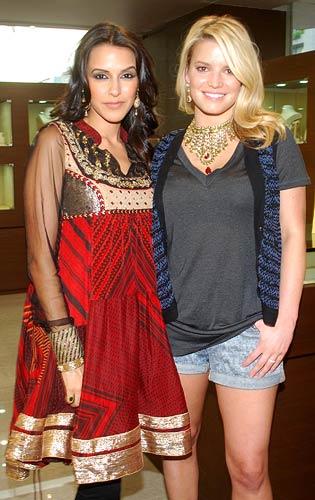 VH1 aired the India episode of Jessica Simpson's new reality show, The Price of Beauty on Monday in the US. 
In the episode, the pop princess from Texas flies to Mumbai to hang out with former Miss India Neha Dhupia and attends a glitzy Bollywood bash, all in an effort to learn what Indians consider beautiful!
But that's not all she did: She and her friends got henna hand tattoos, participated in a laughter yoga session, checked in with Operation Smile's work in India and even tried an all-new, highly suspect beauty treatment.
Interestingly, thankfully, mercifully, the show didn't retread the much-discussed obsession Indians have with fair skin.
Given Simpson's well-documented history of gaffes and so-called 'blonde moments', quite a few Indian commentators had worried that the The Dukes of Hazzard star would treat the issues with silliness.
But it appears their concerns were unwarranted, as if there's one thing Simpson is serious about, it's beauty!
Particularly touching was the scene in which Meena, a young sufferer of cleft palate, was transformed through a simple 45-minute surgery, thanks to non-governmental organisation, Operation Smile.
Jessica has supported the organisation for six years, it's revealed during the episode. Meena used to hide her face in shame, but post-surgery was describing herself as beautiful.
Simpson later travelled to a swanky spa for an ayurvedic prodedure that involves cleansing the nostrils with water!
Then, Dhupia, who served as the episode's 'beauty ambassador', takes a bejewelled and sari-clad Simpson to an official Bollywood bash.
Colours and much found abound, leaving Jessica's friend to describe India as a "jewel box."
Jessica, for her part, described Indians as 'comfortably beautiful.'
Image: Neha Dhupia and Jessica Simpson in Mumbai