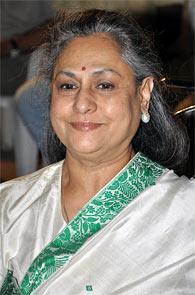 Jaya Bachchan, last seen in the 2008 film Drona, where she played mother to her real life son Abhishek Bachchan, is all set to return to acting.

The actress will make her debut on television with an adaptation of Gujarati author Kajal Oza Vaidya's novel Yog Viyog.

While a major chunk of the story will feature the accomplished actress, a substantial part of the story will require another actress to play the younger version of Jaya's
character.
Says a source close to the project, "The adaptation of Kajal Oza Vaidya's novel is nearly done. Jaya
ji
is preparing for the mother's part. The producers Endemol are yet to find a younger actress to play Jaya's role."
Apparently, the prerequisites for the young actress are not so much physical as emotional.
Says the source, "We are not really looking so much at a physical resemblance as the younger actress' ability to emote as powerfully as Jayaji."
The shoot will start in March.
Photograph: Abhijit Mhamunkar