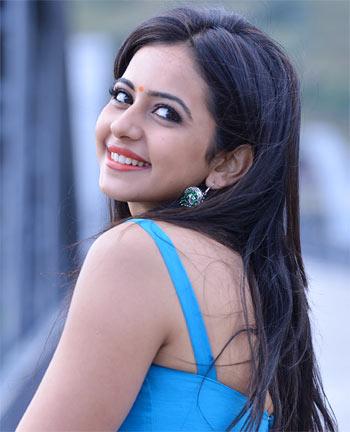 Rakul Preet Singh is now a much wanted heroine in Telugu films.
Within a few years, she has steadily progressed in her career and is now acting with top Telugu heroes like Mahesh Babu, NTR Jr, Ram Charan and Naga Chaitanya.
This pretty girl remains grounded and unfazed by her stardom.
With multiple films in hand, Rakul is shooting back-to-back but doesn't find life hectic.
While shooting in Vizag, Rakul agreed to a phone conversation about about her Telugu film Dhruva, which releases today. A remake of the Tamil film Thani Oruvan, Dhruva also stars Ram Charan and is directed by Surendar Reddy, who had directed her in Kick 2.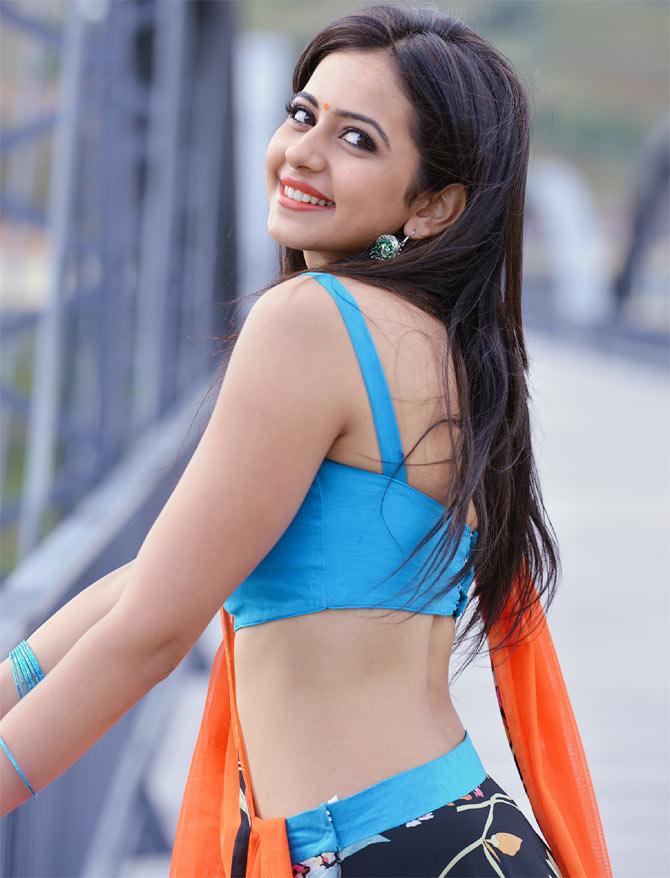 You are cruising smoothly in the Telugu film industry now. How does it feel to be a much wanted Telugu heroine?
I don't think about it.
I have multiple projects and these have grown bigger and they are spoken about now.
The fact that I am an actress has not yet sunk in.
After 6 pm, I disconnect myself from work.
I am happy doing films and the response has been good. I love being in front of camera.
Your last two films, Nanaaku Prematho and Sarainodu, did well. Are you happy?
Yeah, of course. Who would not want their films to do well? We worked hard on the films. That effort has paid off.
Did you see Thani Oruvan before signing it? How did Dhruva happen?
I had seen Thani Oruvan before.
I watch all Tamil and Telugu films; Thani Oruvan is a favourite.
With Dhruva, I got a chance to work with Surendar Reddy after Kick 2 and Charan after Bruce Lee –- they are people I am comfortable with. Moreover, I play a nice character.
You are doing the role played by Nayanathara in the original. Are there any changes? Is Dhruva a frame-to-frame remake or adapted?
There aren't too many changes. The Telugu film is packaged in a stylish way to suit Telugu sensibilities. For example, the songs are more romantic. Dhruva is a remake and there is little adaptation.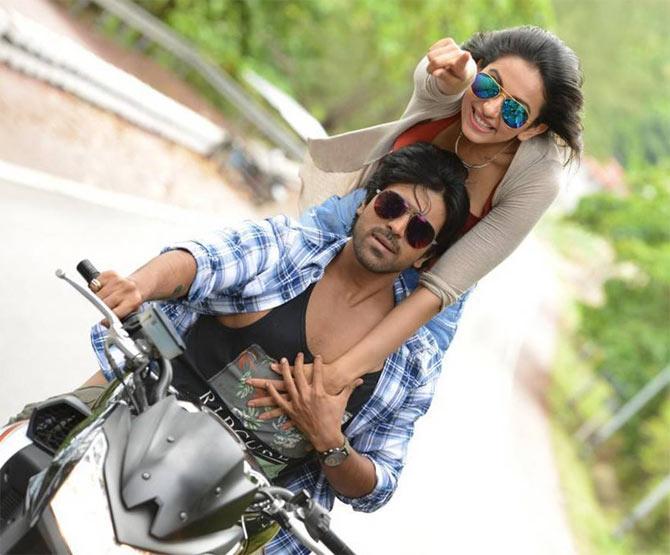 You are working with Charan for the second time…
Charan is a lovely person -- a favourite co-star of mine. He is grounded and a prankster. It is nice to work with a happy co-star. There was a comfort level as we had already worked together.
You are now acting with all the top Telugu heroes. How does it feel?
It feels good. I am enjoying this phase. I am thankful I am getting to work in good films and subjects and working with top heroes.
How was it to work with Surendar Reddy again after Kick 2?
He is a lovely person. There is not much of a difference. The comfort level and understanding was there. It was a lot of fun and I had a blast shooting for this film.
Where did you shoot the film?
We shot in Kashmir -- we were there for 15-20 days, Krabi (Thailand) and Hyderabad.
We had a beautiful schedule in Kashmir. It was serene. Everything was so fresh – including the air, the food. We used to shoot, work out and have great food. It was so relaxing.
You are now working in Murugadoss's Tamil-Telugu film (with Mahesh Babu), Boyapati Srinu (with Srinivas) and Kalyan Krishna (with Chaitanya). Life must be hectic shooting back-to-back?
There is not a day off.
There's back-to-back travelling also as all the films have outdoor shoots.
From Ahmedabad, I came to Vizag and from here I go to Araku, Bengaluru, then again Vizag and Ahmedabad and then reach Hyderabad around the 26th!
I don't find it hectic. I am bored if I am not in front of the camera.
Have you signed any other Telugu film?
I have signed a film with actor Sai DharamTej.
You are fluent in Telugu. How is your Tamil?
I am not as fluent in Tamil as I am in Telugu. I understand it. Since I have been acting in Telugu films I am fluent in Telugu.
Are you doing any Tamil film?
I have not signed yet but I am trying to fix dates.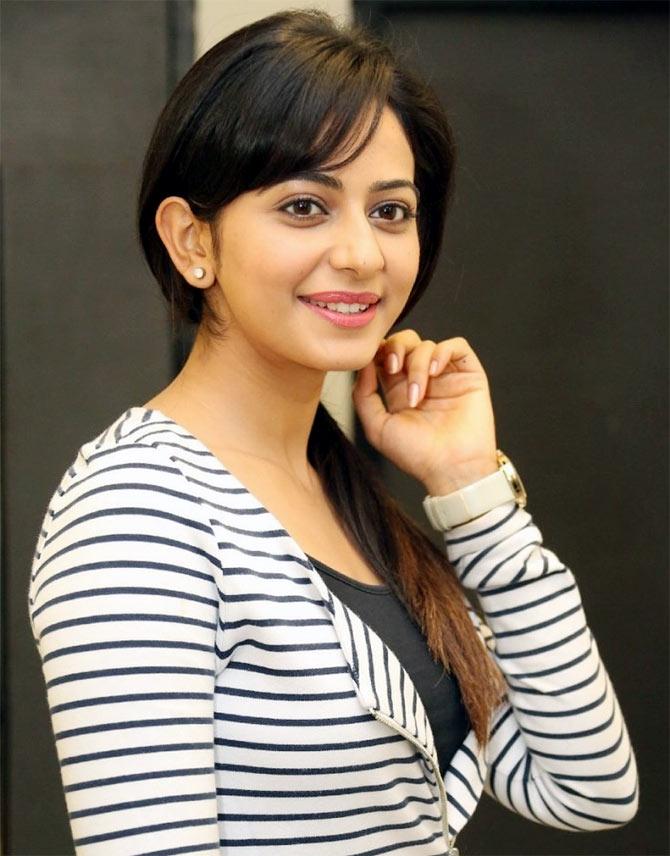 Is the shoot of the Hindi film Shimla Mirchi over?
Yes, it is over.
You are very much into fitness and you opened a fitness facility recently…
I used to work out in F-45 (a gym). They were looking at expanding so I took that franchisee. My brother looks after it.
I understand films, fitness and food.
So, are you interested in opening a restaurant?
Eventually, I may get into food. A restaurant is not an easy task. I may do so towards retirement.
You said you disconnect from work after 6 pm. What do you do?
I watch movies, hang out. My brother is also here. Like I said, it yet to sink in that I am an actor. I step into the city also. I have fun and enjoy.