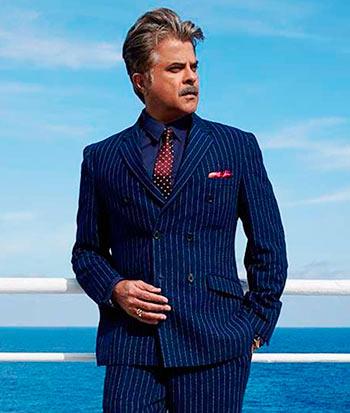 'You take so much advantage of your body. You eat, drink, sleep, smile, travel, talk, have sex -- you use this body for everything. Then why not look after it so that you can use longer?'
'You owe it to your body to treat it well. This is what I believe in.'
Anil Kapoor reveals his youthful secret.
"I got good feedback for my look in the film. Young girls, especially, want me to look like that," Anil Kapoor says proudly, referring to his salt n' pepper look in his upcoming film Dil Dhadakne Do.
"First, this was called the George Clooney look. Now, hopefully, it will be Anil Kapoor's look. I am keeping my fingers crossed," he adds.
Kapoor is now contemplating keeping the look 'forever'!
The evergreen actors talks to Patcy N/Rediff.com

Last time you changed your looks, it was for Lamhe, when you shaved off your moustache. This time, for Dil Dhadakne Do you look very different again.
In Lamhe, my sidelocks were white. Now, there are lots of things available to make it look more natural.
I remember earlier actors wore wigs, or put white powder. It didn't look that nice.
When Zoya (Akhtar, director) and I thought about how the character should look, we both came out with references. Obviously, I wanted her feedback more as she is the writer and the director.
But I looked out for references too and when we met, our references were the same. But all the references were better looking than I am.
Who were the references?
Among the actors there was George Clooney, Pierce Brosnan and some models and businessmen. They were all fantastic faces, better than mine.
I thought, yeh look toh le aaonga, par thobda kahan se laoonga. (I can get the look of the character but how will I get the face?). And that became a challenge.
Avan Contractor (hairstylist) is one of the best in the country, and we went through a long process.
Zoya was very clear what she wanted and I was very clear that I won't wear a wig, as that's too dated and artificial and I feel very uncomfortable in it.
Plus, on the cruise Zoya wanted my hair to fly in some scenes.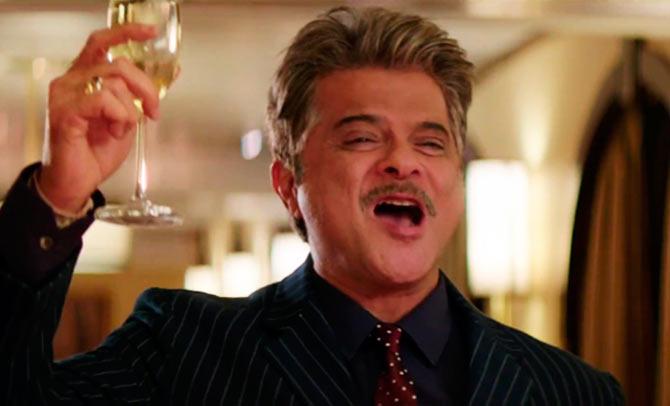 Image: Anil Kapoor in Dil Dhadakne Do
You say the people used as references were pretty faces, but you yourself are so handsome…
I worked very hard to look the part. I enjoyed it and I got good feedback. Especially young girls, they want me to look like that.
It is tough to get this salt and pepper look. Going totally grey is very easy, but the salt and pepper look is very sexy.
First, it was called George Clooney's look. Now, it will be Anil Kapoor's look hopefully. I am keeping my fingers crossed.
I am doing 24 after this so I can't have this look permanently. But once I finish 24, let's see, I may keep this look forever and darken it whenever I feel like.
You have worked in the industry for three-and-a-half decades. What makes you so excited to be on the sets even today?
Life is all about choices and your relationships.
The greatest people have made wrong choices and the best relationships have gone wrong because of wrong choices.
I keep on experimenting and reinventing myself constantly. The choices I have made have been bold, brave, risky, ahead of their time and out of the box.
I am ready to fail. I am not scared of failing because I know I am going to bounce back. I am very confident about my craft. I am a very hard-working person. I don't shy away from work; I am ready to do all kinds of work.
I don't wait for work to come to me; I go and ask for work.
I am passionate about my work and that keeps me young and alive.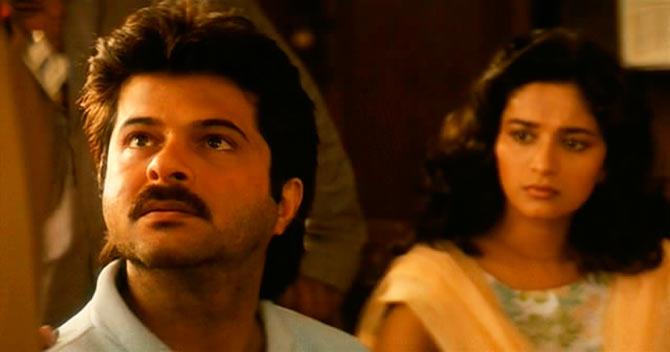 Image: Anil Kapoor and Madhuri Dixit in Parinda

You have done films like Tezaab, Parinda, Ram Lakhan…what is it that you want to do now?
I am not trying to run down our industry, but thinking in our industry is very narrow. Now, with young directors and young filmmakers like Zoya coming in, things are becoming better and exciting.
It is a great time for an actor like me. This is the best period of my life. I was slightly out of place for so many years.
I was working too hard, I would go deep into my characters. People would say, 'Bore karta hain ye, sirf kaam ki baat karta hain ye.' (He's boring, he only talks about work).
People would ask me why I go so deep into the character. I would go to the homes of my directors to discuss my characters.
I would go to Vidhu Vinod Chopra's house and we would have workshops and discuss the character, the look, and the script (Kapoor worked with Chopra in Parinda and 1942: A Love Story).
My friends would say, 'Tu director ke ghar jaa kar omelet bana raha hain kya?'(Are you going to the director's house to make an omelet?)
Now, when Vinod and I meet, we have a great laugh.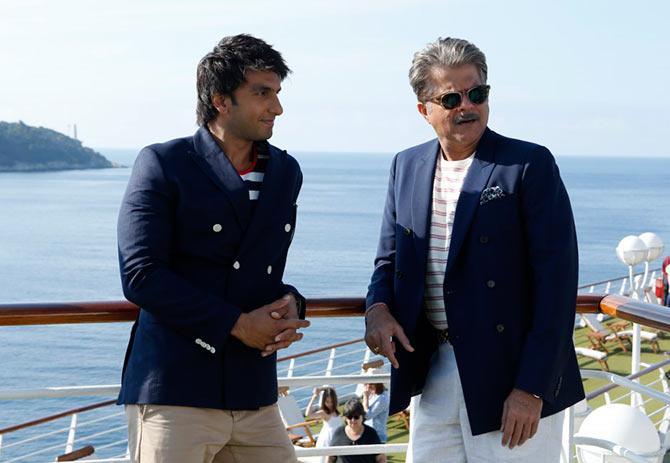 Image: Ranveer Singh and Anil Kapoor in Dil Dhadakne Do

How is Ranveer Singh, who plays your son in DDD?
He is mad, he is fun, and he is like me. I see a lot of myself in him.
The similarities are that he is very hard working, talented, loving, energetic, positive, and he is not scared of what others say about him.
How do you approach your characters?
It depends on the film and the role. Certain roles, like in No Entry, I do instinctively.
But certain roles need a certain amount of research, if you are doing a different kind of dialect, or particular mannerisms, or if you have to change your voice, your walk or your physical appearance.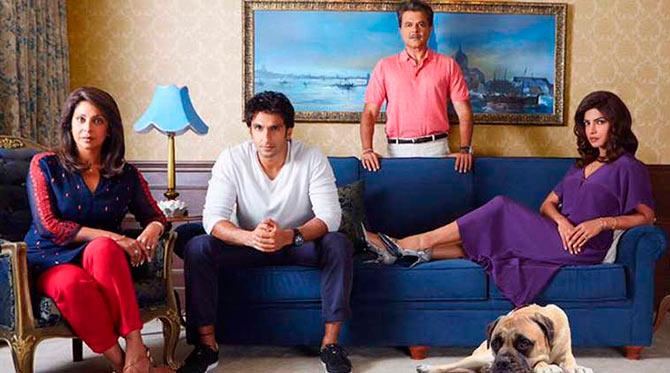 Image: Shefali Shah, Ranveer Singh, Anil Kapoor and Priyanka Chopra in Dil Dhadakne Do

DDD looks very entertaining…
There are lots of layers to DDD. It is not just an entertaining film, it will make you think, cry, laugh, smile.
The masses may not get the detailing but youngsters will love the film to enjoy the nuances.
How do you feel when your films are remade?
I don't feel anything. I am happy because it means I have done some good movies and that's why people are making it.
How do you look so young?
I have a diet regime. I eat rice but it depends how much, how it is cooked and what type of rice it is.
I exercise and I sleep well -- that is very important because lack of sleep bloats you, and stress is not good.
You need the right people around you, with good habits, as people with bad habits influence you, so if they tend to overeat, you also do it.
God gave you a body which is better than all the other species and you owe it to your body to treat it well.
You take so much advantage of your body. You eat, drink, sleep, smile, travel, talk, have sex -- you use this body for everything. Then why not look after it so that you can use longer? This is what I believe in.
How is work going on your television serial 24?
We are working on the second season. We were going to start before the rains, but we have decided to wait.
Last time we lost money because the shooting went on into the rainy season and we had to cancel the shoots.