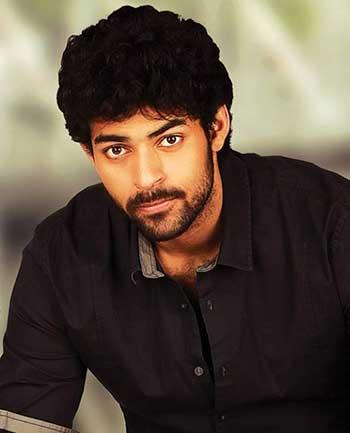 'We shot the action sequences for 25 days at a stretch, 14 hours everyday.'
'I had to wear the full uniform -- including the belt, the helmet and boots -- and carry real guns. It was quite hard and physically exhausting.'
Actor Varun Tej discusses his film, Kanche.
Varun Tej's film Kanche is a first-of-its-kind for Telugu cinema.
The film is a love story, set against the backdrop of the World War II. Directed by Krish, it will release on October 22.
The son of actor-producer Naga Babu and nephew of Chiranjeevi, Varun tells Rediff.com contributor Radhika Rajamani what it is about.
What made you sign Kanche?
The content drew my attention.
I have watched so many war films. I did not know about the Indian participation (in World War II) till Krish told me that 25 lakh Indian soldiers fought in the war.
He said that Kanche is one story among 25 lakh stories.
I loved the concept and the period backdrop -- the journey of a man from a village to Italy to fight Germany.
I was supposed to do a film with Krish earlier but it did not materialise.
Then Krish directed Gabbar. He promised that he would get the best script for me but I never expected Kanche.
How did you prepare for the soldier's role?
I play two different roles.
The first is 23-year-old Hari Babu -- a college pass-out, happy-go-lucky, chilled out guy. That was easy. The only thing required was modification in the dialogue diction. It's a period film and the people did not speak the same Telugu. I watched old Telugu films and Krish also suggested some films which I saw.
When Hari Babu became Captain Hari Babu, the body language became different. It had to be authentic like a soldier's. An army officer trained us on how to stand, walk, hold the gun, etc. Also as an actor, one keeps observing. I tried to learn from his behaviour too.
Did you see any war films?
I saw films like Saving Private Ryan, Inglorious Bastards, Thin Red Line and Fury. I had seen them earlier but now, I saw them through a different perspective.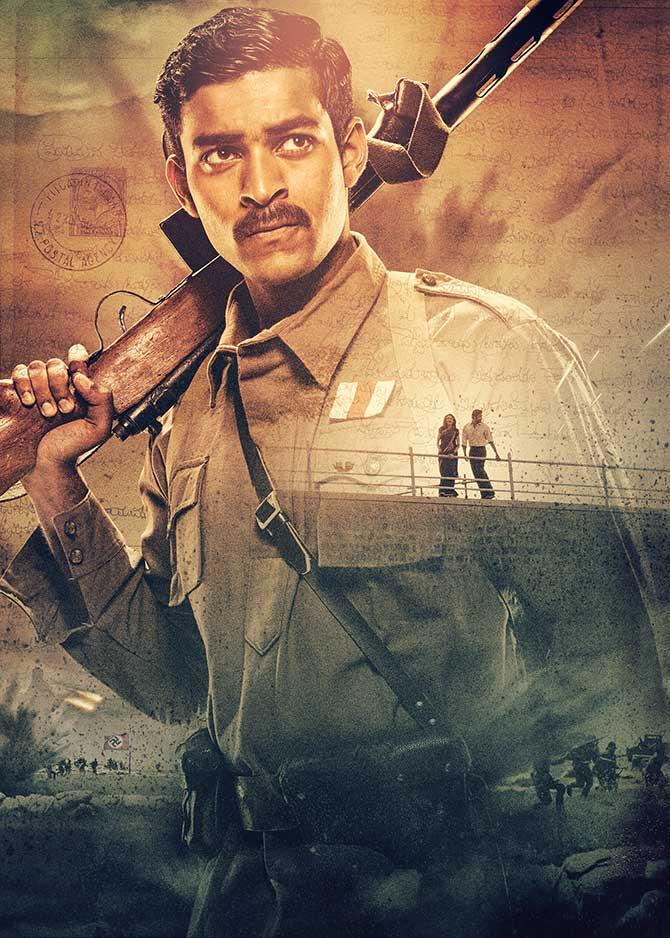 How tough was the film?
Usually, action films are shot in five days and then there is a rest period.
But we shot the action sequences for 25 days at a stretch, 14 hours everyday.
I had to wear the full uniform -- including the belt, the helmet and boots -- and carry real guns. It was quite hard and physically exhausting.
But Krish was energetic, all pumped up and charged.
How was Krish as a director and human being?
I think whatever the directors' personality is, it reflects in the films they make.
Krish has an overview of society where there is discrimination and people are treated differently. He writes subjects from his heart. There is humanity in his scripts and in him.
Have you watched all his films?
I have been a fan of Krish. I haven't missed any of his Telugu films.
How was it acting with newcomer Pragya?
I met her for the first time on the day of shoot and the scene was also one of meeting each other in the film. We were introduced in front of the camera.
There was a lot of depth in her character. To essay that, I thought Krish would get a big and experienced person. I was surprised when he got Pragya and I knew he wouldn't go wrong. When I saw the rushes of the film, I was blown away as Pragya has done an amazing job in spite of the language barrier. It is difficult to do justice to a role if one does not know the language.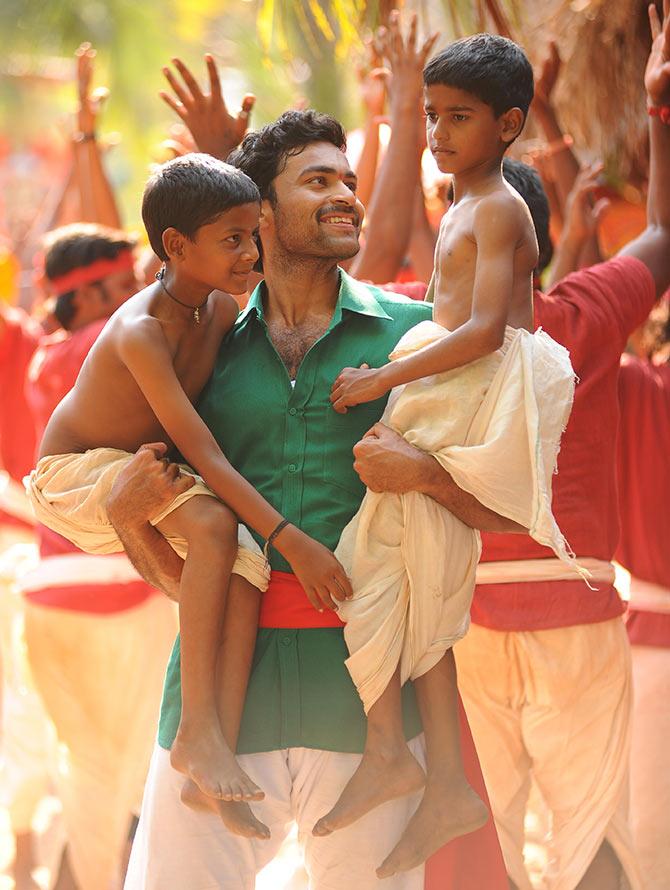 You are doing Telugu cinema's first World War II film….
It feels great to be part of something never tried before. I can't wait to see it on screen.
My most memorable part was in Georgia (Russia). Every day we would reach the village by 6.30 am and after breakfast, we would get ready.
By 7.30-8 am, we would be on the set. There were no special chairs or caravans nor any special treatment. I literally lived the life of the soldier there -- I understood how his life is, how difficult it is for him to be away from his family. It is his selfless love and respect for the motherland which makes him be a soldier. I would think about this in my free time.
Do you feel the strain of the baggage you carry, coming from the family of megastar and actors?
There are advantages and disadvantages.
There are expectations.
Fans of the other actors see my films also, so I do have that backing. I feel each one has to create their own mark and niche and by hard work one can create their own identity.
What are your future projects?
I have finished my third film. Loafer is the working title given to it.