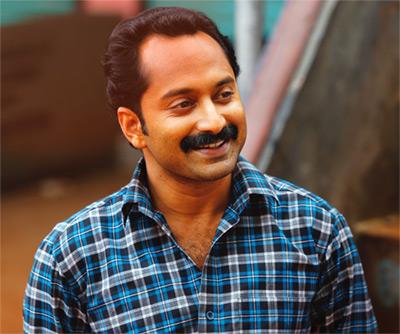 'A film is not all about the hero. He is part of the journey, yes, but there is a lot more to the story.'
After Maheshinte Prathikaram, Fahadh Faasil is back with a bang!
With his superb performances, Fahadh Faasil has redefined conventions in the Malayalam film industry. Writing on Rediff.com last month, Sreehari Nair asked if Fahadh was India's finest young actor.
Success has not come easily for this young actor. His disastrous debut with Kaiyethum Doorathu in 2002 resulted in a seven year hiatus.
He made a comeback with 2009's Kerala Cafe and things were fine until last year when all three releases were disappointments.
Early this year, after a forgettable Monsoon Mangoes, Fahadh made a spectacular comeback to his winning ways with the sensational Maheshinte Prathikaram, in which he plays a photographer in a sleepy town in Idukki.
In an exclusive chat with Rediff.com contributor Vijay George, Fahadh shares his excitement about his film's success.
How big a success is Maheshinte Prathikaram?
I don't know how big the success is, but it's definitely a success. The cinema that we wanted to make has really come across.
That is the reason for the excitement as well. It was the movie that we saw even before we made it.
More importantly, we did not compromise on anything.
Interestingly, right up to two days before its release, all of us were debating about whether the viewers would accept the hero losing his mundu in public, the way my character talked, would it be considered a cliche; if the villain's sister falls in love with the hero...
It's overwhelming that the viewers have accepted it all.
Many have dubbed this as your comeback of sorts. How do you feel about it?
I don't take it that way. I have been asked the same question earlier, after Chappa Kurishu and 22 Female Kottayam did well.
It's not that the other films were bad. These things are not in my hands alone.
You have been labeled as an actor who excels in intense roles, with a tinge of grey. So is it exciting when a film like Maheshinte Prathikaram becomes successful?
In Maheshinte Prathikaram, the hero is in a state of depression from the second reel onwards. So it is evident that a film is not all about the hero. He is part of the journey, yes, but there is a lot more to the story.
The film had such a beautiful script. I have returned advances to a few projects and taken my time to do this one. I am excited that such a decision proved right.
The characters in your films have enough space unlike most hero-centric films...
It all started from the casting stage itself where talented actors like Alancier, Soubin Shahir and Achuthanandan were chosen for Maheshinte Prathikaram.
I believe in these kinds of films.
Let me explain. I have never asked anyone how my performances was in any of my films. Instead, I am always concerned about the film in its totality.
But in a hero-driven industry, it is perceived that such concepts affect ones' stardom...
I have never looked at it that way. All I want is to be part of a good film. It's all about making good cinema.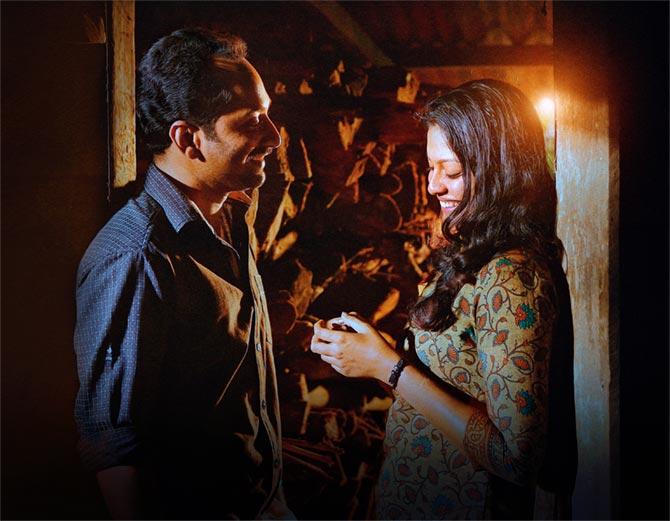 IMAGE: Fahadh Faasil and Anusree in Maheshinte Prathikaram.
Everyone raves when a film is a success and finds faults easily when it's a failure. How tough is it for you to choose films?
In all honesty, I feel that all my good films have succeeded. So naturally, those films, which didn't do well, were bad.
I do experiment, but the final call, whether my decision was right or wrong, will be based on how the viewers accept it or not. I have never said that a film did badly because the viewers didn't understand it.
What went wrong with some of your films before Maheshinte Prathikaram?
I have only done films that I liked. There have been times when what was initially written on paper did not work the way we would have liked at the shooting stages and thereafter.
There have been accusations that you backed out of certain projects after agreeing to do them initially.
At times, I have a feeling that I shouldn't be doing a certain project at that point of time. Then I communicate it to the director and I opt out.
After films like Mariyam Mukku and Haram -- in which my characters were pretty intense -- I wanted to present myself in a light-hearted movie.
It wasn't a tactic as such, but it was just that I was really excited about Maheshinte Prathikaram.
Why are you hesitant to do films in languages other than Malayalam?
I can perform only in films that are made in a language in which I can think. I don't know if I can place myself in other languages. I am really comfortable here.
You are so suave and sophisticated. How do you play a struggling, ordinary, guy so convincingly?
(Smiles) I keenly watch how people around me react to every situation. Maybe that helps.
You will team up with Anwar Rasheed next?
We plan to start shooting by the next month. I have worked with Anwar in Aami in the 5 Sundarikal anthology earlier. I am really looking forward to working with him.