'There is nothing bigger than Bigg Boss. I was lucky and blessed that I stayed inside the Bigg Boss house for three months. The love that I got from people was so humbling that I started crying. That's the first thing that I did when I came out.'
Iranian-model-turned actress Mandana Karimi is now a household name, reality show Bigg Boss 9. The leggy beauty was touted as one of the strongest contenders since the very beginning of the show. Though she hardly made friends inside the house, Ms Karimi managed to charm the audience with her bold personality. No wonder, she made it to the top three.
In conversations with Jahnavi Patel and Rajul Hegde, Mandana talks about Bigg Boss, adult comedy and Salman Khan!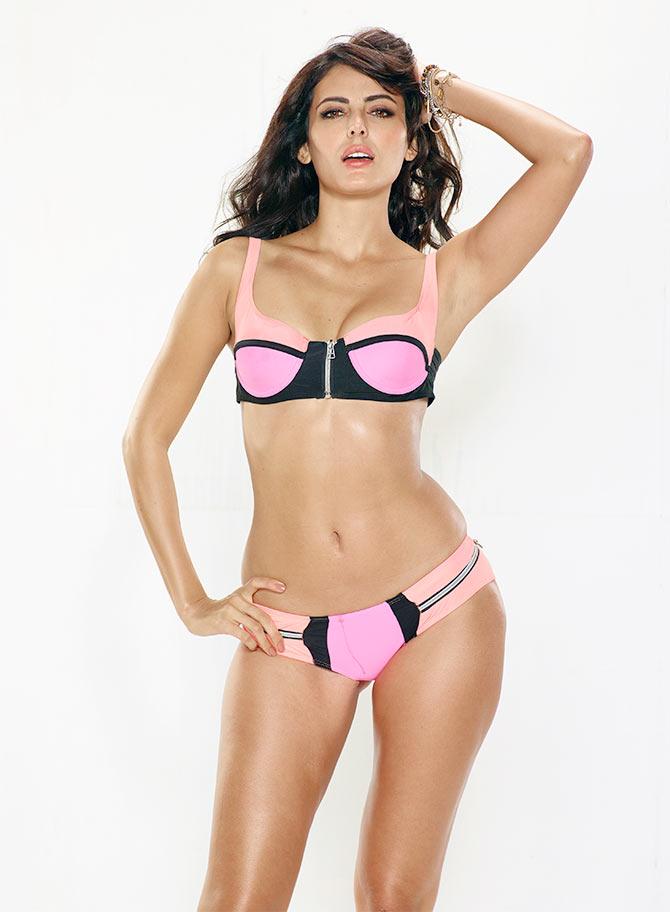 What was the first thing you wanted to do after you got out of Bigg Boss?

I didn't plan anything; I just wanted to be out and see what's happening and what people's reactions have been. Winning the show wasn't important. I went inside the house to win people's hearts. I wanted to be accepted by Indians, and the film industry.
In India, there is nothing bigger than Bigg Boss. I was lucky and blessed that I stayed inside the Bigg Boss house for three months.
The love that I got from people was so humbling that I started crying. That's the first thing that I did.

Go on...

I reached Mumbai (from Lonavala, where the Bigg Boss house is located) at around 6 am, and everyone asked me to take a day off.
It has been really hectic in the house -- 105 days! -- and my journey wasn't easy. I was a one-woman-army fighting with everyone.
When I saw the love and support, I got the strength and energy to start Kya Kool Hai Hum 3's promotions from that day itself.
Kyaa Kool Hain Hum 3 is very close to my heart; it's my first release. It's like my baby. It was really important for me to promote my film.
It was amazing when I heard that the film's opening was very good, and that's why I want to promote it. I feel I haven't given enough (to my fans) when they have given me so much. So I want to give it back to them.
You were considered as the strongest contender in the show. Was it frustrating to have got evicted during the finale?

I am not disappointed at all. I have managed to survive in the house for 105 days. I was nominated 12 times and every time, Indian audiences have saved me. My personality was too loud but everyone loved me.
Also, if you look at me as a game player, I feel like a winner because people who thought I was never their competition were out of the show before me.

When the Bigg Boss offer came to me, everyone was against me taking part in the show because of the language. Also, I had just finished shooting for Kyaa Kool Hain Hum 3. This show in particular brings out the good and the bad side of a contestant.

But I went with my gut feeling and did the show, and I'm glad I did it.

There is a perception that you played the victim card too often in the Bigg Boss house.

I didn't play that card because I was a victim. After three weeks, I had a conversation with Bigg Boss and said this show is not for me. He said this show is for people like me.

People used to have food cooked by me and then say nasty things. I was the first one to wake up in the morning everyday and clean up the place; others would behave like they were on a paid holiday. There was groupism and lots of things happening in the house that I was not happy with.

How difficult was it to live in the house without any friends?

It was very difficult. I have never felt so lonely but at the same time strangely, I was very strong. When I felt weak in the house, it was only the voice of Bigg Boss and the audience support that kept me going.

Will you want to be friends with the housemates outside?

Of course! As per situations and tasks, your equations changes inside the house. But I believe that whatever one does in the house is not because they are bad people.
I have a feeling that Kishwer Merchant and Suyyash Rai will be my friends. The Kishwer I knew in the last three weeks before her eviction was different from what she was in the beginning. She is very kind and caring. Initially, we had problems because both of us are very strong women and there is always a clash between two strong people. I never had a problem with Suyyash. As a boyfriend, he supported her.

People have said that you are not like this in real life. what is real Mandana like?

What you have seen is real Mandana. She says what she likes or and dislikes on the face. The Mandana that's not me is the anger part, when I gave gallis. With people like Prince, Rishabh and Suyyash around, I didn't know how better to react... the way they were behaving with me.
People actually enjoy having me around but in the show, they didn't like me because that was the only way I could have survived.

What made you say yes to Kya Kool Hai Hum 3?

The offer, and the audition, was very exciting for me.
There are no films based on porn or adult comedy in India. For me, as an actor, it was challenging to do something new.
When someone like Ekta Kapoor has an idea like this, I was like, why not?
It's a happy film -- it has humour, drama and comedy. It's about going to the theatre and leaving all your problems behind, seeing a lot of colours, dance and humour.
India has a big youth population. I believe that people will watch this film, they will laugh and love it. There will be a lot of masti while watching Kyaa Kool Hain Hum 3.
Did you ever get second thoughts before signing an adult comedy like KKHH3, especially at this point in your career?

No. As you have seen me in Bigg Boss, I believe in what I am doing. For me, adult comedy, drama and action is a part of entertainment. A lot of people are saying that such films don't compliment our history or Indian culture. I'm against that. Where did the Indian culture of Kamasutra come from?
Thousands of years ago, in those days, that's how they were talking about sexuality. Today, in 2016, this is how we're talking about sexuality. Times are different but it's the same subject. So what's the problem? Life is too short; why do we need to take it so seriously?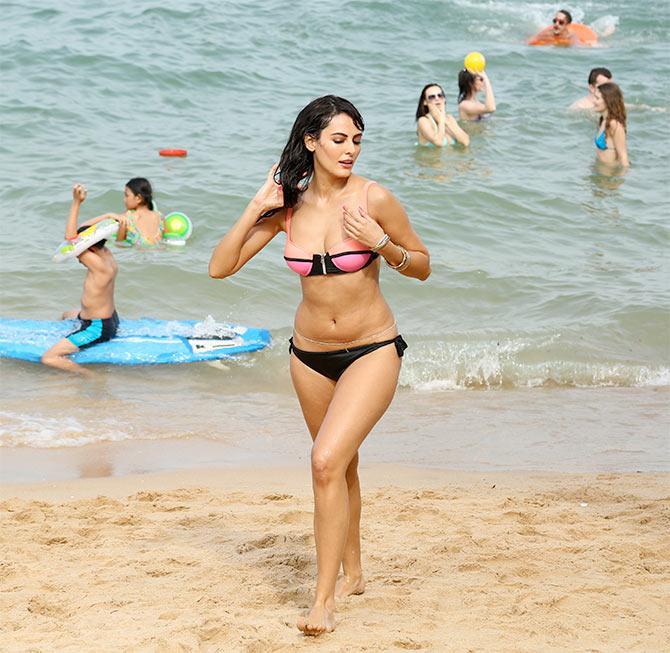 Image: Mandana Karimi in Kya Kool Hain Hum 3
There were reports about Ekta Kapoor filing a case against you for not promoting the film.

See, there are contracts that you sign and you take responsibility. It's huge money when you sign a movie and there's a lot of loss when you're not there to promote the film.
For me, that was fair.
Whatever was there between us has been resolved. It's all good. They're like family.
I have a three-film deal with Balaji Telefilms; they kind of manage my career.

Has your boyfriend Gaurav Gupta seen KKHH3? What was his feedback?

My boyfriend, who owns a post-production company, worked on the film so he has seen it a long time ago.
He told me that I look really hot, and have acted well.
I didn't see him for almost three months; he had come for the finale (of Bigg Boss 9). It's all love, love, love from everyone.
I want to get married to Gaurav and have babies with him! My mom will be happy to hear this. She's really worried about me because I have been too focused on movies and work. I have been working since I was 15.

What was it like shooting for the film?

We had a great time. I enjoyed watching Tusshar (Kapoor) in a lot of songs. In our song (Soft Toy), he was too funny. He was doing the steps and making funny faces. I have never done a comedy film and could not control myself. I was laughing in every shot, and my director was shouting at me and telling me to focus and dance.
A week after KKHH3, Sunny Leone's Mastizaade will release. The genres are similar, and comparisons between Sunny and you are bound to happen.

There are so many hot, sexy and beautiful ladies in the industry. There will be comparisons; there's nothing wrong with that.
I'm glad if they're comparing me to her. She's one of the most successful foreigners that we have at the moment.
We face the same language problem.
Initially, people did not accept (her) but now, she's one of the most successful actresses (in Bollywood). It's a huge compliment because I'm so new and haven't done much work.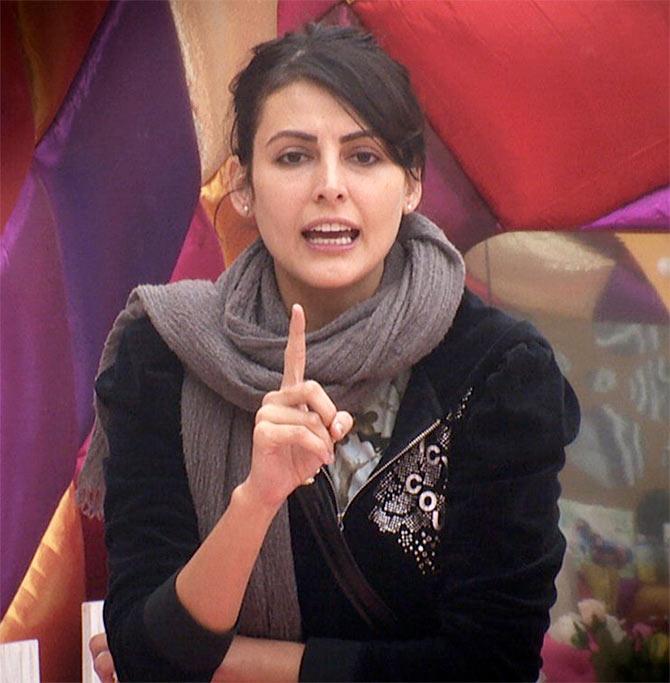 Image: Mandana Karimi in Bigg Boss. Photograph: Bigg Boss/Twitter
How is your rapport with Salman Khan?

There's no rapport because what happens is, in the Bigg Boss house, you're not in touch with anyone.
For us, especially for me because I was so alone in the house, he was that safe person who makes you feel good about what you've done -- like your parents would appreciate you when they have to and also punish you when you do something wrong. Salman was like that.
He is a good and fair host. He has hosted Bigg Boss for so many years and he understands the graph; he knows what is happening inside the house and what is happening to the people inside.
One of my best friends had attended the finale but I did not remember her name. That happens in the house and Salman explained the situation to my friend -- that after two-three months, our lives are just the house, so we forget phones, writing and alphabets! That happened with me. Sometimes I would blank out.
Has your stay in the Bigg Boss house helped you get recognition?
Of course! Bigg Boss has made me a household name.
If you're lucky, you stay in this show for three months and people watch you every single night. It is one of the most watched Indian TV shows. It's a great platform.
There are reports that you are doing a Chinese film?

Yes, I am doing an Indo-Chinese film which will release on the Chinese New year. I can't talk about it. It's a part of the three-film agreement signed between the two countries.