'This is a civilised and democratic country.'
'You should have faith in the judiciary.'
'Otherwise, some person will have an objection for everything and not let you do anything.'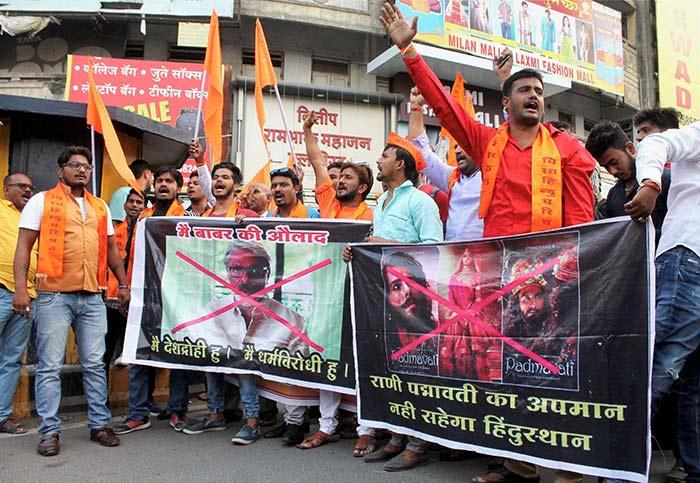 IMAGE: A protest against film-maker Sanjay Leela Bhansali's Padmavati. Photograph: PTI Photo
Bollywood actors may or may not be vocal about the #PadmavatiControversy.
But they do have an opinion on it.
Rediff.com's Jahnavi Patel asked Arbaaz Khan for his.
"I have no clue about how many creative liberties you can take or not, what is permissible and what is not, because there will always be someone who will object. Even one voice is a voice to be taken seriously," says.
"My point is that no matter what it is, there should be a certain amount of decorum even in your protest. You cannot take the law in your hand."
"If somebody has taken liberty with certain emotions or sentiments in their film or art form, you can object to it, you have the right, but there is a body -- a censor body -- that doesn't let that film release till they check all the parameters," Arbaz adds.
"After they decide, we have to accept it. If you don't want to watch the film, don't. If you have an issue even after that, don't resort to violence. There is a court of law."
"This is a civilised and democratic country. You should have faith in the judiciary. Otherwise, some person will have an objection for everything and not let you do anything."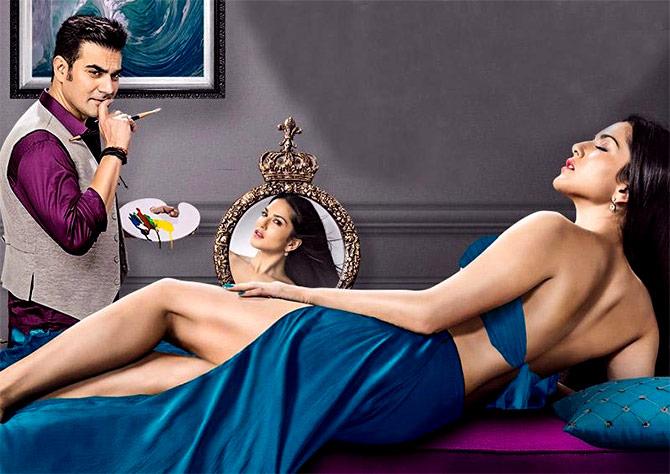 IMAGE: Arbaaz Khan and Sunny Leone in Tera Intezaar.
Tera Intezaar -- Arbaaz's new film -- releases on the same day as Padmavati's original release date: December 1.
The actor will be seen in a romantic role opposite Sunny Leone.
"I have done central characters in the past too, but they may be the second lead or a character with grey shades," Arbaaz says, explaining why his role in Tera Intezaar is different.
"A lot of actors feel if the role or the film isn't good, he will not do it. For me, apart from the fact the character has to suit me, other things that excite me are (working on) a different subject, a different genre, different people," he says.
"There's something nice about her," he says about Sunny. "I thought it'd be great to work with her."
Tera Intezaar is a "mature romantic film," Arbaazm says. "If you see the songs and promos, nobody is behaving like teenagers."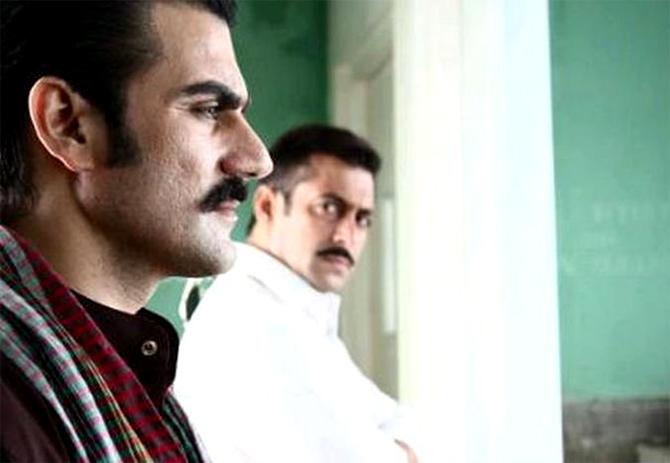 IMAGE: Arbaaz and his elder brother Salman Khan in Dabangg.
Arbaaz is also looking forward to working on Dabangg 3.
He had acted in the earlier films, and directed the second installment in the franchise.
The third film will reportedly be directed by Prabhudeva.
"I wanted the franchise to have a fresher feel to it. I will be involved in it, it doesn't matter who directs it. Salman (Khan) and I will be involved in the nitty-gritty of everything," he says.
"It's just that with a lot happening in my life, it was too much... you know what I mean? I have just come out of a scenario and we had had a discussion on the movie around that time,"Arbaaz explains.
"Direction, acting and producing (a film) is a big responsibility. You need to be in a good state of mind, on a creative high, not have things in the back of your mind. So I took a call early that right now it's not the right time (to direct)."
Did the recent tumult in his personal life influence his professional decision? "Not really," he says, "It's just that sometimes you get caught up with a few things and when you are making a movie of that magnitude, you need to be very focused."
Vinod Khanna, who passed away earlier this year, had a vital role in both the earler Dabangg films.
"We will miss his presence, but we will find a way," he says. "The script moves in a certain way. We are coming after a big gap, we last came in 2012, so we have that liberty of having that time lapse. It will let me make any kind of change. It is unfortunate, but that is how we will have to look at it.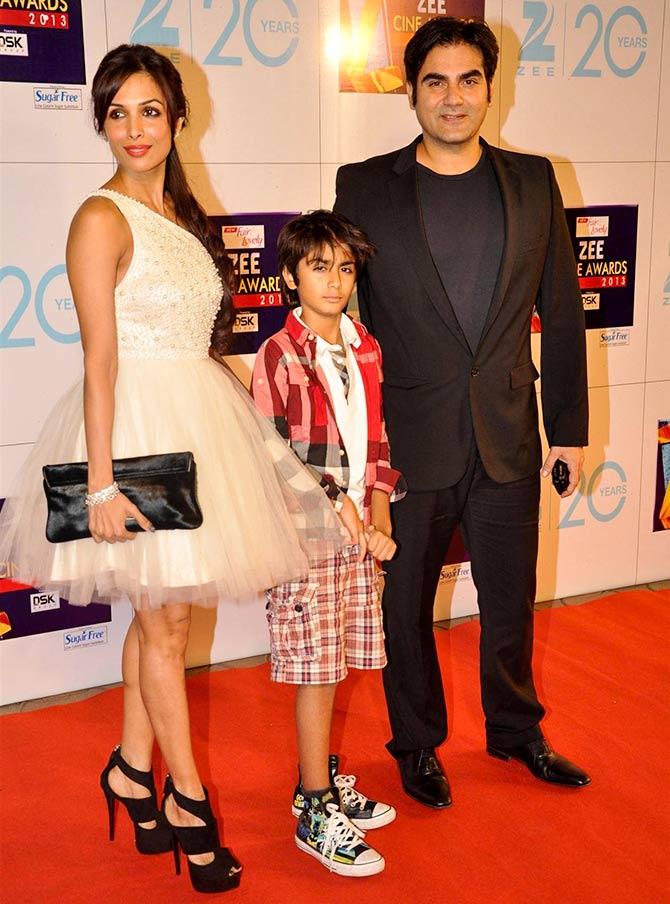 IMAGE: Arbaaz with his then wife Malaika and son Arhaan in 2013. Photograph: Pradeep Bandekar
2017 has been bad for Bollywood, with big movies flopping at the box office. Arbaaz says it isn't easy to make an assessment because there are number of reasons, like varied entertainment in the form of television and the digital platform.
"There's Netflix. In Rs 500, Rs 1,000, you can get an entire library of films and shows. Whereas one movie ticket is Rs 500 and you have to go at a specific time," he says.
"About 10, 20 years ago, our source of entertainment was restricted to movies. People would go collectively to the movies -- families, friends would go together. Now, try getting two people to watch a movie today! It's difficult," he reasons.
Arbaaz feels you need an occasion to see a film. "People don't need to go to the cinema for entertainment; everything is available now, he says.
"It has become difficult to draw audiences to the theatres. Film-makers will have to do something different."