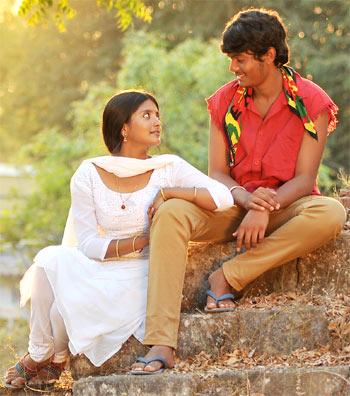 Ulka Gupta is the latest entrant to Telugu films. This bubbly girl is a familiar face on the small screen.
She began her television career with Resham Dankh, and became popular as Manu in Jhansi Ki Rani and Ami in Khelti Hai Zindagi Aankh Micholi.
Ulka's first Telugu film is Andhra Pori, produced by Ramesh Prasad of Prasad Productions and directed by Raj Madiraju.
In this interview with Radhika Rajamani/Rediff.com Ulka talks about her acting career and Andhra Pori, which is releasing today.
How did you become an actor?
I began acting young, at the age of seven. My father (Gagan Gupta) is an actor and I used to accompany him on the sets.
I was fascinated with the sets. I was also inspired by my father. He has acted in plays and films (with Shah Rukh Khan in Chaahat and Chalte Chalte) and in serials with most production houses.
I wanted to be an actor. I used to be jealous of anybody who played my father's daughter. I used to think why not I? So I took up the challenge of acting.
Did you go through any training and workshops?
My dad is an actor. He taught me the basics of acting.
You started off with the small screen in Resham Dankh, did Saat Phere and then acted as the young Manu in the serial Jhansi Ki Rani and Ami in Khelti Hai Zindagi Aankh Micholi...
Since my dad was in television, I used to audition and bag roles for myself. I got a nice role in Resham Dankh and then I played Saloni's daughter for four-five months.
Then I was asked to audition for Manu's role in Jhansi Ki Rani. I was selected from 300 girls.
The production house was pleased to know that I am Gagan Gupta's daughter. For a child actor to grow in television is nice.
Were your parents supportive of your decision to act?
Always. I have seen child actors fall prey to wrong habits but my mother kept me grounded.
Dad knows about the industry. He has been my support and he prepared me for it.
How did you get to sign Andhra Pori?
I was shooting for Rudramadevi (India's first 3D historical stereoscopic film, directed by Gunasekhar) where I play the young Rudramma (the Kakatiya queen).
Raj Madiraju came to see me. He found me genuine and felt I had potential.
The Marathi film Timepass (of which Andhra Pori is a remake) was a hit. The director called me for a workshop with Akash (Akash Puri, her co-star in the film).
I am new to Telugu films, but my Dad knew about Prasad Productions. He told me that they are legendary movie makers with a proven legacy in Indian cinema. It is my honour to add to this big name.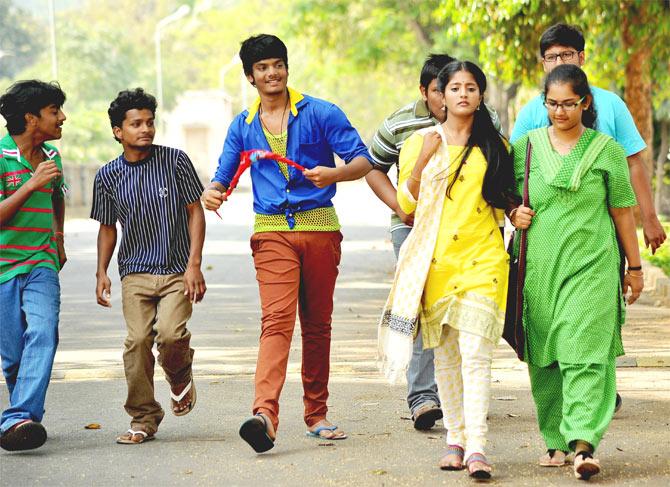 Image: A still from Andhra Pori
Did you see Timepass?
I saw it after I met Raj Sir. It is a simple theme filled with humour.
It is good for the family. I was scared of Telugu films as I wondered if there is scope for performance. But after seeing Timepass and meeting Raj Sir and Akash, everything fell in place.
Did it require any preparation from your side?
I play Andhra Pori, a north Indian girl. I had to get the accent and purity in dialogues though I knew it would be dubbed eventually.
The chemistry with Akash had to be there. So the workshop helped.
How did you tackle the language?
I practised it. I have already learnt Gujarati, Marathi, Bengali, French, Bhojpuri and a bit of Kannada and Tulu.