'It was very scary to attempt this role (in Udta Punjab), when I have no way of understanding what it is like to be on a high. I wondered whether I would make a fool of myself or whether I would be able to push my boundaries.'
Shahid Kapoor comes clean.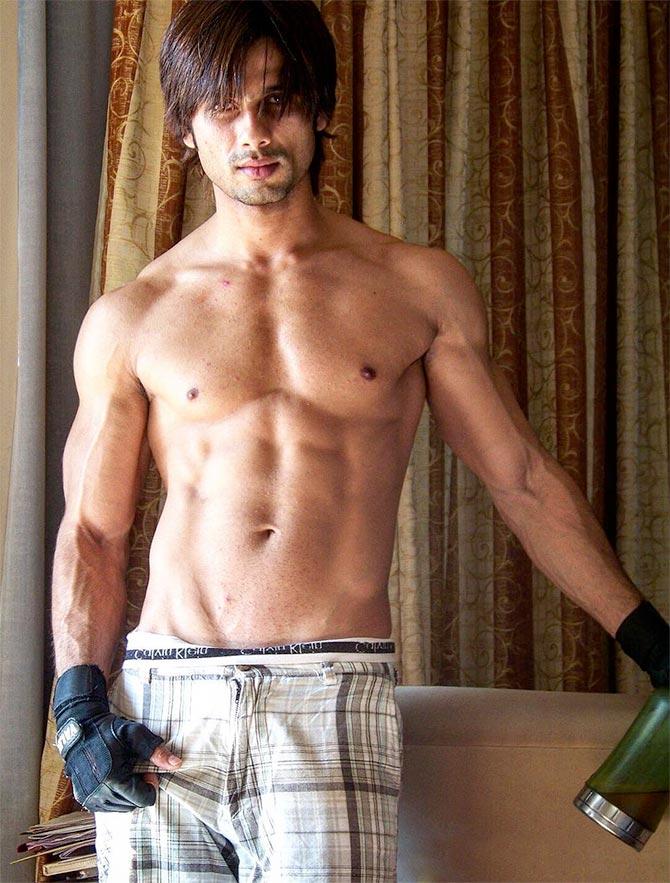 IMAGE: Shahid Kapoor/Instagram
Shahid Kapoor is revved up about his new film Udta Punjab, which sees him try out a role he's never done before. The actor plays a rock star, addicted to cocaine.
After all the controversy associated with the film, it's up for release on June 17.
"People, who did not want this film to release, have helped it become larger," Shahid said at a press conference held recently in Mumbai.
The actor tells Rediff.com contributor Rajul Hegde more about the film, and also discusses his impending fatherhood.
How difficult was it for you to play a drug addict and a rock star in Udta Punjab?
The most difficult part was to play a substance addict because I have never ever had alcohol or any kind of drugs. This is very rare and I know you won't believe me, but it's true.
I have not even had half a bottle of beer or any kind of substance. I was never interested in them.
I was that boring guy whose friends would say 'Jaa yaar, go from here and dance.'
So it was very scary to attempt this role, when I have no way of understanding what it is like to be on a high. It was challenging. I wondered whether I would make a fool of myself or whether I would be able to push my boundaries.
Go on.
The characters in the film are fictitious, but the backdrop and the issue are real.
The journey of Tommy Singh is the fall of a star because the musician in him falls prey to the addiction and he becomes nothing.
I had to understand the state of mind of a cocaine addict. He feels the need to be high all the time because that is what gives him confidence; otherwise his confidence drops.
I found Tommy Singh bizarrely original; very entertaining but very deep at the same time.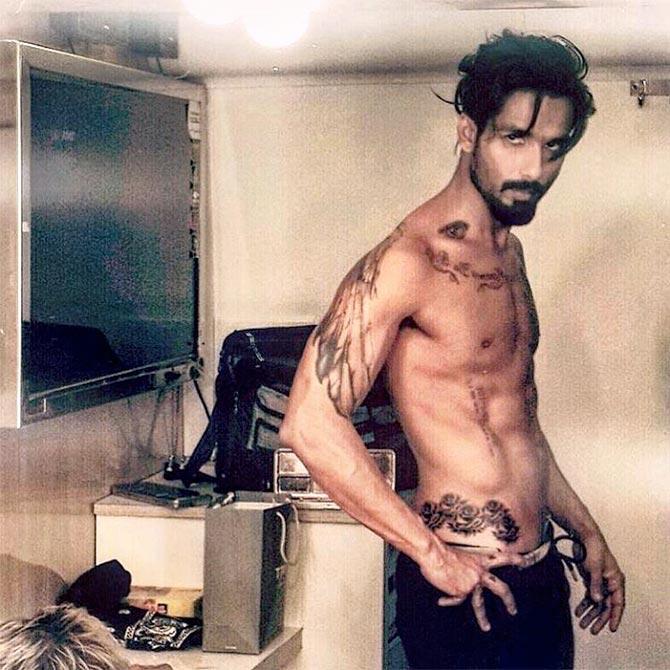 IMAGE: Shahid Kapoor/Instagram
You have a quirky look in the film with long hair and tattoos. How did you prepare for the role?
It took three months to get the physicality of the character. I ate less and trained for three hours a day.
My character is a star so he needs to look good and have a physique, but at the same time he is an addict so he also needs to look destroyed, messed up and depleted.
When I first heard about my character Tommy Singh, I felt the guy is crazy and I wanted the audience to feel a little shocked by him, for which he needed to have a very different personality. So I decided on the long hair with the streak.
There were 14 tattoos and we carefully selected each one of them. Every tattoo has a story behind it, except the black roses. We just added the black rose because it looked nice.
What do the tattoos signify?
On Tommy Singh's left rib is a 10-digit number because if he is found whacked, this is the number that has to be contacted.
On the right side of his chest is a tattoo called King because Tommy considers himself the King.
On the left side of my body we tattooed 'Mamma da boy' because Tommy loves his mother.
My favourite tattoo is of the wings which start from my back and reach my arms...Tommy calls it 'Born to Fly.'
Would you like to have a real tattoo?

I want to get a real tattoo but I have never been able to understand what I want. It's a long-term commitment.
I just made one (referring to his marriage) I don't think I am ready for another one (laughs).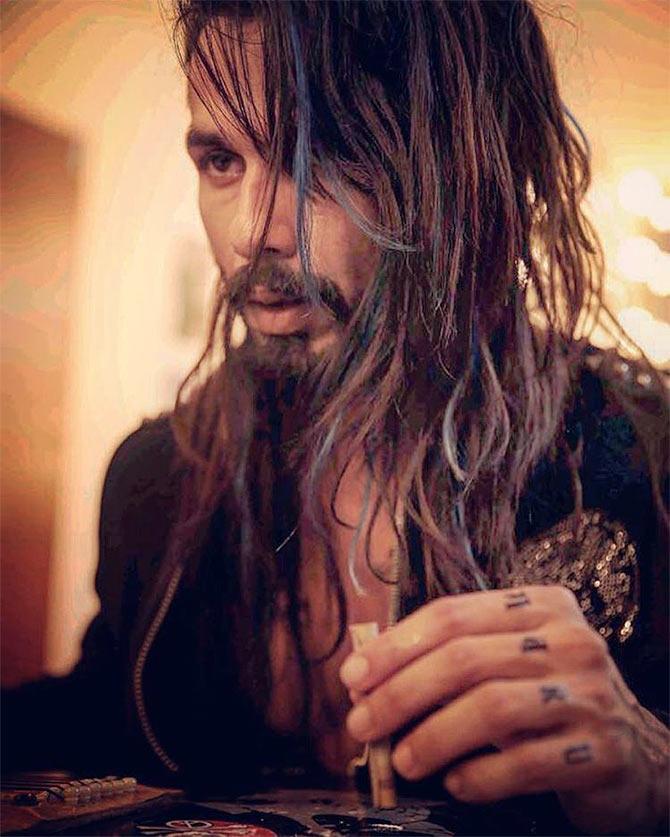 p/>
IMAGE: Shahid Kapoor in Udta Punjab
Was it an emotionally exhausting role?

Yes, it was very tiring.
I had to be very aggressive because the character is always up. After every shot, I would feel drained out. I would go back and lie down because I was eating little food and having a lot of coffee.
In fact, after 12-13 days of shooting, I fell ill. I had fever for 13 days during the shoot because my body was too tired.

What kind of films excite you?
I am happy to do all kinds of films. The characters that are challenging excite me.
More the challenge more I get tired (smiles). With back to back roles in films like Udta Punjab and Rangoon, I really want a break and want to do a light-hearted role next.
How do you de-stress?
Just forget about it, shut down, get back to normal life.
For Udta Punjab, we went, shot the entire film and came back. Rangoon, we shot a major chunk and came back. We had done the Mumbai portion before that.
When you go for a long period of time, you have gone into a different reality, with a different character.
I just like coming back home and doing normal things like sitting on my sofa, having my coffee, watching a TV series, chatting with friends and going to the gym -- it feels great.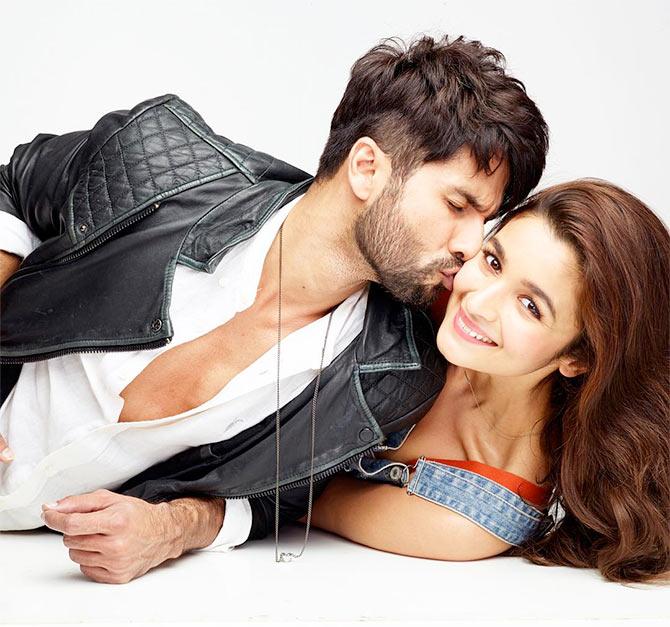 IMAGE: Shahid Kapoor and Alia Bhatt. Photograph: Shahid Kapoor/Instagram
Did the failure of Shaandaar take away the excitement of your pairing with Alia Bhatt?
People really liked us in Shaandaar. What I heard a lot was -- 'The only thing good about Shaandaar was you and Alia.'

You play an army officer in Vishal Bhardwaj's Rangoon. How aware are you of the 1940s and World War II?

In Vishal Bhardwaj's film there is enough research. I don't need to do anything. He gives me a big fat script and I just have to read it (smiles).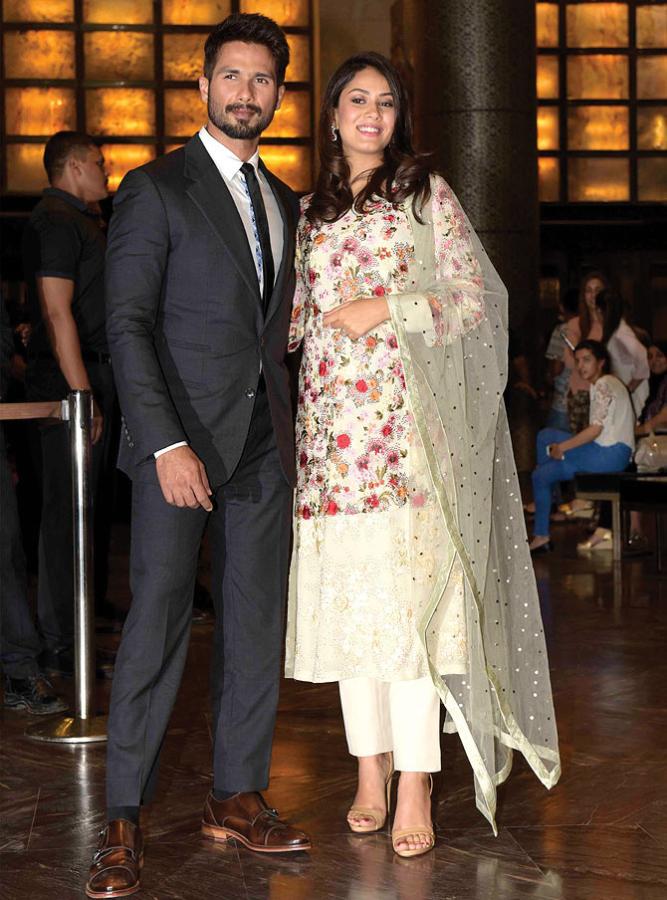 IMAGE: Shahid Kapoor and Mira Rajput Kapoor at Preity Zinta and Gene Goodenough's wedding reception. Photograph: Pradeep Bandekar
How are you changing yourself to become a father?
I am really very excited. It's amazing how we pre-plan things for our baby and before the baby has come you start feeling that you need to adjust to be a father.
I think it's the parents who change and the child is going to be what the child is.
There are really cool apps these days that you can download.
My wife has added an app to my phone, where I get all the weekly information about what I should know about the baby.
How has marriage changed you as a person?

I have become very domesticated. You know, when you see a dog running free and wild and then you see him leashed and toilet trained? The same thing has happened.
Basically, women want to take credit for everything good that happens in a man's life (smiles).
Kangana Ranaut referred to herself as the third hero in Rangoon (besides Shahid, the film also stars Saif Ali Khan in the lead role). Comment.
Why doesn't she say there are three heroines in the film? Is there anything less in being a heroine?
There are three protagonists in the film and for me being a hero or a heroine doesn't make any difference.
So, saying that you being a hero makes you a bigger person, I don't agree with that thought.