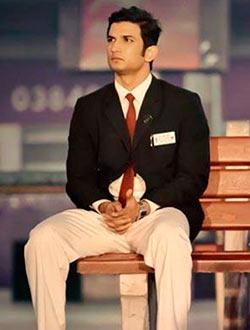 Avantika Bhuyan meets the man behind MS Dhoni: The Untold Story.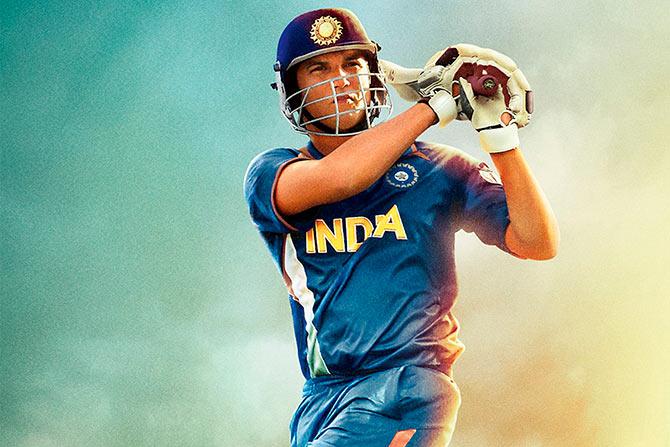 IMAGE: Sushant Singh Rajput in MS Dhoni: The Untold Story
It has been two weeks since the trailer of MS Dhoni: The Untold Story was launched online, shattering all records by garnering the fastest 10 million views in less than 36 hours.
Its director Neeraj Pandey, however, has no time to enjoy the laurels coming his way.
His days are spent in and out of meetings and promotions for the film that releases on September 30.
It is in the midst of this frenetic schedule that I get to speak with him about his first biopic and the most ambitious film yet. What's got people talking is that Pandey has shown the Indian skipper as real and human, rather than deifying him, which is what most biopics tend to do to their subjects.
To Pandey, it is this rootedness that makes Dhoni heroic.
Perhaps it is this candid narrative and a sense of gravitas, as seen in his earlier films such as A Wednesday (2008), Special 26 (2013) and Baby (2015), that appealed to Fox Star Studios that has co-produced the biopic.
"He catches reality as is," says Vijay Singh, CEO, Fox Star Studios. "No one could have directed the film -- an untold story of a man we all admire but know so little of -- better."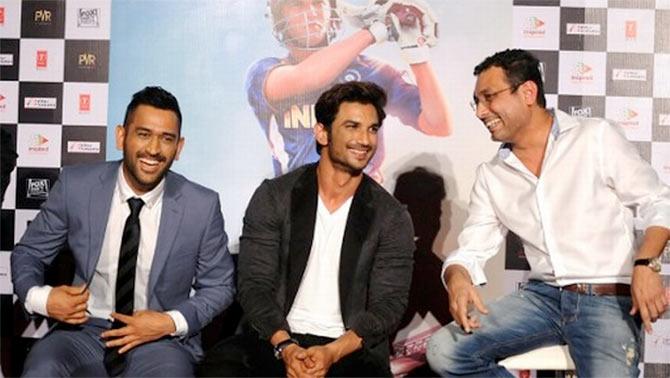 IMAGE: M S Dhoni with Sushant Singh Rajput and Neeraj Pandey at a promotional event. Photograph: Pradeep Bandekar
A soft-spoken person, Pandey, 43, prefers to let his writing do the talking.
His early love for reading, nurtured by his father, veered him towards the works of Ayn Rand, V S Naipaul and Gabriel Garcia Marquez, making his language extremely visual.
"I read fiction, non-fiction, newspaper articles, autobiographies -- though I don't get the time to read as much these days," he says.
This, combined with his love for films by Steven Spielberg and Orson Welles, steered him towards film making so as to see his words come alive on screen.
In 2013, he also came out with his debut novel, an underworld thriller titled Ghalib Danger.
Pandey's scripts have the clarity of thought that actors who work with him say is a blessing.
"Usually, films turn out to be very different from the original script. But in his case, the script is the film. It's a very rare quality," says Anupam Kher, who has worked in four of his films, including the Dhoni biopic in which he plays Pan Singh Dhoni, the skipper's father.
Born and brought up in Kolkata, Pandey failed to make it into the Film and Television Institute of India, Pune. He picked up film making skills during his stints at Doordarshan and Zee TV.
Later, with nobody willing to financially back A Wednesday, a powerful film with Naseeruddin Shah playing a disenchanted common man who decides to take matters into his hands, Pandey and Shital Bhatia, one of the film's producers, launched Friday Filmworks, a multi-media production house.
A Wednesday went on to win the National Award. And now, Anil Ambani's Reliance Entertainment has teamed up with Friday Filmworks to set up Plan C Studios.
I ask Pandey if his childhood passion for cricket was the trigger for MS Dhoni.
"It is some kind of providence that my interest in the sport got translated into such a project," he says. "But yes, it enabled me to understand the world of cricket more closely."
He didn't know he would end up making the film till he sat with Dhoni and got to know him better.
"I wanted to understand his mind first to see where the story lay," he says.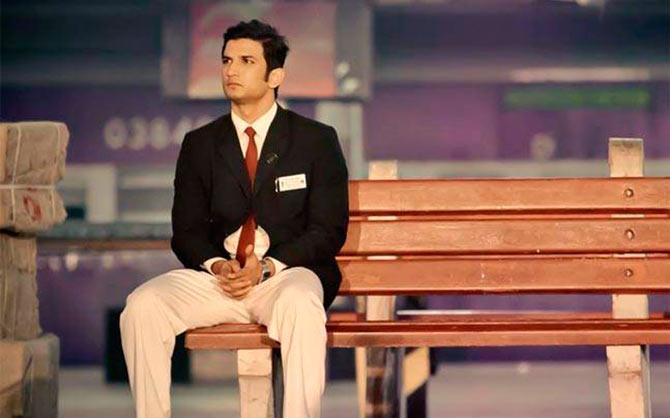 IMAGE: Sushant Singh Rajput in MS Dhoni: The Untold Story.
Then began the mammoth task of researching for the film, another quality Pandey is known for. He spends months getting the tone, look and feel for his movie right.
For Special 26, which was based on a daring real-life heist from 1987, he authentically recreated the Delhi of the 1980s.
"Research is the cornerstone of all my projects -- especially the ones that I am writing," he says, admitting, "With Rustom (produced by him and directed by Tinu Desai), we got some things wrong."
There were visible, and embarrassing, slips in the Indian Navy uniform and medals that the character Rustom Pavri (inspired by K M Nanavati) the protagonist, is shown wearing.
"It irks me no end when that happens," he says.
For MS Dhoni, he, along with the director of photography, production designer and costume designer, spent hours understanding the period from Dhoni's childhood to the time he became captain of the Indian cricket team.
"We shot on actual locations -- the houses he grew up in, the station where he was the ticket collector, the stadiums he played in and the school he studied at," he says.
The director of photography, Sudhir Palsane, was unyielding about what time to shoot what part of the game at. All match uniforms had to be just right. The clothes and the setting had to reflect the time in which the particular scene was shot.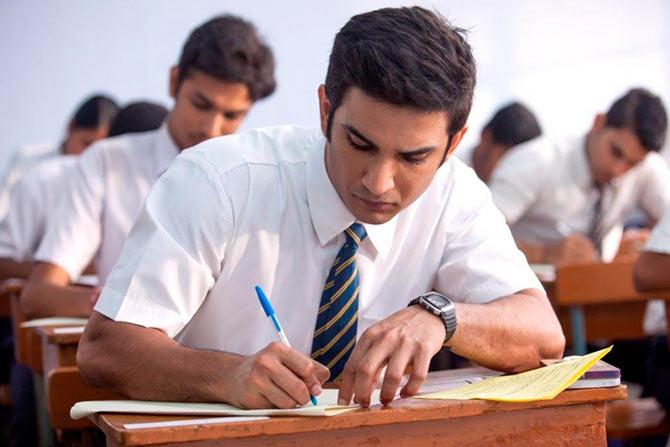 IMAGE: Sushant Singh Rajput in MS Dhoni: The Untold Story.
Sushant Singh Rajput, who essays the role of Dhoni, also brought in his research to the process. He spent a good deal of time with Dhoni to get the style and demeanour of the right-handed batsman and wicket-keeper right.
For this, he trained with former wicket-keeper Kiran More for nearly a year.
'I always thought it is [wicket-keeping] a very easy job... But let me tell you, in 30 to 40 seconds, I could not sit in that posture for like 10 seconds (more). I got backaches, I got cramps in my quads and everything,' Rajput said in a recent interview.
Kher, too, met Pan Singh to understand him closely.
"I didn't want to copy his mannerisms. I wanted to bring out the complicated, yet loving, father-son relationship," he says. "He reminded me of my father, who had no hassles with his son becoming an actor."
Some were a bit sceptical when Pandey cast Rajput as Dhoni. But he was very clear about the decision. "He (Rajput) has tremendous potential and was extremely focused on this project," says Pandey. "That helped. He was also a complete slave to the material."
Rajput's portrayal of him took even Dhoni by surprise, especially when it came to playing the famous helicopter shot. 'He was practising every day for more than nine months and batting every day for over three hours, spending so much time in the gym,' said Dhoni at a promotional event for the film.
'That's the reason he has done so well when it comes to portraying the shots -- but also the way I walk, the way I talk, he has copied almost everything.'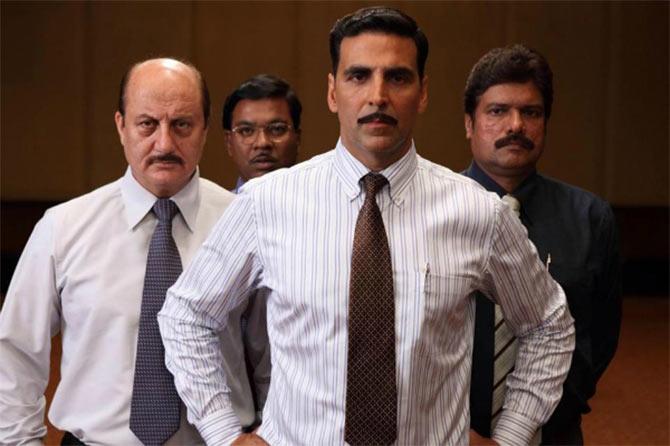 IMAGE: Anupam Kher, Kishor Kadam, Akshay Kumar and Rajesh Sharma in Special 26.
This is not the first time Pandey has cast against type.
He surprised many when he chose Akshay Kumar for Special 26. Kumar was doing action films and comic capers at that time. Some have credited Pandey with reinventing Kumar by showing the intense side of him that not many knew existed.
Pandey, however, says that all the credit goes to Kumar for taking those risks.
"It is he who reinvented himself by showing a hunger for different kinds of roles," he says.
The two have since collaborated in several projects, including Baby and Rustom. Their next project is Crack that releases next year.
A common thread runs through A Wednesday, Special 26 and MS Dhoni -- each of these films talks about the awakening of the common man. Is this a considered decision?
"Not at all. It's not like I am on a crusade here," says Pandey. "It's you and viewers like you who are observing this thread. But yes, these are stories I feel comfortable with and that need to be talked about."
It is such stories that drive him and his films.