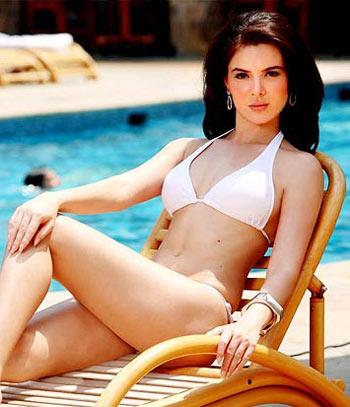 Urvashi Sharma (name changed to Raina Joshi) is best remembered for her debut film, Naqaab (2007), starring Akshaye Khanna and Bobby Deol.
She gave up acting after her marriage to actor-producer Sachiin Joshi.
Now, she is set to make a comeback with her first television serial, Ek Maa Jo Lakhon Ke Liye Bani Amma.
Urvashi plays the title role of Amma in this period drama set between 1950-1980.
The serial explores the journey of a single mother, who becomes a female don, through the five decades after her husband deserts her in the wake of Partition.
Amma, which is being shot at Ramoji Film City in Hyderabad, will premiere on June 25 at 10.30 pm on Zee TV.
Urvashi discusses her comeback with Rediff.com contributor Rajul Hegde.
What made you decide to resume your acting career?
The fabulous script, the storyline and the way the show has been shot. They aren't shooting it like a daily soap but like a movie.
It's an author backed role. In films, women don't get the opportunity to explore themselves, but TV does offer a lot of scope.
TV is female-centric while Bollywood is male-dominated.
The most important factor is that it's not a saas-bahu (mother-in-law and daughter-in-law) saga. It is a story of an ordinary woman who is faced with demanding circumstances, how she tackles what comes her way and becomes a godmother for everyone.
What's the challenging part of this assignment?
Since we are shooting in Hyderabad, the first thing that came to my mind was my two-and-a-half year old daughter, Samaira.
Being the youngest in the family, she is pampered a lot. She calls herself Princess Kuku and believes that she is God's gift to mankind (laughs).
To bring her to Hyderabad and give her the same comfort she has at home (in Mumbai) was a big challenge.
She loves cars and helicopters, not Barbie dolls or kitchen sets. I have made all possible arrangements so that she doesn't get bored in our Hyderabad home. My mother takes care of her when I am shooting.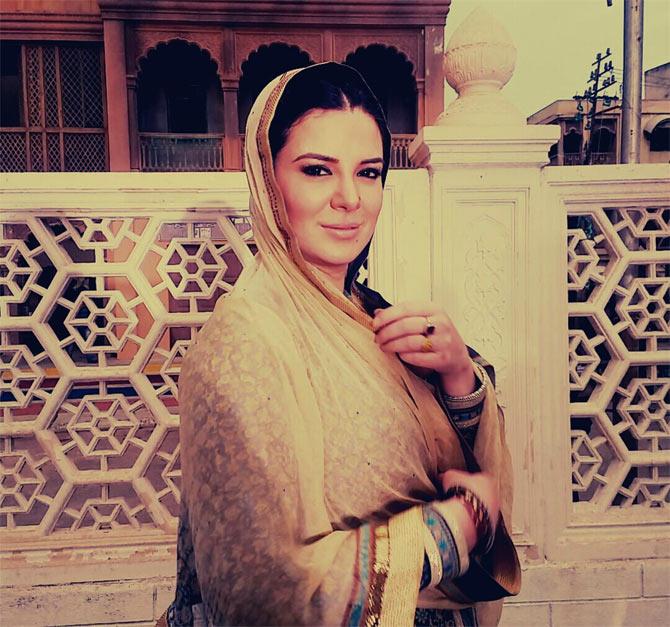 IMAGE: Urvashi Sharma as Amma in the show, Ek Maa Jo Laakhon Ke Liye Bani Amma.
How did you prepare for this role?
I have spoken to a few Muslim women, observed their body language, the way they dress and talk. For the rest, I have followed the script.
Initially, my character is soft; later, after she becomes powerful, her tone changes.
Did the show interest you more because you are a mother now?
Yes, definitely. Motherhood is amazing. Kids bring joy in your life. Motherhood changes you completely -- you become more sensitive, sensible, loving and caring. Actually, you love your mother when you become a mother.
There is a buzz that the story is based on the life of the famous godmother, Jenabai Daruwali.
There were many other women like Jenabai that people don't know (about) because they weren't publicised.
It could be the story of any woman who is trying to survive with her child after husband deserts her post Partition.
Is it true that you are using your own jewellery for the show? What is the best thing about your look?
Yes, I am using my gold jewellery as I am allergic to artificial jewellery. I had rashes all over my body on the second day.
I never wore this kind of jewellery because I wear diamonds and precious stones in real life. Now I have no choice but to buy gold jewellery, but it will add to my collection (smiles).
My look has been styled by Ajay Kumar (who has designed the costumes for Ramleela, Bajirao Mastani and Phantom). He is very talented and I am happy with my look.
I wear a salwar-kameez with a dupatta covering my head, which is quite different from what I wear in real life -- I prefer Western outfits.
The best thing about my look is that it will hide all the flab (smiles).
Will your character, Zeenat, create an impact in the minds of viewers?
Definitely. Every young girl will feel that she should grow up and be like Zeenat.
Every woman will consider her as a role model; she will be an inspiration to all women.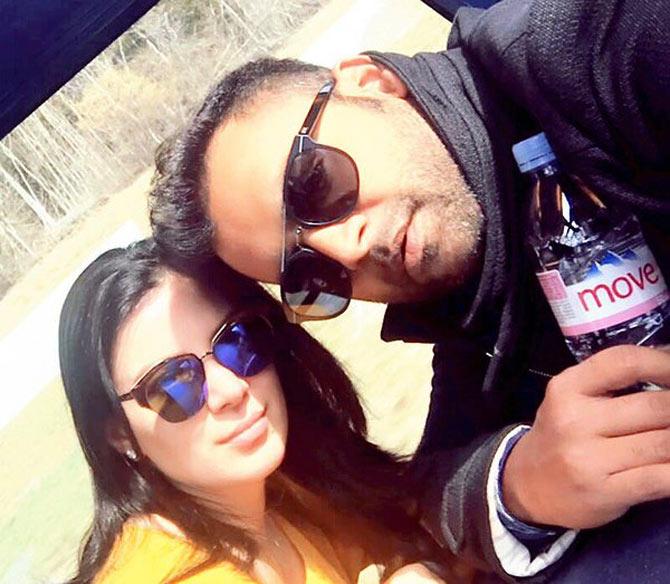 IMAGE: Urvashi Sharma with her husband, Sachiin Joshi. Photograph: Urvashi Sharma/Twitter
What was your husband's reaction when you decided to start working again?
It was Sachiin who convinced me to take up the project. He is very supportive as a husband.
Do you consider your comeback as your second innings in the industry?
Yes. After being a mother and a housewife, it's not easy to be accepted. It's a challenge.
I chose this medium because women are given preference in television; besides, it is a medium that reaches out to everyone.
Have you ever gone to producers looking for work?
Never. I have been fortunate to get work easily. People have to struggle in Mumbai but I have never faced a hard time. The day I landed in Mumbai I had work; I was shooting for the Garnier brand. I did what I liked, like Naqaab and an adventure reality show, because I found it challenging.
I am lucky enough to be able to stay at home and fulfill all my wishes. I buy jewellery every second day. Honestly, my husband has given me all the luxuries and I thank him for that. I am blessed to have such a life.
How has marriage changed you?
After marriage, nothing changed. But after motherhood, a lot of things have changed.
Sachiin and I had a live-in relationship. I still live with the same man in the same house after my marriage so, that way, nothing has changed. But life has taken a 360-degree turn after my daughter was born.
During the first two-three months, I didn't know what was happening with my life. I wondered how my mother managed her four kids. Things fell in place after a year.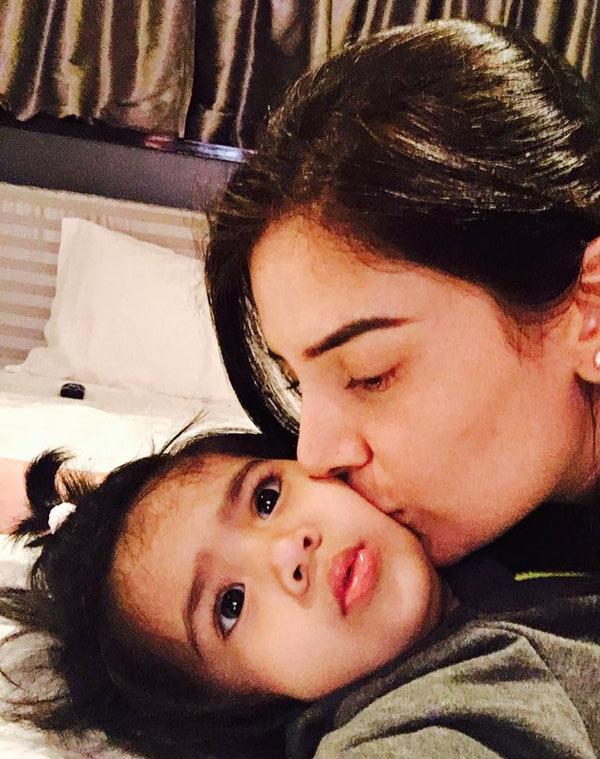 IMAGE: Urvashi Sharma with her daughter, Samaira. Photograph: Urvashi Sharma/Twitter
Do you watch television?
I haven't got time to watch TV or films after Samaira was born.
I have never left her alone or with a maid. I am not very ambitious and I have always preferred spending time with family. My family has been my first priority.
Would you do act in a film again?
I want to do something sensible, not just play a glam doll.
My daughter should see my work and say her mother has done good work.
Are you fine with kissing on screen?
No, I don't think it's needed. There are women who kiss on screen but I am not comfortable with it.
My husband does (kiss) in his films because he is comfortable with it.
How do you react watching those scenes?
I fight with him. I ask him what was the need to kiss? (laughs). He tells me before he shoots for such scenes.
What do you do in your leisure time?
I spend time with my family. I don't party, booze or smoke.
For me, partying is a waste of time. I like to have a nice meal with my friends and family instead of dancing in a dark room.