'I get bored easily. I don't want to do a serious film now but won't mind a biopic, which will be different and have a true story to tell.'
'I want to satisfy my needs, my cravings.'
Alia Bhatt tells us what's on her mind.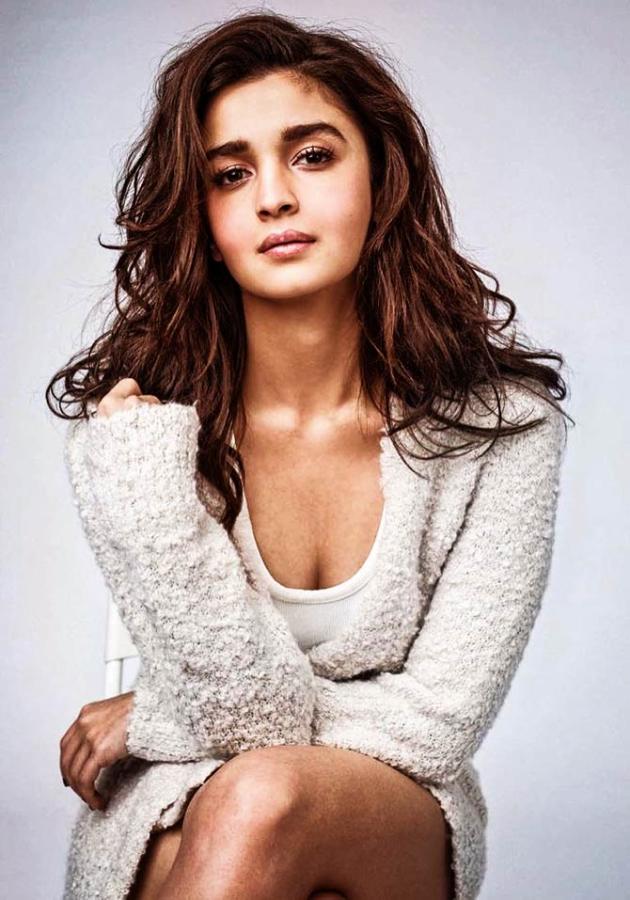 Photograph: Alia Bhatt/ Instagram
Alia Bhatt is on a career high, thanks to her great choice of films, in the past and forthcoming.
After taking on a serious role in Udta Punjab, Alia will be seen in the much lighter Badrinath Ki Dulhaniya, opposite Varun Dhawan. It will release on March 10.
The actress, who had been trolled for her apparent lack of general knowledge, has some interesting things to say to Rediff.com contributor Rajul Hegde.
Varun Dhawan said he had disagreements with director Shashank Khaitan, as he could not relate to his character Badri in the film. Did you have disagreements as well?
No, I did not. I am a good student.
But Varun is someone who keeps having arguments with his directors. He likes to ask a lot of questions. He's got a difficult character after a long time.
Shashank also likes to evolve his characters through his films. He may add something new, change something... he likes doing that.
I did relate with my character -- not totally, but at least, with her feelings. Vaidehi is shown to be very ambitious and correct. She doesn't want to be just a bride but wants to do other things in life.
I play a more mature character this time. She is not as sweet and naive as Kavya (her character in Humpty Sharma Ki Dulhaniya). Kavya's only dream was to wear a designer lehenga and get married. She had no other aspirations.
Vaidehi is a feminist. She is forward thinking and does not like it when people take her lightly.
Varun said you are an emotional person.
If I am tired or hungry, I cry for the smallest things. I react to these things like a child.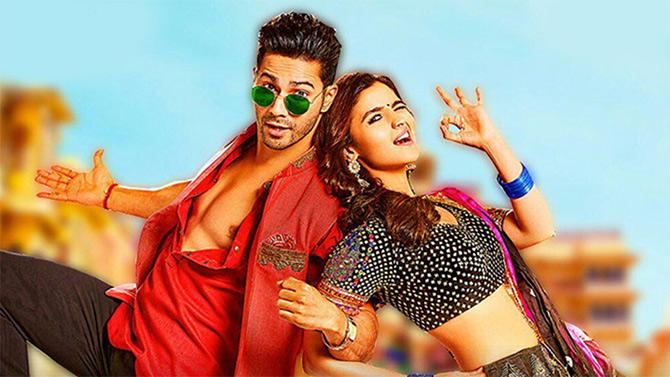 IMAGE: Varun Dhawan and Alia Bhatt in Badrinath Ki Dulhania
Is there a deliberate attempt to do films of different genres?
Yes. It's not for the audience or because it's the right thing to do and people will love it. I do it because I like it that way.
I am not strategising, I think like that.
I get bored easily. I don't want to do a serious film now but won't mind a biopic, which will be different and have a true story to tell.
I want to do comedy, I am waiting for somebody to offer me one. I want to satisfy my needs, my cravings.
Whose biopic would you like to do?
(Pakistani singer) Nazia Hassan. She was a singer and passed away young. That would be interesting.
Your second film Highway was very different from your first film Student Of The Year.
Your first film chooses you and you choose your next film.
But it was the reactions to Udta Punjab that encouraged me to take up roles that are risky. Had people not reacted to my part, I would have decided not to do such roles.
But I don't understand why people think it's such a big risk in the first place. It is just a character. When people appreciated it, I was relieved.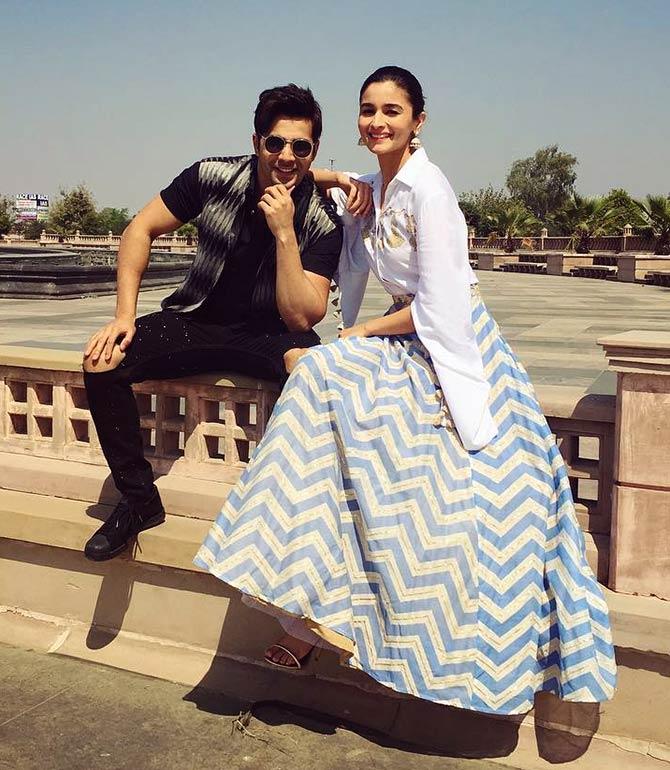 IMAGE: Varun Dhawan and Alia Bhatt promote Badrinath Ki Dulhania in Lucknow. Photograph: Alia Bhatt/ Instagram
Is there a certain pressure when you sign a film?
I don't know how the audience is looking at me, or what they think of me. I am the same person, I am just working.
My achievements are the by-products of that. I don't give myself that pressure from a third person's point of view. I give that pressure to myself from my own point of view. I want to challenge myself.
Which director do you want to work with?
Raju Hirani.
I also want to work with Nitesh Tiwari. I loved Dangal.
I am dying to work with my 2 States director Abhishek Verman. I keep telling him we need to work again because I need his voice over my head. I remember during 2 States, Abhishek really pushed me and I need somebody to tell me I am bad.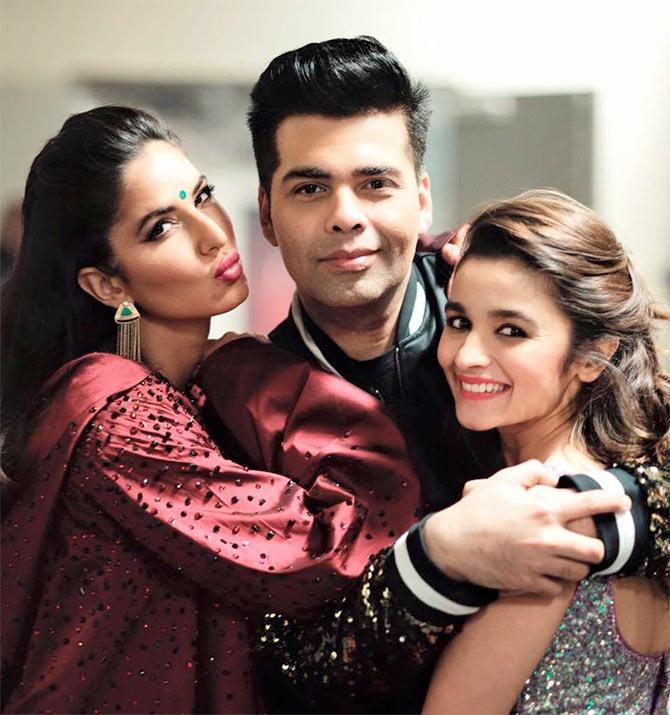 IMAGE: Katrina Kaif, Karan Johar and Alia Bhatt at the Dream Tour in 2016.
Who are your close friends from the industry?
I think friendships exist with people you connect with.
I have lots of love and respect for Katrina (Kaif). She is one of the leading actresses in the country. If anything happens and she needs me, I will always be there for her and vice verse.
Even though I don't talk to her everyday, I connect with her. It has happened over time.
Will you be doing action in Ayan Mukherjee's Dragon, opposite Ranbir Kapoor? Do you have scenes with Amitabh Bachchan?
There will a lot of action around me but I don't think I will be beating anybody up. There will be extensive prep for the film.
Ayan told us there is just one character in the film -- there is no Ranbir and Alia. We are one character.
It is not a typical superhero film -- Ranbir won't be seen wearing red underwear!
It is mythological, a sci-fi supernatural film.
Amitabh Bachchan is fabulous. I hope I have some scenes with him. We will start shooting once Ranbir wraps up the Sanjay Dutt biopic.
You are also doing a film with Ranveer Singh -- Zoya Akhtar's Gully Boys. Ranveer recently promoted your film Badrinath Ki Dulhaniya on social media.
It was his idea and sweet of him. He was like I am totally into cross promotion!
He said, 'Alia, are you ready for our viral video even before its gone viral?' He decided it's viral (laughs).
I have done enough ads with Ranveer to know that he is a united-we-stand-divided-we-fall kind of person. I admire his energy. He will always be in character, never be out of it. With his kind of energy, it will be great to work him. It will keep me on my toes.
How will you unwind after Badrinath Ki Dulhania releases?
I may take time off and travel.
I have decided to learn to play the piano, learn cooking and take Kathak lessons -- do things that I don't get time to do as an actor.