'The idea is to do everything, be creative... do mad stuff.'
'Then, you come home and live your life.'
Saif Ali Khan reveals his game plan.
Rediff.com's Patcy N listens in.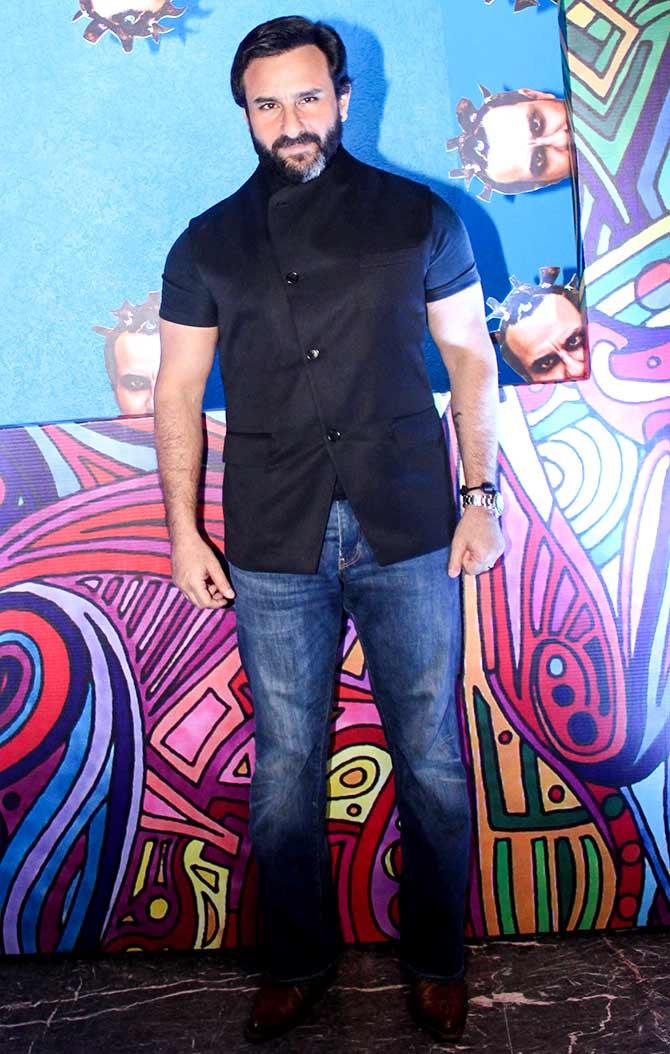 Saif Ali Khan seemed to be in high spirits at the trailer launch of his new film, Kaalakaandi.
Wearing a blue t-shirt with a black vest and jeans, the actor walked into the event with his trademark swagger.
He obviously loved the slick, well-made, trailer and couldn't stop clapping for it after it was screened for the media.
Directed by Akshat Verma, Kaalakaandi has an ensemble cast -- Akshay Oberoi, Kunaal Roy Kapur, Deepak Dobriyal, Vijay Raaz, Sobhita Dhulipala, Isha Talwar and Nary Singh.
And Saif, of course.
"My acting improved working with some of these guys," Saif says generously.
The trailer, and the film, has plenty of cuss words. Was Saif comfortable uttering them?
"There is quite a bit in Sacred Games. We did some in Omkara too. But one has to be careful," he says.
"I remember in LoC, Sanjay Kapoor kept abusing the Pakistanis. It got cut so you don't want to beep it later," Saif adds.
"I trust my director and do what he wants because he is creating the world. That's why a responsible director is really important," he explains.
"Some guys are a bit passive, so people ask me if it matters. I think it does. My first audience is my director. I do not think about the audience when I am acting. It's not like I am performing on a big stage. I am doing it for this guy (the director)," he says.
"If I trust him, I feel comfortable," Saif adds.
Did Kareena like the Kaalakaandi trailer?
Yes, he says. "She's excited."
Kaalakaandi was stuck at the censors for a long time.
The censors asked for 74 cuts at one point, Saif reveals.
"At that time, we thought we should release it on a Web platform, but then, that's not cool because we didn't make it for that. Luckily, Cinestaan pushed for it and we got just one cut," he says.
Akshat Verma has written films like Delhi Belly and turns director with Kaalakaandi. Saif is full of praise for him.
"Akshat's reason for making movies is that he wants to be the only guy in India to make a film like this. It's a real cool and unpretentious film. It has dialogues in Hindi and English. I think there is an audience for this kind of film. It's not a niche kind of movie," Saif adds.
Saif has often worked in offbeat movies like Being Cyrus and his previous release Chef.
"I enjoy different kinds of films. The idea is to do everything, be creative... do mad stuff. Then, you come home and live your life," he says with a grin.
"A good actor is someone who is saleable, but at the same time, he makes out-of-the-box films. He's interested in his art, and doesn't only keep an eye on the numbers."
Saif defends Chef director Raja Krishna Menon.
"Directors have a very difficult job. They have to make the whole film. Any choice (they take) can either go this way or that. But I liked his attempt, and I enjoyed my work in it."
"It's a little European in flavour. The drama could have been more... he (Raja) generally tries to avoid drama even though Airlift had quite a bit of it. The palate of this film was Western," Saif feels.
"I got some good reviews, but there are some things that are out of your control. I wish it had done better. I don't think it was publicised correctly. I didn't see enough buzz around it," he adds.
Saif doesn't mean going on popular television shows to draw attention to films.
"You have to show trailers, hoardings, you have to spend money on publicity. Sometimes, people don't want to pay money in the film's marketing, so they send the actors on shows like Bigg Boss, The Kapil Sharma Show... You feel that will help, but it won't."
"People want to sample the merchandise, they want to see the trailer. If they like the trailer, they will go. But if the actor goes to 100 events and says 'Please see my film, or dances at a train station', it won't help," explains.
Saif is also watching out for his daughter Sara's Bollywood debut with Kedaranth.
"I am excited for Sara. When we get close to its release, it will feel like my film releasing," says the doting dad.
He says he hasn't seen Sara's first look from the film which released in October.
"I will wait to see it properly. It's too early to get excited. I am confident that she will be very good," he says.
Saif is probably the only star doing a Web series. He is working on Sacred Games, based on Vikram Chandra's novel.
"Maybe I like the reputation of being called an actor as well," he says.
"I think more like an actor than a star perhaps. I just want to be creatively satisfied. I want to feel good doing it and not follow the rules. There was a time when I had gotten a bit lazy, but today I am up at 7 and on set. I enjoy that."
Shooting a Web series is very hectic, says Saif.
"We shoot at least 12 hours and they don't break for lunch. You have to fight for lunch! I have to say I am going for 20 minutes only, but there should be at least 30 minutes for lunch. Next season, proper contract!" he exclaims with a laugh.
Sacred Games is directed by Vikramaditya Motwane.
"He is a very good director," says Saif. "He watches closely and gets a good performance. I am working with him at this stage when I am pretty good at my job I think. So he fine tunes it and tells me what area I need to work upon. He's very aware. He competes with the rest of the world."
Scenes from the trailer launch: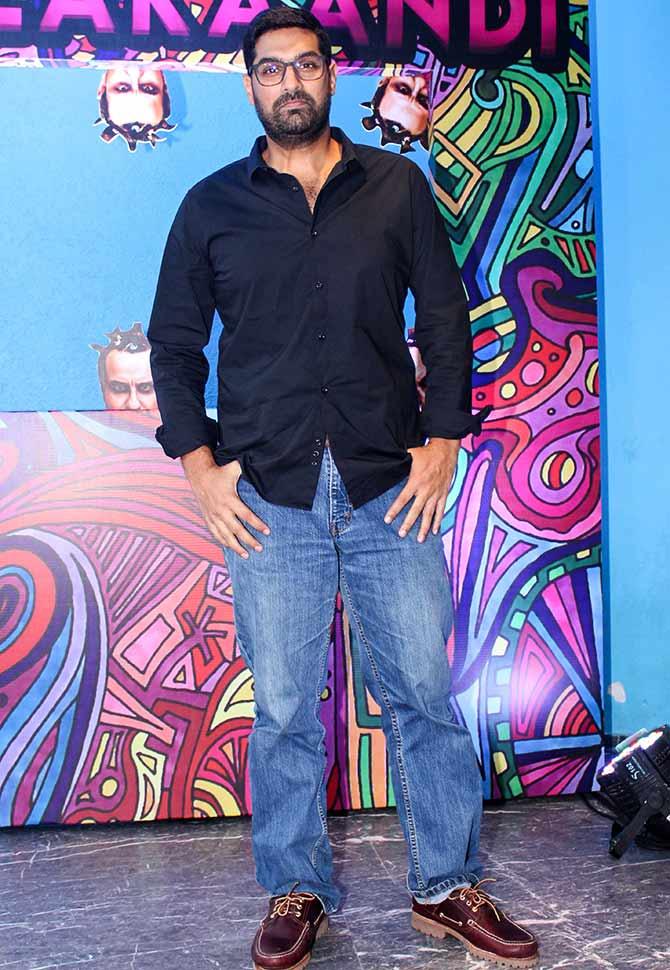 Kunaal Roy Kapur.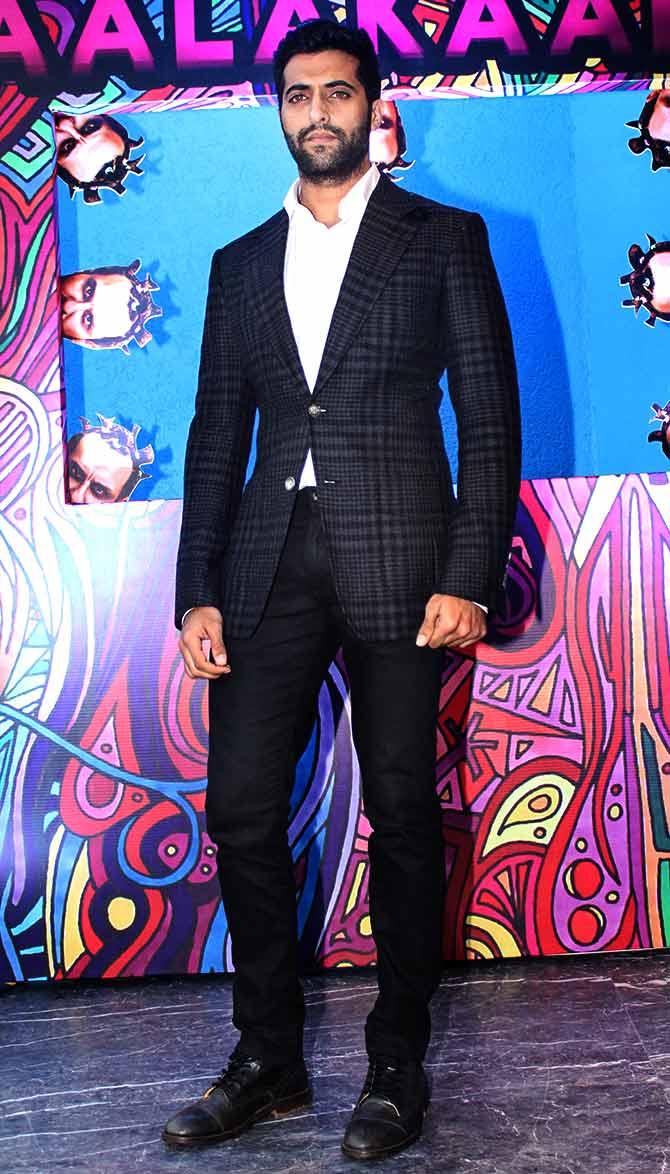 Akshay Oberoi.
Deepak Dobriyal.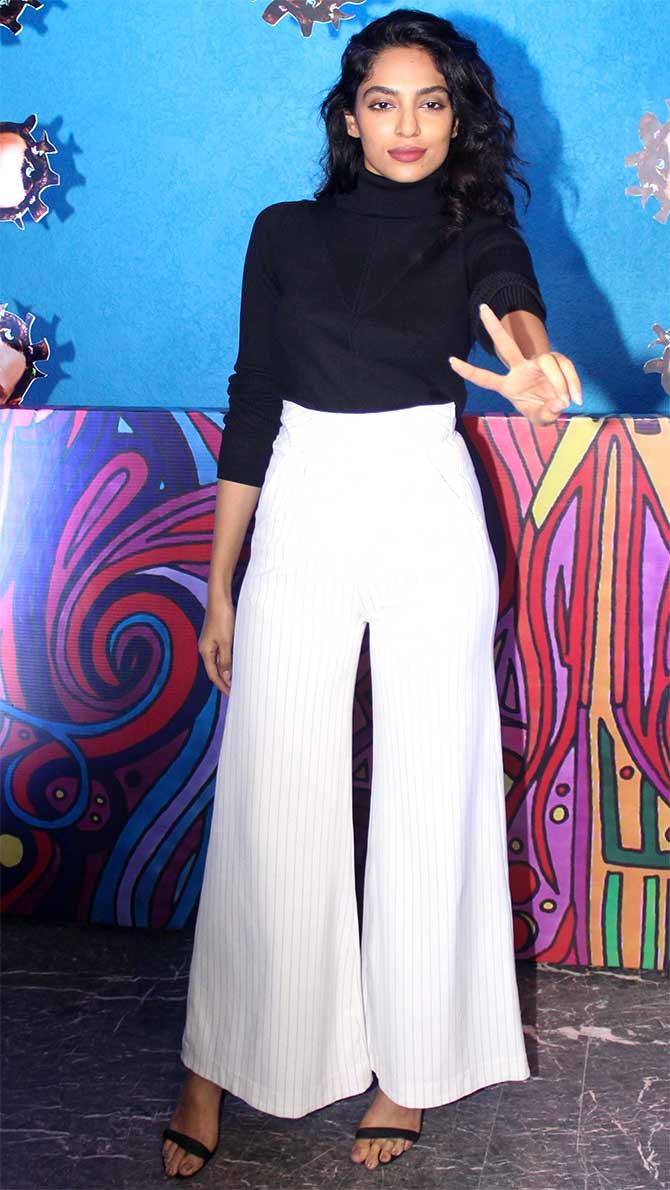 Sobhita Dhulipala.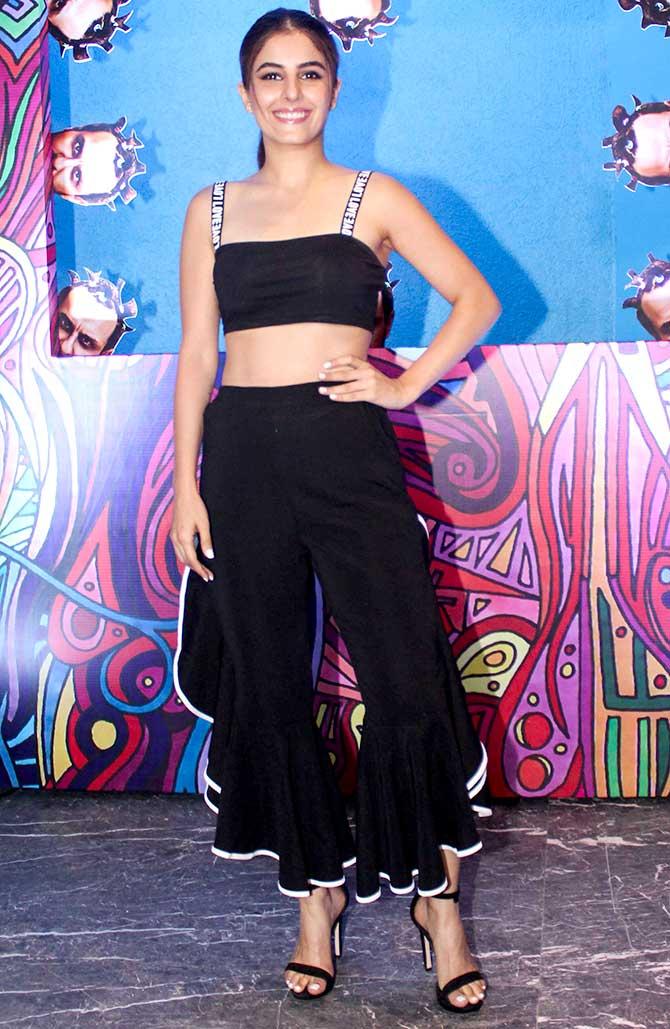 Isha Talwar.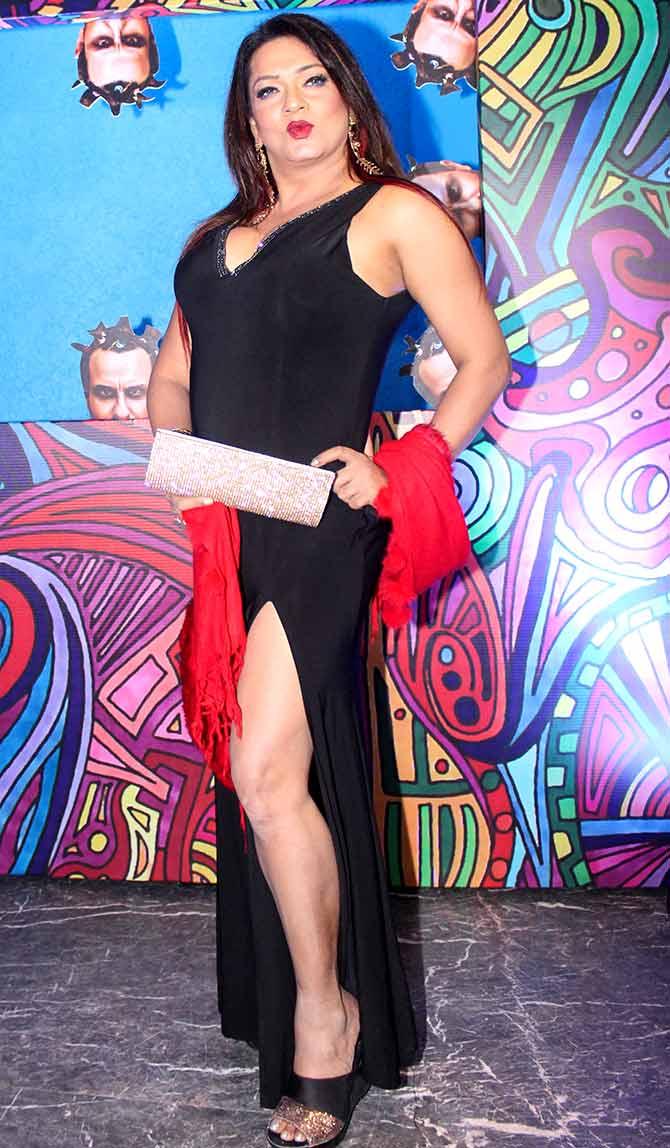 Nary Singh.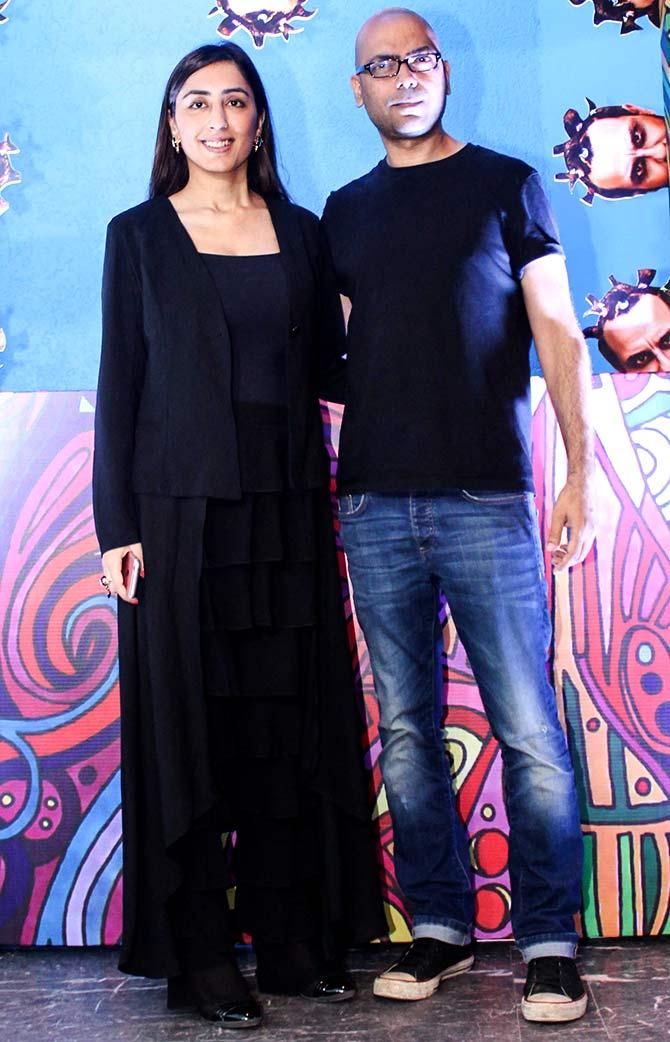 Producer Ashi Dua and director Akshat Verma.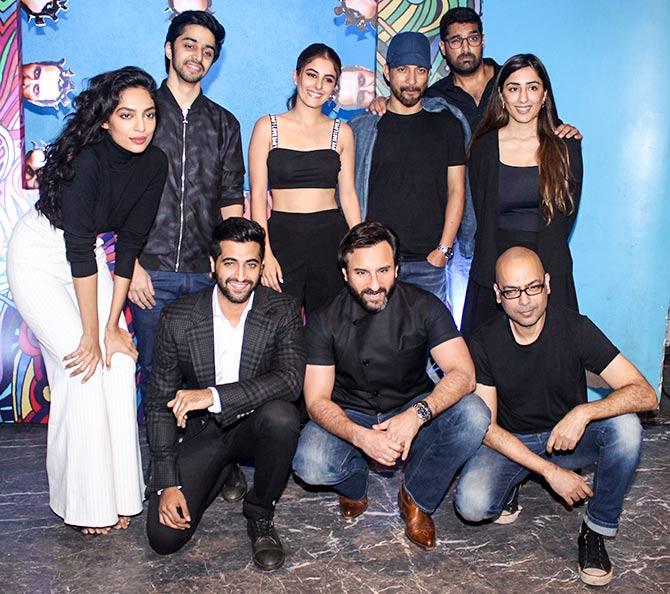 Sobhita, Shivam Patil, Isha, Deepak, Karan, Ashi, Akshay, Saif and Akshat take a group pic.
Photographs: Pradeep Bandekar