'I am an A-lister of television. I didn't want to do any Bollywood movies just for the sake of it.'
'There are audiences for Naagins and the supernatural kind of shows but for me, Beyhadh is a real show. I would watch it.'

Kushal Tandon gets candid.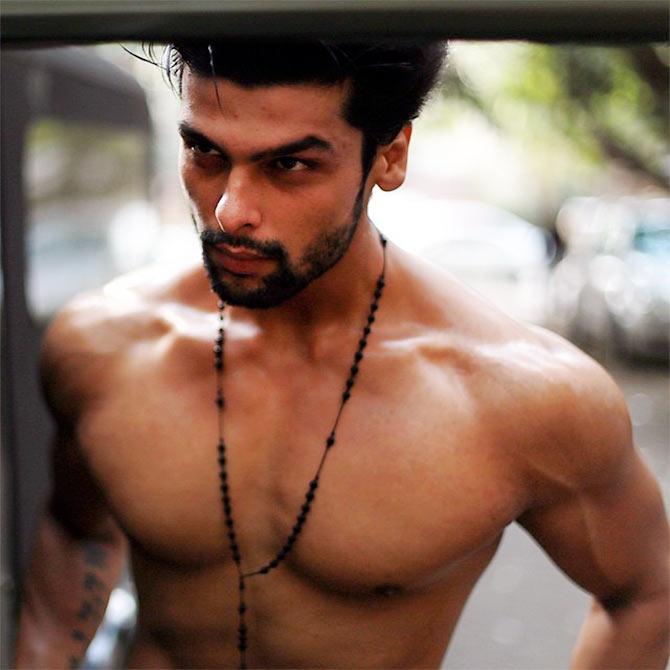 Photograph: Kushal Tandon/Instagram
Kushal Tandon returns to television with Beyhadh, starring Jennifer Winget and Aneri Vajani.
The former Bigg Boss contestant has been in the news mostly for her relationship with Gauahar Khan, whom he met and proposed to on the show. They have since moved on but Kushal doesn't mind working with her again.
He tells Rediff.com contributor Rajul Hegde about his new show, his relationship and his Bollywood plans.
It took a while for you to come back after your first soap Ek Hazaaron Mein Meri Behna Hai?
I did my first fiction show Ek Hazaaron Mein Meri Behna Hai for two years. After that, I was more into reality shows till 2014.
In Kathron Ki Khiladi, I broke my hand and there was a labarum tissue tear in my shoulder. I had to undergo an operation. I had been working for five years at a stretch, so I took a sabbatical for a year.
I had signed two movies but backed out due to creative issues. The films were erotic thrillers. I am an A-lister of television. I didn't want to do any Bollywood movies just for the sake of it. I am happy in my comfort zone and know where I want to reach.
My first film has to be very nice. I must get all the awards for it, just like I got all the awards for my first fiction show. I want to have that Filmfare Best Debut Face award. If I do just any movie, I won't get it.
My first movie has to be something like Utda Punjab or PINK, which give out a message.
I got a lot of TV show offers too but nothing excited me. However, this show is a finite series, something which will break the stereotype.
There are audiences for Naagins and the supernatural kind of shows but for me, this is a real show. I would watch it.
In the promos, your character reminds us of Shah Rukh Khan from Yes Boss.
Arjun is behad ambitious; he wants to own Bombay and wants to be the most successful person. You can see that in the way he talks. He is career-oriented.
You can also see how he gets two loves in this life. One is pagalpan wala love and the other one is selfless wala love. So I get love from two girls for 12 hours on the sets, although it's just acting. The other 12 hours I manage outside the shooting (grins).
This show is about extreme love. What kind of lover are you in real life?
Anything extreme is bad.
In real life, I am a passionate lover but not possessive. I don't believe in holding to that person.
What is that one thing about your life you want to control?
I am emotional, so I would want to control my emotions. I trust people easily.
How did your stint on Bigg Boss help your career?
It was a very good experience; it has given me a lot. Whatever I have chosen in life, it's been my decision. There are no regrets. I was not working for one and a half years but it was not like I have to do this.
I am happy in my zone.
I always thank God for giving me two hands and two legs to do everything, and my family. I have everything what a normal person has. I'm content in life and not in a rat race. I am ambitious but not over ambitious.
You deal with an obsessive girlfriend in the show.
Yes, I pray that nobody has a girlfriend like Maaya (played by Jennifer Winget). It's too much of madness.
I have not found someone like that in my real life. If I do, I will run away.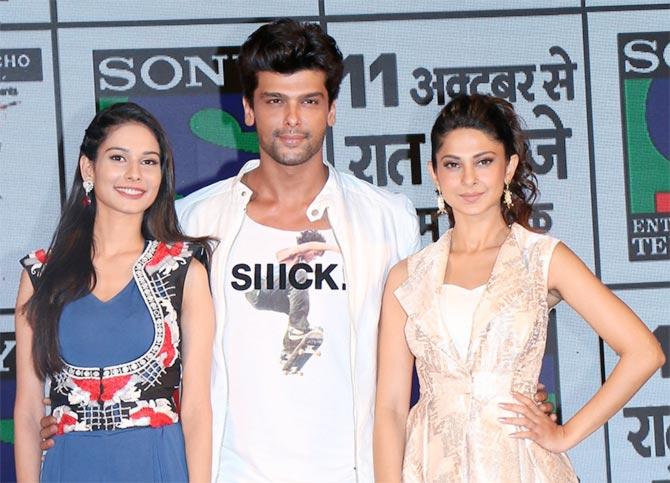 IMAGE: Kushal Tandon with his two co-stars Aneri Vajani and Jennifer Winget at the launch of Beyhadh
You have lost weight. Is it for the character you play in the show?
I have been working out a lot and there are few bare body scenes too in the show. Plus, when I took a sabbatical, I learnt Mixed Martial Arts.
You play a photographer in the show. Do you like photography in real life?
Only for selfies (grins) but now I am learning photography.
How is it working with the two women in show?
Both of them are extremely nice and talented. We have a great camaraderie.
Jennifer is very professional and plays Maya very well. She is one of the prettiest faces on Indian television. There are only two-three pretty faces on television like Nia Sharma, Jennifer and Gauahar Khan.
If given a chance, would you work with your ex girlfriend Gauahar Khan?
Why not?
Are you on talking terms? Both of you un-followed each other on Twitter sometime back.
There is no bad blood between us. Complete peace out!
You were mostly in the news for your relationship with Gauahar. Any regrets?
I always learn something from my relationships. It's always good moments spent. No regrets at all.
Any chance of reconciliation?
Never say never for anything in life.