'I hate people who do such things.'
'The person who bullied me should be ashamed because he tortured other people too.'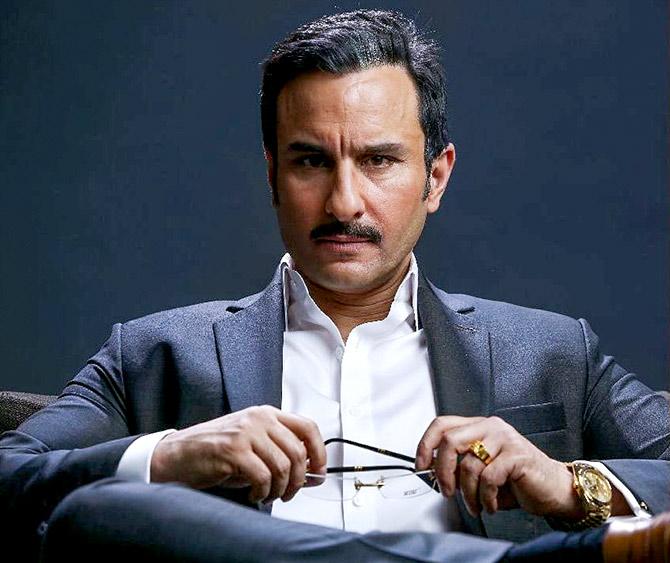 Women aren't the only victims of sexual harassment and bullying in the film industry.
Saif Ali Khan says he has been at the receiving end of bullying as well.
The incident occurred 25 years ago, but Saif says he has still not gotten over it.
As he promotes his new film Baazaar, Saif tells Rediff.com Contributor Ramesh S, "One good thing about social media is that you shame people in such a way that they think 10 times before disrespecting somebody else."
What attracted you to this role?
(Writer-producer) Nikkhil Advani (who directed him in Kal Ho Na Ho) offered this part.
I don't understand the stock market, so I was not interested.
I started comparing it with other Hollywood films on this topic, but he convinced me it wasn't about that -- it was about money.
It's about what money means to different people.
For instance, what it means to rich people, to a rich man's wife, a struggling, young boy, his girlfriend...
The stock market, Dalal Street (where the Bombay Stock Exchange is located in Mumbai) and a Gujarati Angadia (couriers who largely ferry cash and valuables in Mumbai and Gujarat) kind of character is quite strong in our Mumbai business community.
But I have never seen a film on it.
As it is a Hindi feature film, the characters are dramatised and mythologised.
Earlier, my character was a fat guy who had lost his hair, a nasty, coarse, guy who would chew (em>gutka).
It was a nice idea, but did not work out.
After that, it was suggested that my character would be a smart guy, like the one in Race.
But we had done that earlier, so I rejected it.
Eventually, we found a character that has a little bit of white hair, where he is strong and cool from inside, but not classy.
He has a complex about people who had been to Harvard.
It was a well-written role and juicy to perform on screen.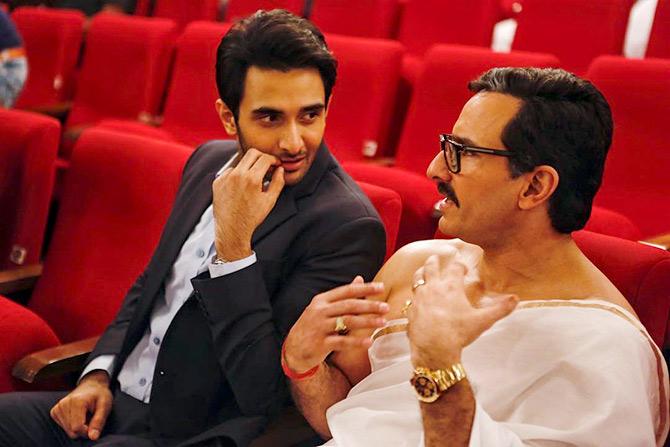 Your character has shades of grey as well.
That definitely attracted me too because it is interesting -- but playing good guys is also interesting.
You have to balance both.
Grey shades are interesting to play but it is very difficult to impress people.
People tend to like honest and nice roles more, like my character in Sacred Games.
The camera supports you, as one doesn't have to do so much in front of it, except look vulnerable.
The energy is different.
But to be an antagonist, you have to be more aggressive and cruel in your thinking.
It's nice to have a mix in your professional life.
Were you concerned about playing an antagonist?
No. In fact, some of these antagonist roles are more interesting than the usual ones.
It doesn't matter what the morality of the character is.
This is one of the loveliest roles I have gotten so far.
Like you said, you started comparing Baazaar with other Hollywood films at first. Are you concerned the audience may do the same, and compare Baazaar to say, The Wolf Of Wall Street?
It is natural that people will initially jump to conclusions, but you have to be very stupid if the film is being copied from the West.
Some of us dress up in Western clothes, but our thinking is not like that.
Wolf Of Wall Street is about drugs, corruption and a system that is out of control.
We are not on that level yet.
Our film is about money and how far one will go to cross that line.
And if you cross that line, are you prepared to lose something?
Also, once you achieve your dreams, was it worth it?
That is what the film is about, where a young guy (Rohan Mehra) wants to be like my character to earn money.
But does he give up something from his life along the way?
And if you lose enough, are you the same person at the end of it? Was it all worth it?
I think it is a great story.
We don't talk about the West because it is a different animal -- cocaine, Wall Street, money, corporate raider, etc. It's like comparing chalk and cheese.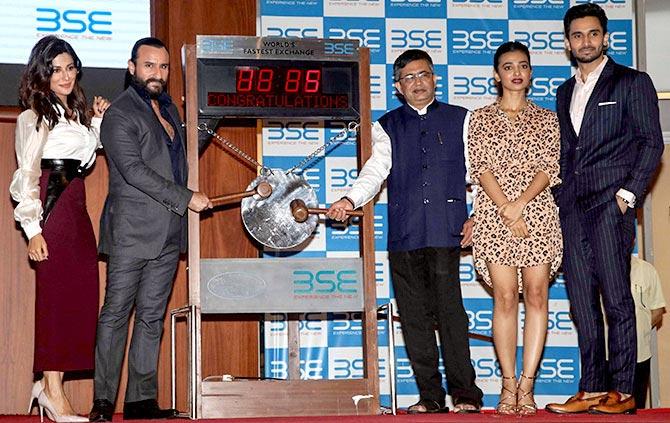 Did you draw inspiration from real life Indian businessmen?
No, but I am aware of getting super ideas from a mix of Indian businessmen.
You have an idea of how they talk, walk, behave and what their vibe is.
The character has its own motivations and ideas.
But the external part is a mix of various people.
Did you learn Gujarati for your role?
Yes, when I was mugging the song Kem Cho, Gauravv Chawla (director) had this idea that some Gujarati nursery rhymes may make it a bit spooky.
We did the same thing in Being Cyrus.
To add perversion and a twisted version to nursery rhymes can make it very frightening.
But as I have to learn it, I learnt Gujarati nursery rhymes with the help of YouTube.
I was playing with (son) Taimur and singing this rhyme, and he was like giving me this weird look, like what are you talking about.
Have you invested in the stock market?
I have invested in some blue-chip companies.
But I don't like the risk of getting quick money.
I like to play safe and invest in businesses that give stable returns.
I am happy to work hard, invest more and earn something safe than trying to be clever.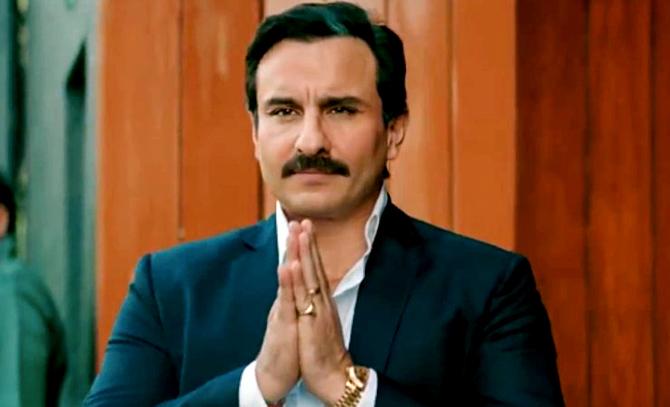 Baazaar deals with stock market scams. Does it draw inspiration from real life Indian scamsters?
It's not a biopic on anyone.
You are experimenting a lot with your characters recently.
It's an instinctive thing, and you have to have your heart in the right place.
You want to be an actor, not a person who works on a safe zone.
Do you feel you are under-rated as an actor?
I don't know. I really don't worry about being tagged an under-rated actor.
People notice when you do different things.
They reacted in a good way after watching Sacred Games.
Once in a while, I do something and get a lot of credit for it.
A lot of things don't work, but something may work unexpectedly, and that's a chance all of us take.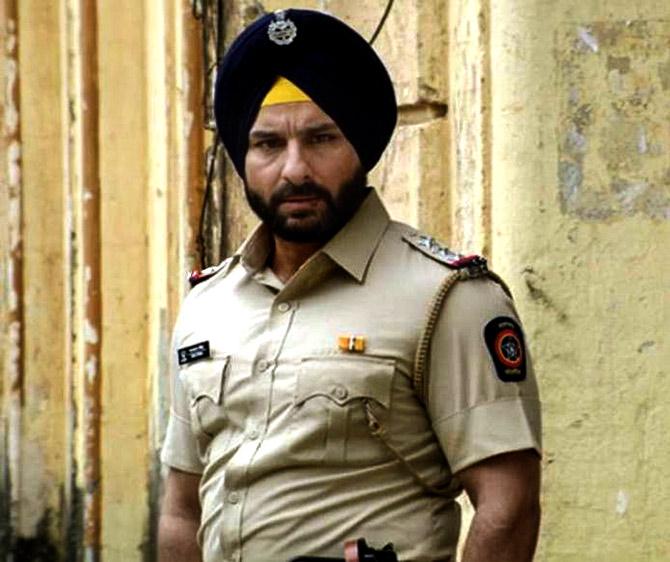 Were you concerned about doing a Web series since you are a successful mainstream actor?
I am happy to do anything that is exciting.
I think it is great to work in any medium, but the value system is different for television because the smaller the screen, the smaller the value system of it. I don't like television.
People make you work harder and don't respect you as much you deserve. That has to change before everyone gets involved.
Shooting for Sacred Games is totally different as it has a higher value system than movies. It is more creative and intelligent.
You are pushing the boundaries and doing something international.
Some of your films didn't do well at the box office but people watch them on television.
Thank God, at least somebody is making some money (laughs)!
But you can't be upset if your movie didn't do well at the box office.
In my opinion, it should not matter because my job is to act.
I should not get emotionally involved with people liking the movie because then I will be too upset if my expectations fail.
But being a producer, box office number does matter to me.
I am not chasing some magic numbers at the box office, but the film has to make money. Only then can you make more.
Also, one should not waste people's money.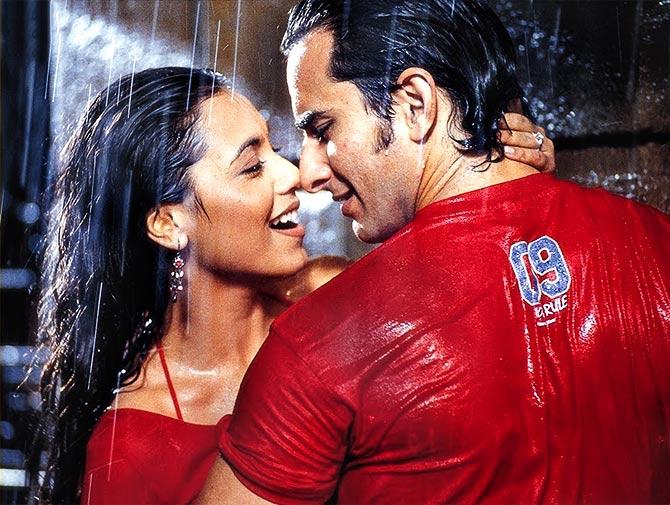 Do you revisit your iconic characters? What do you feel about them now?
I don't revisit purposely, but I see things on the Internet or sometimes, a clip comes up in front of me.
For instance, somebody send me a clip of my father (the late legendary cricketer Mansur Ali Khan 'Tiger' Pataudi)'s old interview in which we all were there -- me, Soha (Ali Khan) and Amma (Sharmila Tagore).
I saw a shot from Salaam Namaste in which I am arguing with Preity Zinta over the phone.
Shots from Omkara or Hum Tum have also come to me out of the blue and it feels good after watching them.
It feels like we have worked really hard for a really long time.
No wonder they made me a star, which I deserve.
You have been in the industry for more than two decades now. How do you rate your journey so far?
It feels great and modern, and not outdated.
I get the feeling that I am doing better with time.
I want to look as young as Anil Kapoor and want to work as long as Amitabh Bachchanji.
If you look after yourself and if you are a good actor, why not?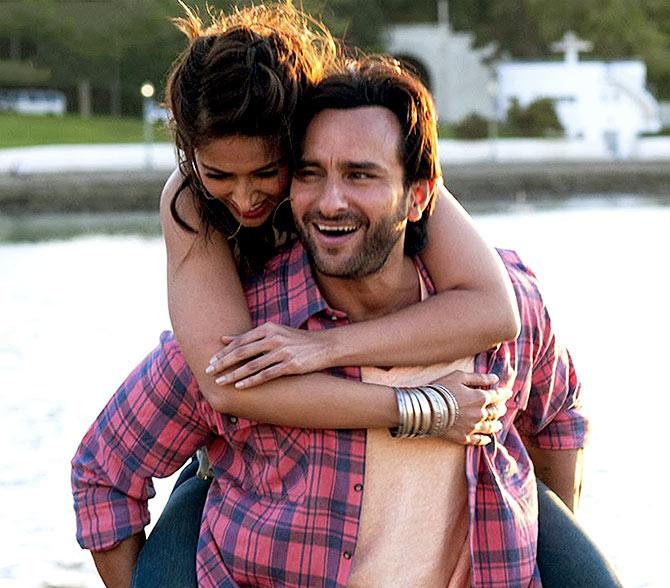 Your next film is reportedly with Raj and DK, and it is about aliens. How true is that?
Yes, they are working on the script.
And they did say something about aliens, but it's all up in the air.
I just love Raj and DK's work and sense of humour.
That's why I did Happy Ending and Go Goa Gone.
I am very happy that Stree (which Raj and DK wrote and co-produced) is being loved by one and all. I am looking forward to working with them again.
Presently, I am shooting for the Tanaji biopic.
The #MeToo movement has picked up, and some of your colleagues have been named for being indecent.
First of all, I don't want to call them colleagues because I don't consider them so.
I would be very shocked if a friend of mine is named.
I don't like bullying, it's disgusting!
It has never been there in my world and I want to see it gone.
The only way it can go is if we change our attitude and mindset.
One good thing about social media is that you shame people in such a way that they think 10 times before disrespecting somebody else.
Social media is not just for updating pictures of your cat. It's for great things as well.
Is it true that you were bullied on the sets of Bekhudi, which was supposed to be your debut film?
Yes, I was terribly bullied during Bekhudi.
But I don't want to talk about myself because it will seem I am petty.
I hate the idea of bullying and hate people who do such things.
I think the person who bullied me should also be ashamed because he tortured other people too.
I remember how angry I was then.
It's been 25 years and I am still not over it.
Being a producer, how would you deal with such issues?
You have to know how to behave with people, especially women.
I can understand that there are people who get attracted after meeting a pretty girl. But you have a wife and kids, and then you say, come to my bungalow later!
It's not right and one cannot do such disrespectful behaviour.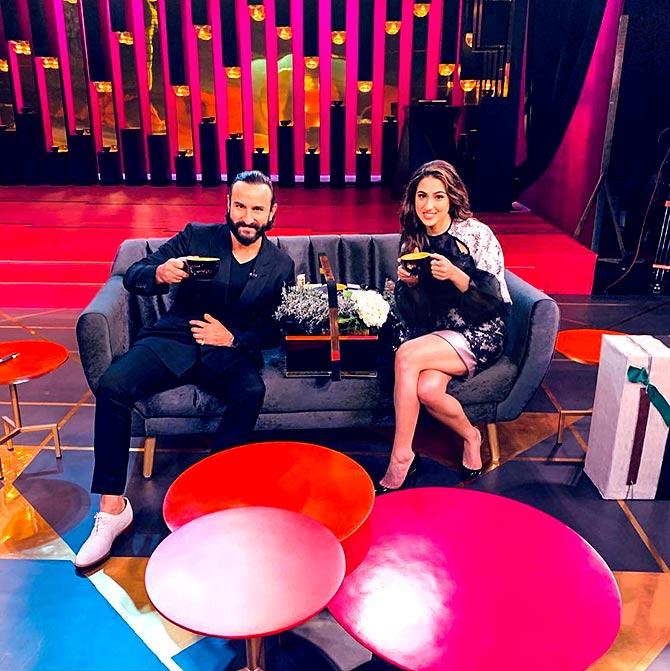 How was it shooting the Koffee With Karan episode with with your daughter Sara? Does she ask you for tips?
She's all grown up now and it was fun shooting with her.
I am happy that I am not doing a film with her, because being a father, I am constantly worried about how she is doing, even during an interview.
She asks me for tips on various things. I am happy that she brought me a scene from her film and took my help to perform it.
But she also has her opinion, and that's great.
So, in a way, she does not follow me.
Everyone is there to advise her -- me, Kareena, her mother, friends.
She can also call my manager for help.
But ultimately, she makes her own mind and follows her decision.