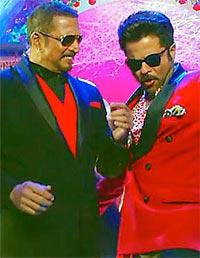 'I have watched comedies but some have failed to make me laugh. The characters indulge in too much buffoonery. They move too much, falling, hitting each other, making faces...'

'Comedy is very serious business.'
Director Anees Bazmee tells us how he makes people laugh with his films.
Anees Bazmee cannot stop smiling.
After all, his latest film Welcome Back is doing very well at the box office.
But the director remains modest and down-to-earth, and keeps offering me tea and coffee through the interview.
Bazmee talks to Patcy N/ Rediff.com about his favourites parts in Welcome Back, and directing so many actors -- Nana Patekar, Anil Kapoor, Naseeruddin Shah, Dimple Kapadia, Paresh Rawal, John Abraham and Shruti Haasan -- in a single film.
Did you anticipate Welcome Back's success?
When I started making this film, I knew it would not be easy because everyone loved Welcome. It gets telecast on television even today, and people keep messaging me that they enjoyed it.
So when I decided to make this film, I took a lot of time. I was not looking only at monetary profits.
If I had made the film immediately after Welcome, it would have done well on goodwill. But the story would not have been so good and the audience would have felt cheated.
When I made Welcome Back, I had only one aim -- it should be better than Welcome and that was a huge challenge. That why I took a seven year gap.
The film has a big line-up of stars. Was date problems another cause of delay?
Everybody from the original cast wanted to be a part of Welcome Back. They had faith in me.
I wrote the script for one year and it took me two years to make it.
After Welcome released in 2011, my elder daughter got married. Then, I took my family on a world tour that I had promised. During the tour, I wrote two scripts.
And anyway, I always take a breaks between films.
But you have two back-to-back movies coming up, No Entry Mein Entry and Aankhen 2...
Yes. There are 200 odd people associated with me, like my assistants etc. I can afford to take a long break but they cannot. So I am trying to be more practical.
I wrote the scripts simultaneously, while making Welcome Back. So this time the break will be shorter. I hope to make at least one film in a year.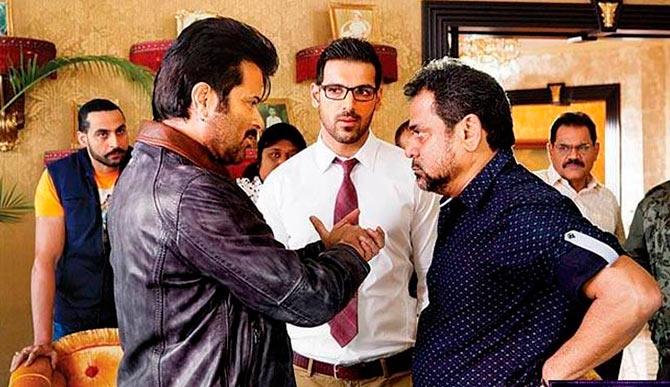 Image: Anees Bazmee explains a scene to Anil Kapoor and John Abraham
You said that Welcome still plays often on TV. So why did you incorporate so many flashback in the new film?
I wanted to bring some kind of connectivity with the previous film. Ten percent of the viewers haven't watched Welcome, so I wanted those people that to know that last time Anil Kapoor had made pigeons sit on Akshay Kumar's head and this time, John Abraham was doing it, with crows.
This time, Anil Kapoor and Nana Patekar's characters have reformed, so I put a flashback to show what they were like before. People, who haven't seen the earlier film, should know what kind of dangerous criminals they were.
I got Khansaab (Feroz Khan) back because I wanted people to know what he did before Naseerbhai (Naseeruddin Shah) came into the picture.
It seemed that you were trying to encash on the success of your previous film.
What is wrong in that? That's my film too, after all! (Laughs)
If I have money in my bank account, I can withdraw it anytime. It is better than using someone else's account.
How did you convince Naseersaab for the role? He always maintained that he prefers serious roles.
When I narrated the story to Naseersaab, he liked it.
We used to meet very often and he knows that I like him very much. When one knows that the other person likes you a lot, it gets difficult to reject that person.
He wanted to work with me as well, so everything fell into place.
Had he refused the role, it would have been very difficult for me.
As far as Nanaji is concerned, even before I narrated the story of Welcome, he asked me to swear on my mother that he should do the film. So I did, and he signed up for the film.
I believed Welcome was going to be a superhit.
Nanaji did the first movie with so much affection that people loved him. After the release, he told me that earlier children used to be scared of him but now, they sit on his lap. That was a big compliment.
You have worked with Anil Kapoor in quite a few films.
I've done four films (No Entry, Welcome, No Problem and Welcome Back) with him. I think I take him for granted.
I have a close friendship with him. He knows me from the days when I was an assistant with Raj Kapoorsaab on Prem Rog.
In this film, he told me he didn't like the story but I assured him.
Anilji is very simple man, a great actor and a good friend. He has a lot of trust in me because I gave him many hits. People liked his work in No Entry, Welcome and Welcome Back.
What difficulties do you face when you direct a multi-starrer?
These films look easy but they are very difficult to make. It's very difficult job to get all the actors on the sets at the same time, get their dates and take care of their mood swings.
But a few things go in my favour. Like, when I narrate a story to an actor, I don't cheat them. I tell them scene to scene and they know exactly how big their roles are.
If I narrate something and shoot something else, it would get embarrassing.
When I am directing, I tell the actors straightaway that this is not their scene. I tell everyone which actors will get importance in the scene and which actors will remain in the background.
I have a personal friendship with all the actors I work with. But I am very lucky that I can make a multi-starrer without any difficulty.
Did you get any compliments for the film?
(Producer) Firoz Nadiadwalas' father Gaffarbhai (AG Nadiadwala) came on the sets of my film and was shocked to see 30 actors there. I was telling them what they should do in that scene and they all were listening intently. Gaffarbhai said this would only happen 25 years ago, on Manmohan Desai's sets.
(Manmohan Desai's son) Ketan called me to say that he saw the film with his wife Kanchan and it reminded him of his father's films because I had big stars, masala, drama and grandeur. I told him his father was a great director, and I haven't reached there yet.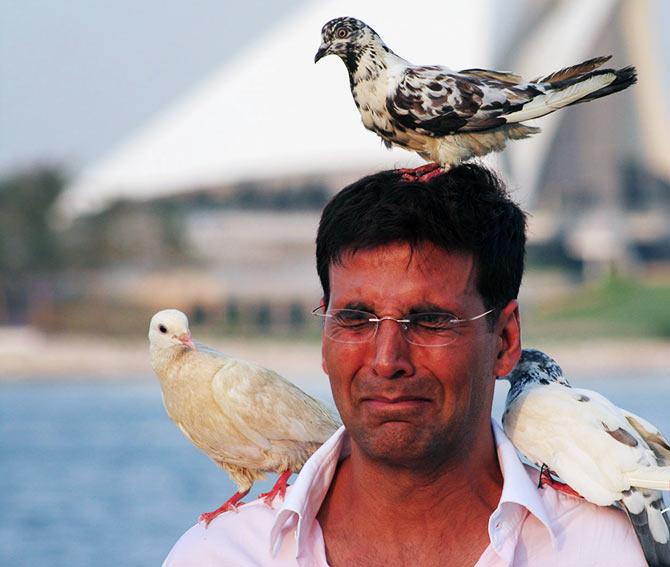 Image: Akshay Kumar in Welcome
Why is Akshay not in the new film?
I could not take Akshay because of the story. Akshay was very shareef (noble) in Welcome. Because of him, three goons -- Anil Kapoor, Nana Patekar, Feroz Khan -- started leading good lives.
I did not wanted to show that Akshay became a goon as that would be a compromise.
I have a good relationship with Akshay -- he is a great actor, a big star with good comic timing but I couldn't continue with him.
You have showed Nana Patekar's father in Welcome Back, and he says he is free to marry for the fourth time. Was that done with another sequel in mind?
In fact, I have kept many open ends with which we can go ahead with the next film if we want.
Like in the last scene, there is a sand storm and everybody flies in the air. In that sand storm, they can either live or die. It's up to me to make people believe what I want to do with the end.
In the climax, when Naseer's character Wanted gets his eyesight back, no one questions how it happened. I don't make serious films like Satyajit Ray.
Image: Ajay Devgn, Akshaye Khanna and Urmila Matondkar in Deewangee
Earlier you experimented with genres -- Pyar Toh Hona Hi Tha was a love story while Deewangee was a thriller. But now, you only make comedies.
That's why I am making Aankhen 2, a suspense thriller.
But frankly, yes, I have been doing comedies back-to-back because they became huge hits.
Which are your favourite scenes in Welcome Back?
The scene when Nanaji gets a heart attack and dies.
Another scene that was picturised very well is the graveyard scene.
The interval scene is also one of my favourite scenes, when John's character silences Anil Kapoor and Nana Patekar.
Naseerbhai's scenes were very lavishly shot.
Which directors inspire you?
I have seen Mughal-e-Azam 300 times; I am huge fan of (director) K Asif's films.
I loved Raj Kapoor's work. He was my guru.
My other favourite filmmakers are Mehboob Khan, Guru Dutt, Bimal Roy and Manmohan Desai.
What do you think of comedy movies made today?
I have watched comedies but some have failed to make me laugh. The characters indulge in too much buffoonery. They move too much, falling, hitting each other, making faces...

Sometimes I feel sorry for the actors. These talented actors have to come up with such stupid performances, just because writers and directors haven't done their work properly.

Comedy is very serious business, and I tell my actors to do comedy seriously.
Anil Kapoor, Nana, Naseerbhai, Pareshbhai, everybody is serious in Welcome Back. They are not doing comedy. They keep a straight face because they are facing a problem.

I haven't liked any comedy off late.
Tell us more about Aankhen 2.
I am trying to make a suspense thriller with some humour in it.
Once again Amitji (Amitabh Bachchan) will be the principle character and three blind characters will come into his life. The basic concept is the same but this film will lighter moments.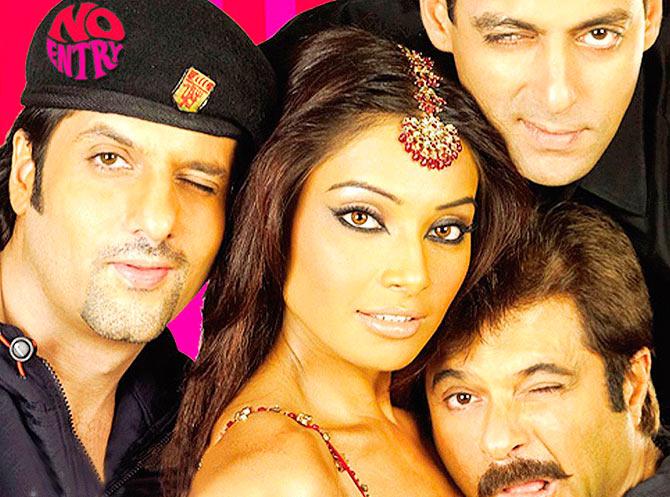 Image: Fardeen Khan, Bipasha Basu, Anil Kapoor and Salman Khan in No Entry
What about No Entry Mein Entry?
As a writer, I can assure you that it is fantastic script. I narrated it to Salman Khan and he loved it. There are some date issues but he's doing the film.
Salman, Anilji and Fardeen have double roles, and will be seen in most of the scenes. That's why I need more dates from them.

Boneyji (Boney Kapoor, producer) and Salman are discussing the dates. I hope it gets resolved soon.
You made three films with Ajay Devgn at the start of his career, Hulchul, Pyar Toh Hona Hi Tha and Deewangee. After that, you've never worked with him.
Ittefaq (coincidence)!
We are good friends. He's very close to me because I did my first film with him.
We still meet each other and talk.
If we ever get a better script than Pyar Toh Hona Hi Tha and Deewangee, we will work together.
You started your career as a child artiste and you are a top director today. Are you satisfied with your achievements?
I am more than satisfied.
I haven't reached here easily.
I wasn't very ambitious. Honestly, my only aim was to earn enough for two meals a day. So I did the odd acting jobs, worked as a sound recordist, even hammered nails when I worked in the art department. I did everything that came my way.

But the day I joined Raj Kapoorsaab, I decided to become a director.

In the beginning of your career too, there were long gaps between releases.
When I made romantic films, six-seven producers wanted to sign me. But they had one condition -- I would have to make romantic movies.

But I had written a suspense thriller and wanted to make that.
With a lot of effort, I convinced Nitin Manmohan and made it.
Then, people wanted me to make only suspense thrillers.
But I wanted to make a comedy, No Entry.

So even after making superhit films, there would be gaps of three years. People would tell me to stop experimenting and do what I was good at.
But now, you have stuck to comedies.
Actually, I started enjoying making mad comedies.
When I made No Entry, we enjoyed so much, we laughed throughout. It was like a picnic.
So I wanted to make a comedy again. So I made Welcome and then Singh is Kingg.
After that, you had two flops, No Problem and Thank You.

I don't even remember those names. I never made those films (laughs).
If the greatest director can make Son of India after Mother India, anything can happen (Mehboob Khan made the flop Son Of India after the cult film Mother India).