'My friends have planned a big surprise for me when I go back!' Ananya Nanda, and everyone close to her, is clearly very excited with her big win.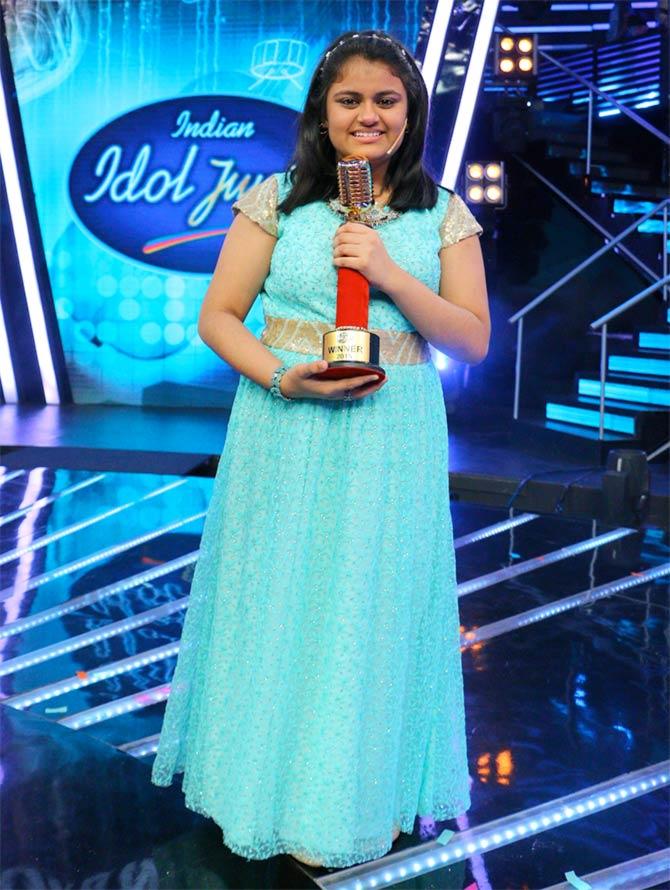 Odisha girl Ananya Nanda's expression was priceless when she was announced the winner of singing reality TV show, Indian Idol Junior Season 2 (see the picture below to see what we mean!).
"I went blank just before the winner's name was announced. I didn't expect to win, as just being a finalist was a big achievement for me," the 14-year-old girl says excitedly.
Ananya defeated Nahid Afrin and Nithyashree Venkataramanan to win a prize money of Rs 10 lakh.
Ananya, who wants to pursue a playback singing career in Bollywood, has been quite consistent in her performances throughout the show.
"I would like to lend my voice to Sonakshi Sinha (one of the judges on the show), and also my favourite actors like Anushka Sharma and Deepika Padukone," she says.
And it will be a "dream come true" if she gets to sing alongside her idols Shreya Ghosal and Arijit Singh.
The younger singer had tried her luck in the first season of Indian Idol Junior last year but unfortunately, got eliminated in the first round itself.
"I met Shreyaji during auditions last year (she was one of the judges). But I am glad that I didn't make it then, as I wasn't fully prepared. I wouldn't have reached this far. I came for the auditions with full preparation this year," Ananya says with her winning smile.
So what are her future plans?
"My exams are coming up, and I want to concentrate on my studies," says Ananya, who studies in Standard 9 in the DAV school in Pokhariput, Odisha.
"My school has been very supportive, and the principal had told me to concentrate on Indian Idol. I will go back and attend extra classes. I want to become a space scientist and also a playback singer!" she exclaims.
But there's another reason she wants to return to Pokhariput. "My friends have planned a big surprise for me when I go back!" she says with a grin.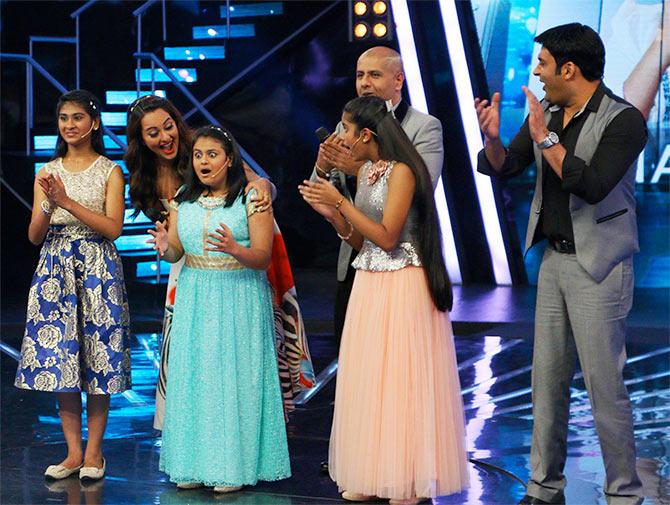 Image: Nithyashree Venkataramanan, Sonakshi Sinha, Ananya Nanda, Nahid Afrin, Vishal Dadlani and Kapil Sharma at the Indian Idol Junior finale
Ananya started singing at eight, and has been learning classical singing for the last four years. She plans to return to Mumbai at some point and take lessons from her trainer in the city.
"I got a chance to sing in different genres in the show," she says. "I learned many singing techniques, which is of great help. I used to sing only semi classical earlier."
Her father Prasanna Kumar Nanda works as a director in a government industrial department while her mother Prasanti Mishra is a housewife. Her older sister is preparing for a PhD degree.
Here's wishing the young singer all the very best!