'I want to do Hindi and Telugu films now.'
Actress Rakul Preet Singh tells Radhika Rajamani.
Rakul Preet Singh is the latest pretty girl in Telugu celluloid, with films like Venkatadri Express and Rough to her credit.
She began her career some years back with the Kannada film Gilli, and went on to do Tamil films like Thadaiyara Thaaka and Puthagam. In between her maiden film in Hindi Yaariyan also released.
Having a father in the army made her stay in different parts of the country.
Taking a break from the Shimla Mirchi shoot (Ramesh Sippy's directorial venture after many many years) in Shimla, Rakul talks to Radhika Rajamani/ Rediff.com over the telephone, talks about her upcoming film, Loukyam. The film will release on September 26.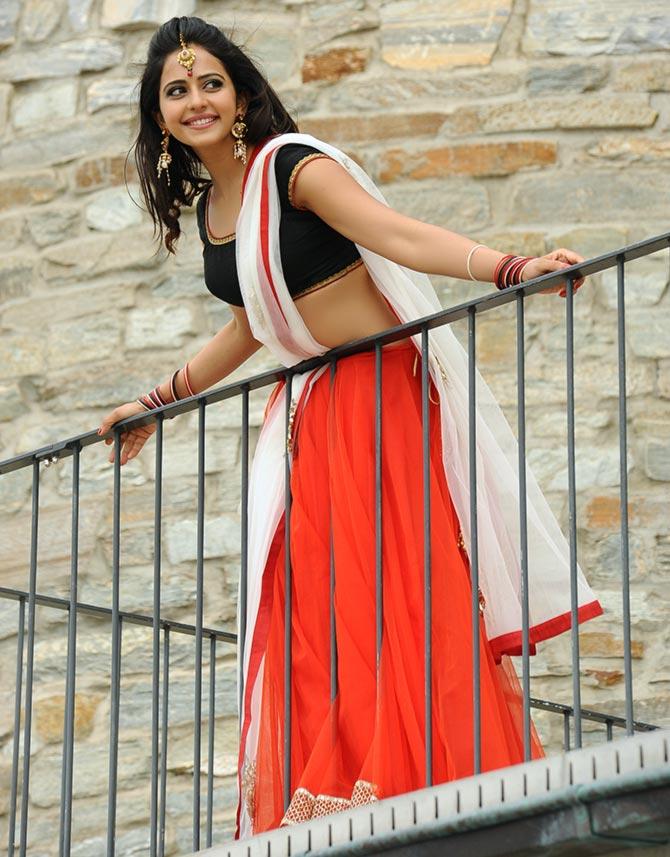 Why did you sign Loukyam?
I took a narration after I had signed Current Theega (CT) though I had not begun the shoot. My character in Loukyam was in contrast to what it is in CT.
In CT, I play a young girl in high school. In Loukyam, I play the Don's sister -- an arrogant girl who thinks she can win the world.
This was quite the opposite to the innocent school-going girl. It was nice to have such a variation.
Also, the Srivas-Gopichand pair was coming back after a long time.
When I heard the script of Loukyam I was laughing as it was such a laugh riot. So all this made me sign the film.
You act opposite Gopichand, a senior hero. You have so far acted with younger heroes Sundeep Kishan (Venkatadri Express) and Aadi (in Rough). How does it feel?
It feels very good. I was very happy, not nervous. Gopichand was a good co-star. He never made me feel that he was very senior. He used to chat about his experiences and his films. He would even pull my leg!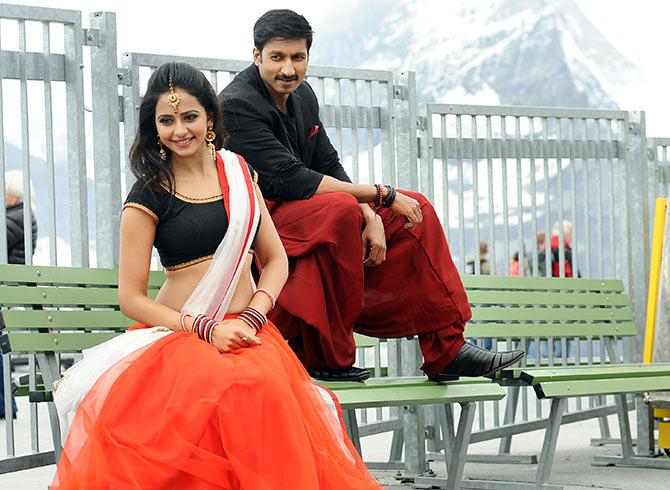 Can you tell us about your role?
My character's name is Chandrakala. She's very bossy and doesn't treat people straight. She loves attention and praise. I can't say how the hero's and her paths cross as it will be revealing the story.
Sampath (Raj) plays the don.
What would you say is the USP of the film?
The whole light-hearted comedy it has which is not created, but situational. The film is a well-packaged one. The audience will have their money's worth. Who doesn't like to laugh these days?
How do you overcome the language barrier?
I speak fluent Telugu. I picked it up on the sets. I have an interest in languages and make an effort to learn. I have been around for one and a half years so I understand Telugu completely and even speak it off screen. When they talk to me in English, I tell them let's talk in Telugu.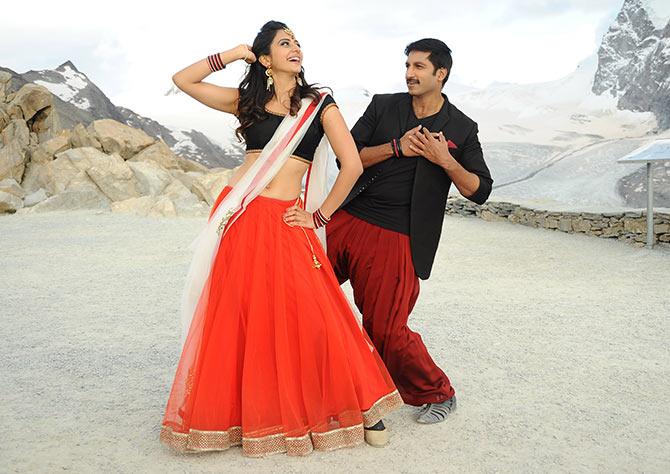 You started off with Kannada and Tamil films before entering Telugu. Why did you decide to act in films down south before you did the Hindi film Yaariyan?
I did the Kannada film when just out of school. I didn't know anything about the South Indian film industry at that time and I did the film to earn some pocket money. I realised then I like acting. Then I joined college (Jesus & Mary, New Delhi).
Later I did Tamil films and then participated in the Miss India contest. Then the Telugu film Venkatadri Express happened.
I soon figured out that the South Indian industry is a big one and the interest developed. Then my Hindi debut Yaariyan happened. I want to do Hindi and Telugu films now.
What made you want to enter tinsel town?
It was always on my mind. I was a filmi child. My mum was keen on me entering films. She was careful about me when I was growing up. My dad said I could take up modelling post-18, which I did. Both my parents have been supportive.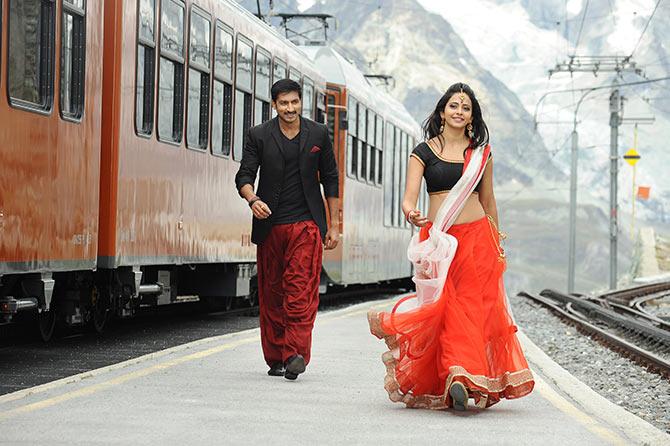 How does it feel after doing half a dozen films down south?
Wherever I get a good script, I want to work. Language is no barrier. I like the respect the Telugu industry has given me. I also like the professionalism and set-up here.
You have quite a few films on hand like Current Theega, Pandaga Chesko, Kick 2...
Yes, Current Theega is slated to release in October. Rough is also there. The shoot of Pandaga Chesko is on. I am also shooting for Shimla Mirchi.
What are your pastimes?
I was a national level golf player. I gave up golf after a while when I wanted to model as I would tan while playing it. I love watching movies and hanging out with my friends in Delhi.