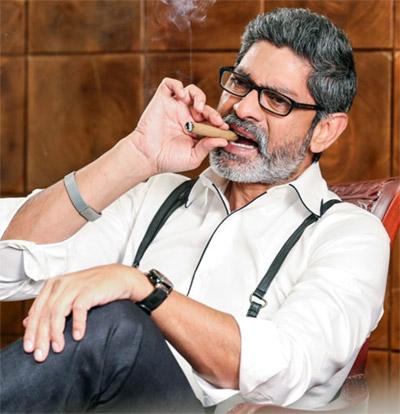 'Being a hero is not a very easy task. You have to dance around trees, not to mention all the odd and unnatural things you have to do. Now I am spared of all that.'
Jagapathi Babu reveals why playing an antagonist is far more rewarding than being a hero.
With over 120 films in a career spanning 25 years, Jagapathi Babu is a force to reckon with in Telugu cinema.
He has worked in all four South Indian languages with top directors and even boasts of a biopic on television titled Samudram. The series portrayed his successes and failures as a lead hero and eventual rise as a character artist.
With the growing trend of powerful, good looking antagonists, Jagapathi Babu with his stylish salt and pepper look has bagged two big films -- Vijay's much-hyped 60th film helmed by director Bharathan and Vishal's Kaththi Sandai.
Recently, the actor was also in the news for having launched a portal for aspiring actors and film technicians called the Clikcinecart.
In this exclusive interview with Rediff.com contributor S Saraswathi, the charming actor talks about juggling projects in South Indian languages, surviving in this industry and the launch of his new talent portal.
How do you feel about being the new villain in town?
It is not that I have been doing only negative roles; there have been all sorts of characters. In fact, I want to add even more variety to my roles.
I am always looking for something out of the box, it could be anything, even a villain character. I would love to do it.
When I consider a part, I understand that it will not be as important as that of the hero. My only criteria is that it has significant potential, at least that of a second-in-command.
What I look for is a good director. Being a villain or not is a choice I make. Life is all about learning and growing as we go along.
You have bagged two big Tamil films: Vijay's 60th film and Vishal's Kaththi Sandai.

Things just happened. It was Vijay's film at first and then I was offered a part in Vishal's Kaththi Sandai too.
It feels good to be a part of two big Tamil films. Both Vijay and Vishal are very popular and it is no surprise that their films create a buzz.
Even my friends in the Telugu film industry are congratulating my decision. I am very happy about it. Chennai has been my home for many years and I am comfortable here.
I also enjoy the opportunity to meet other actors, and work and learn in a different environment.
From lead actor to character artist to villain, was the transition difficult?
Actually, being a hero is not easy. You have to dance around trees, not to mention all the odd and unnatural things you have to do. Now I am spared of all that.
As a villain, my character will get beaten up and will probably be dead, but I am okay with that.
Also, there is the advantage of zero responsibility. The aspect of building my character is the director's headache, and the commercial aspect or success of the film rests on the shoulders of the hero.
So I don't have any headache. It is really very simple. When I give up the tag of the so-called hero, I not only get my freedom, but all the additional benefits without any of the responsibilities.
But aren't the benefits of a hero much more substantial, be it money or fame?
No, I think I am earning more money and fame now.
Earlier when I was a hero, I had so much responsibility. I used to return the money when the producers ran into losses. I did a lot of that during my initial days, which I don't have to do anymore. Today I don't give, I only take.
So whatever money comes is mine. That way I am playing safe. Again as a hero, we have to give at least 70-80 days for a film, but now it is just 20-30 days. I also get to do wide variety of roles; the only thing I miss is the heroines, nothing else (laughs).
Have you started shooting for the Tamil films?
I will start shooting for Vijay's film from June 3. Recently, we completed the shooting for Vishal's film in Chennai.
So what do you play, the regular corrupt politician or the undisputed dada…
Vishal's film, it is a combination. He is not a really bad guy. He gets greedy, and then he changes, so there is nothing really bad about this character. I play Tamannaah's brother in the film.
But in Vijay's film, I am a complete antagonist. From a mutton stall owner, I become the head of the education department.
Two Kannada projects, one in Malayalam with Mohanlal, you seem to be juggling projects well in all four South Indian languages.
Work is still on in the two Kannada films but we are through with the Malayalam film Pulimurugan. It will be up for release soon.
I enjoy working and juggling between projects in different languages. I am a kind of guy, who cannot stay in one place; I like to travel.
I also enjoy the different culture, different food and different atmosphere. It is a whole new learning experience.
You have been part of this industry for over 25 years. Did you have to give up anything?
No, absolutely not. If you want to complain, there will be complaints everywhere, but I cannot be more blessed than this.
How many ever lives I have, I want to be an actor for sure. This is the best thing I could get. There is nothing to complain about.
What about your personal space?
No, I always do what I want to. I go to the road and eat pani puri or sundal (chickpea) in Chennai. I go to the malls, theatres...
As far as you know how you to handle things, if you don't create the ambiance around you and act big, you are fine. Nobody really bothers you.
I do exactly what I want. Most of the time, I forget I am an artist.
The other day, for example, I was doing a shoot and there was blood all over me. I completely forgot and walked into a restaurant. People were wondering who I was. They didn't know me, as it was Kerala, and were shocked. They thought some rowdies had walked in -- I had two-three people with me, my staff.
When I realised there was blood on my clothes, I went back to my room. Being an actor has never stopped me from doing the things I enjoy.
What does it take to survive in this industry for 25 years?
A little bit of luck. But I think it is talent and passion that helps you survive. Beyond that, it is the fans, the people, who follow you and their blessings, which help you to get through difficult times. It is a special bond. They make you a part of their own family.
Recently I came to know of a lady, who lives in Bangalore. She is originally from Andhra Pradesh and she has not met me, but she has every small data of mine. I believe she has traveled all over India praying and doing special pujas for my life and for me to be successful and happy.
So much of love, affection and blessings from so many people, it is a gift to be treasured.
Tell us about your talent portal Clikcinecart.
Clikcinecart is a talent portal, a bridge or a platform to connect the outside world -- connecting the outside talent to the elusive cinema industry.
It is not easy for people to enter the film industry. You spend a lot of time, money and effort, only to be given false hopes and promises. Most end up disappointed and disillusioned.
We wanted to open out this world of cinema, that is dominated by a chosen few, to everyone with talent and passion but without the resources and knowledge to go about it.
Nobody has done this for the last 100 years. We are also planning to produce movies. I want star producers to be born again. Also, newcomers to come in, like the NRIs.
For this, my partner Sreedhar Bhandari is in the US. We have plans to open a branch in the US and London.
Frankly, at first I did not know what I was getting into. But the moment I put my foot into it, I realised how big this is.
How does portal work?
To become a member, all you have to do is post a selfie with some background information along with a video showcasing your expertise or talent in a particular category. Clikcinecart will do the rest to make these talents connect and find each other in the film industry.
It is not just for aspiring actors, it is also for story tellers, directors, producers and other technicians. Even if you have a property to let out for film shootings, you can upload the pictures at the site. This saves the time and money on location hunting.
So basically, it is a one-stop shop, a huge film hub. Like our slogan says, 'You tell us who you are and we will tell the world what you are.'
I want to make Clikcinecart an address for success.
Is this your way of giving back to the industry?
I certainly have this responsibility to give back, but very frankly, the idea was not mine, it was of a DOP (Director of Photography) who has been in the film industry for the past 25 years. He has been working on this for many years. He came to me with this idea and it immediately struck a chord.
I have also gone through this trauma of not becoming a star. I know what it is, all the endless struggles. There were times when I got so dejected with life that I felt there is no point in living. I don't want others to go through that. So it is giving back with pride, with the satisfaction of having made a difference.