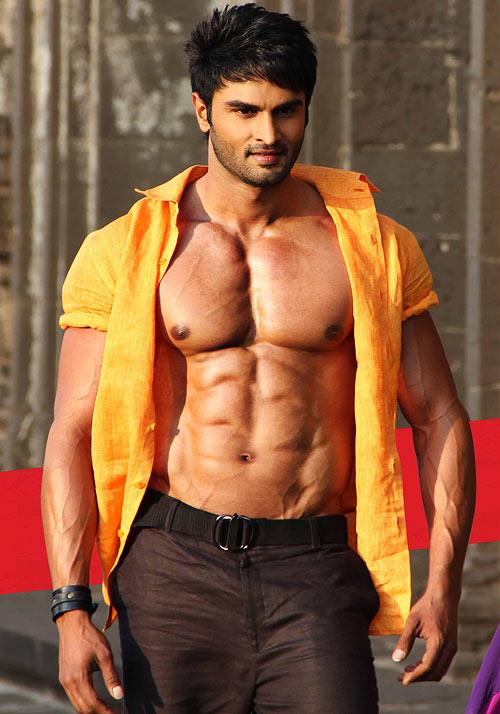 'I never tried to get into Hindi films. But when I heard the script of Baaghi, I found it interesting.'
'Tiger is a bundle of energy. He keeps working during the shoots as well. He is focused all the time.'
Sudheer Babu is ready for his BIG Bollywood debut!
Sudheer Babu is an actor to reckon with in Telugu cinema, doing some fine films like SMS, Prema Katha Chithram, Krishnamma Kalippindi Iddarini and Bhale Manchi Roju.
The actor, who gave up badminton to be in the movies, is Telugu superstar Mahesh Babu's brother-in-law.
Sudheer will now make his Bollywood debut in Baaghi, where he plays the antagonist. Directed by Sabbir Khan, Baaghi also stars Tiger Shroff and Shraddha Kapoor.
In this chat with Rediff.com contributor Radhika Rajamani, Sudheer talks about his big Bollywood debut and his famous co-stars.
How did Baaghi happen?
The producers had seen some of my videos of the rolling titles from my first film Siva Manasulo Sruthi (SMS).
I used to be a huge fan of Jackie Chan, and I had done the stunts like him in the film.
I was contacted on Facebook. I didn't take it seriously initially and they kept on sending messages. Then I responded.
What made you sign up for the film?
I heard the script and felt it was a challenging and interesting role. Also, there was scope for growth.
There are reports that Baaghi is a remake of the Telugu film Varsham but it is not.
There may be some similarities in terms of scenes. The remake rights have not been bought by the production house.
Do you consider it a stroke of luck/destiny to have got this film?
I am definitely lucky. The producer had a lot of options but they chose me.
It was really out of the blue. An assistant director was surfing for profiles of actors who would match up with Tiger and they found me. I am supposed to be a champion in martial arts and Kalaripayattu in the film.
I never tried to get into Hindi films. I wanted to go to Mumbai and say no but when I heard the movie script, I found it interesting. I thought I would be a better skilled person after the movie.
You didn't mind taking up the antagonist's role in your debut Hindi film…
Not at all. I am recognised as an actor. I started my career as a villain in Ye Maaya Chesaave and later became a hero.
Even if I get an antagonist's role in a Telugu film, I will do so.
How did you work on your Hindi?
(Laughs) There was an assistant director throughout with me. We would discuss to get the pronunciation right. In Ye Maaya Chesaave also my first lines were in Malayalam.
I got used to this. I have a habit of memorising lines. I used to request for my lines one or two days before.
You seem to have learnt some martial art form for the film. Could tell us about that?
I learnt Kalari (Kalaripayattu) and boat racing in Mumbai and Kerala. Also, mixed martial arts in Bangkok. For the climax sequence, we trained in Bangkok for 25 -30 days.
It was quite different and challenging. Since I was fit, flexibility is easy to catch up with the skill.
I trained in Kalari for 10-15 days. This was for a sequence in a set. I got cuts on the arms even though it was a dummy weapon.
Any serious injuries?
I did have small injuries while shooting for the film. I had only one bad injury in the last schedule. That was more so because during the break of five days in between, I had come to Hyderabad to promote my Telugu film Bhale Manchi Roju where I met with an accident.
So during the climax, I had some problem with my shoulder and chest but recovered soon.
You have beefed up your body for the film. How did you do so?
I increased my working sessions. My diet also changed. I increased my protein intake. I used to work out both in the morning and evening.
I had a personal trainer Kunal who made sure I matched up to Tiger and others as comparisons are bound to arise. Another person was monitoring my diet. Changes were made in the diet every 15-20 days and the person would travel with me.
Even in Bangkok, he would talk to the hotel people and get the food made according to the requirements.
Your co-star Tiger is quite adept in action. How was it facing him?
It wasn't easy, I have to admit. Tiger has been a gymnast since childhood.
We used to train together. We knew our weaknesses and where to improve.
Tiger used to give me tips. Timing is important in action sequences. Tiger is a bundle of energy. He keeps working during the shoots as well. He is focused all the time.
How was it working with Shraddha?
We have a lot of scenes together, with long dialogues.
She can shut on and off. She will be talking and when we have to shoot, she will become silent and then shoot.
Shraddha is hard-working. She looks chilled out from outside and aims for perfection. Even if the director says okay for a shot, she will ask for another take.
We became friends on the set. Shraddha even did a dubsmash on Bhale Manchi Roju, where she got the Telugu lines right, even though she was speaking the language for the first time.
How have the action sequences shaped up?
I have seen a couple of action sequences. They have come out well. I haven't seen such stuff anywhere so far. It is on par with Hollywood.
How was it working in a Hindi film?
It was good. Because the budgets are high, the shoot is well planned. A lot of preparation is done.
Talent wise, I don't see any big difference. In Telugu, the technicians work less hours and are paid less whereas in Hindi they are paid more but there is no time limit, they work longer.
Is your family, including Mahesh, happy about you doing Baaghi?
Initially, they were not. Now they are happy. Mahesh is also happy.
I am also happy to have done it. I could show my skills.
So it was a learning experience...
Yes, it was. It took almost a year to make the film although the number of days I shot was only 70-80.
Have you been approached for Hindi films?
A couple of people have approached me. I have also signed a two-film contract with Sajid Nadiadwala.
What are your other Telugu projects?
I am looking forward to the release of Baaghi. The Telugu version of the biopic on badminton champion and now coach Gopichand is on (to be directed by Praveen Sattaru).
I am looking to doing (Hindi-Telugu) bilinguals.
I have signed another Telugu film with Sriram, co-director of Bhale Manchi Roju.