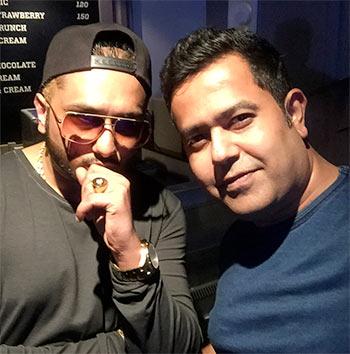 Vinnil Markan, who has directed Yo Yo Honey Singh's comeback film Zorawar, in Punjabi, says they nearly completed the film before the singer-turned-actor took ill.
"We only had two days of fight left, so all dramatic portions were in the bag. We were just sensitive about how not to tire him out too much for those two days," he says.
Vinnil, who earlier made the 2013 rom-com Jayantabhai Ki Luv Story with Vivek Oberoi, says he hopes Zorawar will bring Yo Yo back into the reckoning.
"I hope he achieves the same superstar status that he has in the music world. He has worked extremely hard and diligently for the film. I'm sure all his supporters and detractors will notice that he is a very good actor," the director adds.
Vinnil and Yo Yo go back a long way.
"I had made his first ever video 11 years ago, Glassy by Ashok Mastie. One could see his swagger then. If you see his videos for his own songs, they all have some acting or the other. So I knew that facing the camera wouldn't be a problem."
Yo Yo worked hard on his character with Vinnil for their film.
Says the director, "I explained scenes and dialogues with sub-text to him. He is a very eager learner. It's an intense dramatic thriller, and Yo Yo is in his element."
Zorawar is expected to release on May 6.