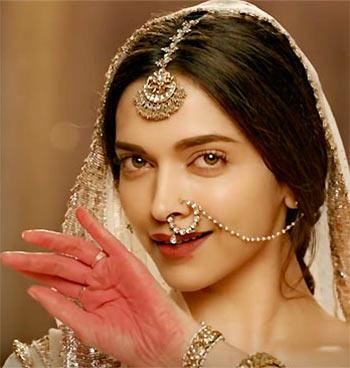 It's what Javed Akhtar's lyrics in a song of Wake Up Sid celebrating life and its myriad hues, exclaim, 'Life is crazy hai yeh rang birang.'
Indeed colours not only fill our lives with cheer and passion but our songs too.
We welcome the festival of colours through effervescent Bollywood songs.


Gulabi, Shuddh Desi Romance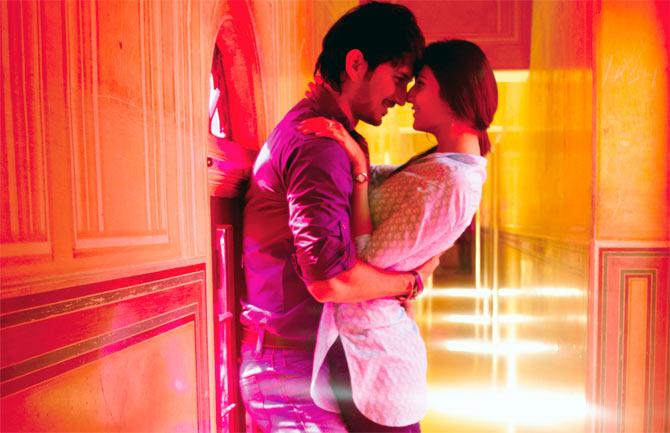 IMAGE: Sushant Singh Rajput and Vaani Kapoor in the song Gulabi from Shuddh Desi Romance
The world appears flushed in pink to a couple in love.
Shuddh Desi Romance's breezy number Gulabi perfectly captures Sushant Singh Rajput and Vaani Kapoor's rosy bliss whilst paying ode to Rajasthan's gulaabi shaher.


Gerua, Dilwale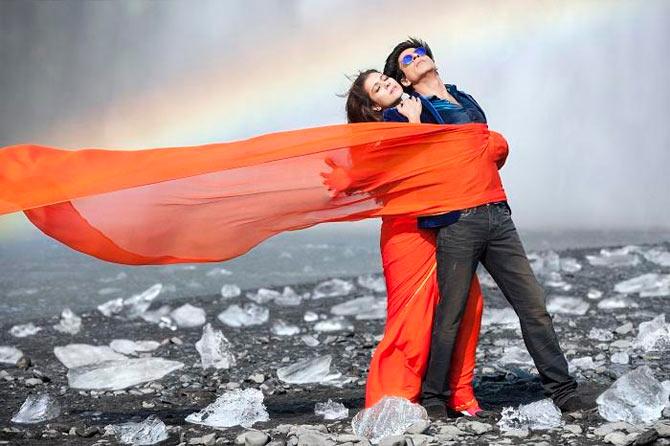 IMAGE: Kajol and Shah Rukh Khan in the song Gerua from Dilwale
Rohit Shetty's much-hyped Dilwale may not have the set the box office on fire but Shah Rukh Khan and Kajol's sizzling chemistry painted the screen a shade of saffron and more in the lilting Gerua.


Mohe Rang Do Laal, Bajirao Mastani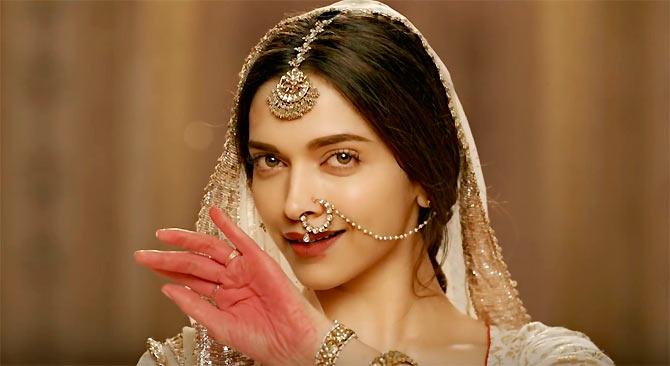 IMAGE: Deepika Padukone in the song Mohe Rang Do Laal from Bajirao Mastani
Love-struck Deepika Padukone beseeches Ranveer Singh's smitten Peshwa to paint her in the colour of romance in Sanjay Leela Bhansali's exquisitely choreographed Mohe Rang Do Laal.
Needless to say, he complies leading to a great deal of complication.


Rang De Basanti, Rang De Basanti
IMAGE: Siddharth, Kunal Kapoor, Aamir Khan and Sharman Joshi in the title song in Rang De Basanti
Aamir Khan and gang soak in the fresh, delightful air of rustic Punjab, its vibrant culture while sprinting through endless sarson fields expressing a feverish patriotic fervour in its title anthem.


Humpe Yeh Kisne Hara Rang Daala, Devdas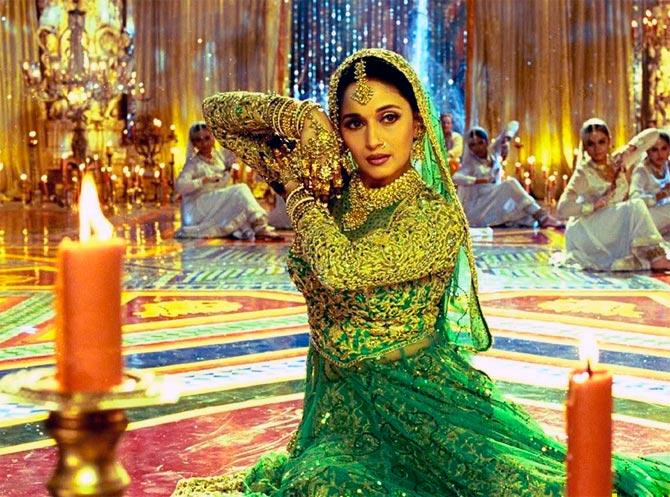 IMAGE: Madhuri Dixit Nene in the song Humpe Yeh Kisne Hara Rang Daala from Devdas
In Bhansali's opulent retelling of Devdas, Madhuri Dixit springs alive at a surprise visit from her dear Shah Rukh Khan and voices her delight in dramatic Bollywood fashion -- Humpe Yeh Kisne Hara Rang Daala? Khushi Ne Humari Humein Maar Daala.


Satrangi Re, Dil Se..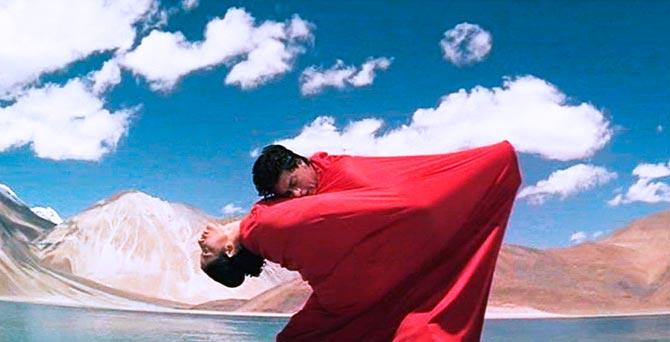 IMAGE: Manisha Koirala and Shah Rukh Khan in the song Satrangi Re from Dil Se..
A rainbow of intense emotions -- Hub (attraction), Uns (infatuation), Ishq (love), Adiqat (reverence), Ibadat (worship), Junoon (obsession) and Maut (death) is conveyed in the Gulzar-penned and Rahman-composed beauty, Satrangi Re.


Kesariya Balma, Nanhe Jaisalmer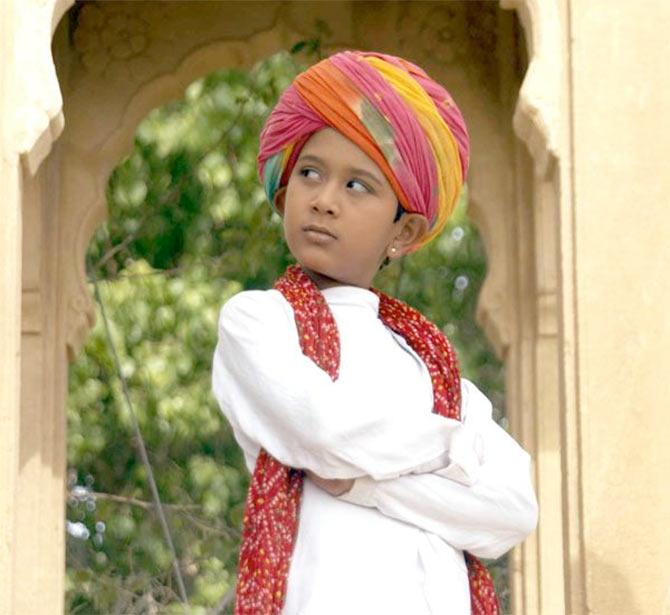 IMAGE: Dwij Yadav in the song Kesariya Balma from Nanhe Jaisalmer
The folk tunes of Kesariya Balma instantly conjure an imagery of bold, bright orange against dry, barren dessert.
Be it Lekin, Dor or Nanhe Jaisalmer, few Rajasthan-based tales cannot escape its allure.


Tu Rang Sherbaton Ka, Phata Poster Nikhla Hero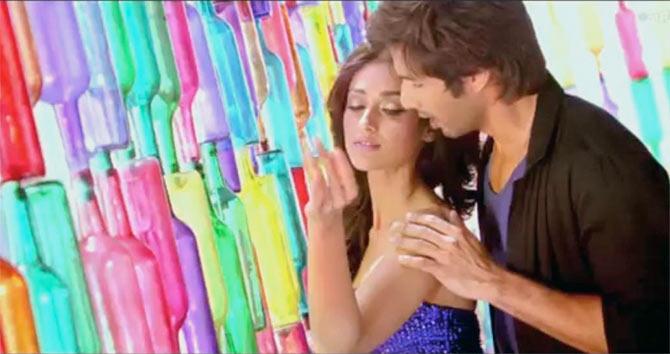 IMAGE: Ileana D'Cruz and Shahid Kapoor in the song Tu Rang Sherbaton Ka from Phata Poster Nikhla Hero
A lively colour scheme of reds, purples, yellows, blues and greens sets the stage for Shahid Kapoor and Ileana D'Cruz's kaleidoscopic ardour in Tu Rang Sherbaton Ka.