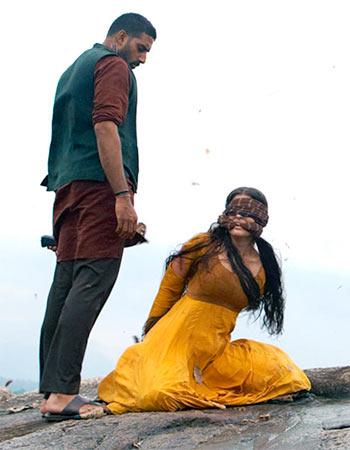 10 Ways Bollywood has kidnapped in the movies.
Wicked villain abducts the helpless heroine and holds her in his den.
Swashbuckling hero comes to her rescue and thrashes the bad guy black and blue.
Hero and heroine reunite and live happily ever after.
Sounds familiar, doesn't it?
But the kidnapping theme has a lot more to offer than this clichéd narrative when the focus of all attention and in quite a few genres too as contrary as drama and comedy.
In Sanjay Gupta's Jazbaa, an official remake of South Korean thriller Seven Days, Aishwarya Rai Bachchan returns to screen after half a decade to play a lawyer whose daughter gets kidnapped forcing her to take up a case she otherwise would not.
Here are 10 various ways Bollywood tackled kidnapping on screen.


Highway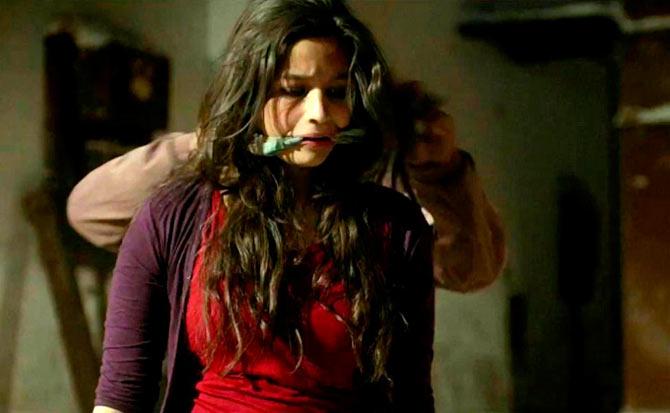 Image: Alia Bhatt in Highway
Imtiaz Ali's Highway treads the implausible wherein the abductee warms up to her abductor overnight. Not only does she share details of childhood abuse but also refuses to return home even when set free.
Stockholm syndrome overload aside, Alia Bhatt's compelling act and scenic locales make Highway worth the trip.
Ugly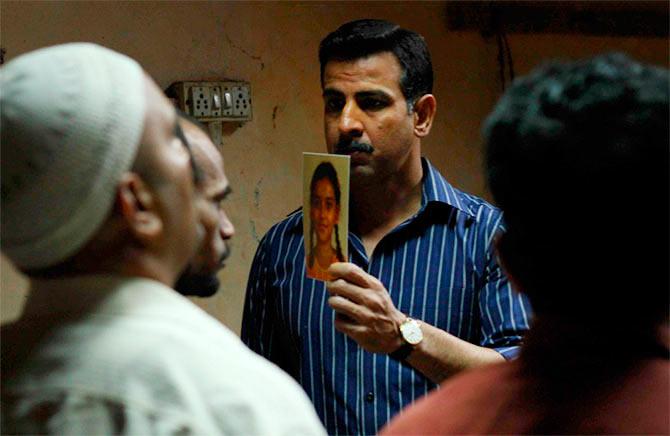 Image: Ronit Roy in Ugly
Anurag Kashyap's 2014 offering offers a frightening insight of a dark world inhabited by self-seeking, insensitive adults following the sudden disappearance of a struggling actor's 10-year-old daughter.
Even as the story journeys inside the disturbing psyche of the people attached to her, the reality of her kidnapping leads up to Ugly's most nightmarish revelation.
Phas Gaya Re Obama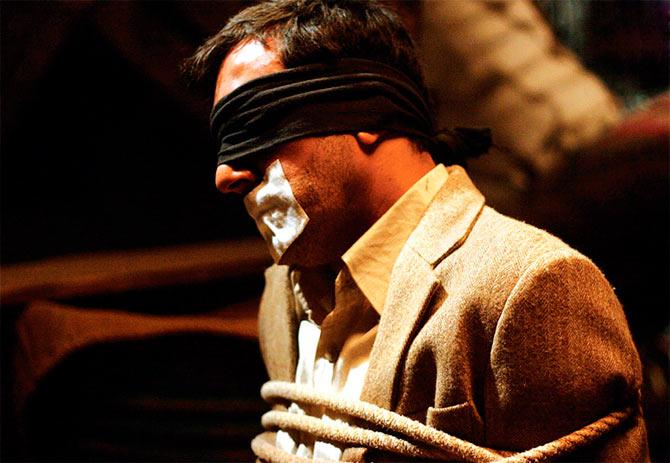 Image: Rajat Kapoor in Phas Gaya Re Obama
In this hilarious satire, Rajat Kapoor plays a broke NRI visiting home to sell his old house and pay off loans. Only his America-return status attracts unwanted attention of bumbling gangsters, dacoits and politicians.
Little do they realise how shrewd their hostage is.
Kapoor hatches a chain-reaction of schemes that benefits both him and his captors.
Raavan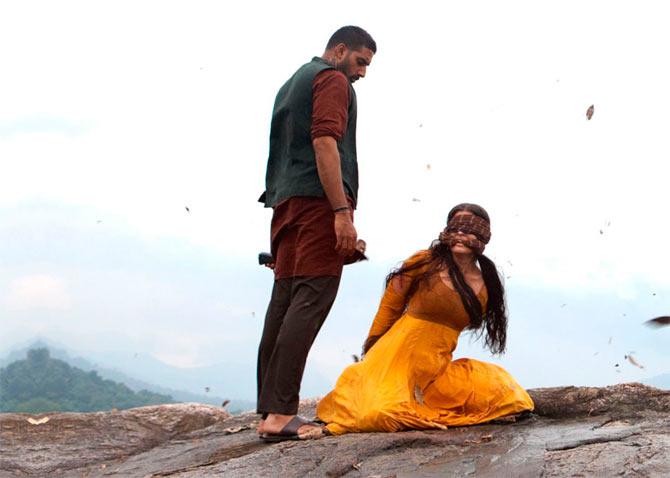 Image: Abhishek Bachchan and Aishwarya Rai in Raavan
To avenge the death of his sister, Abhishek Bachchan's boorish Beera kidnaps a cop's wife, played by Aishwarya, in Mani Ratnam's oblique portrait of the ideology surrounding Ram and Raavan.
Ratnam insists on seeing evil as a point of view by constructing some bizarre events to defend AB's abduction and roughing up of an innocent woman while forcibly turning her duty-driven husband (Vikram) into a misogynist moron.
Roja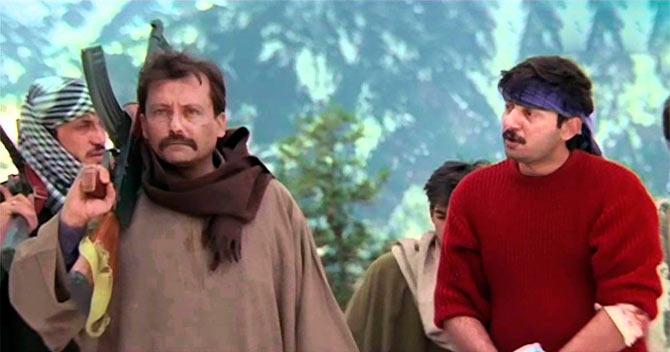 Image: Pankaj Kapur and Arvind Swamy in Roja
Ratnam has better luck with the same theme in his acclaimed Roja whose dubbed print found a lot of love among the Hindi-speaking audience.
A newly married couple's bliss is shattered after a terrorist outfit in Kashmir kidnaps the husband -- a RAW employee -- while his young wife's emotional appeals fall on deaf diplomatic ears.


Kidnap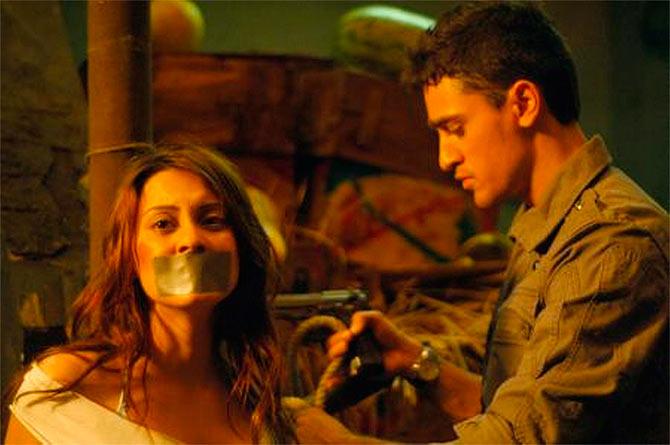 Image: Minissha Lamba and Imran Khan in Kidnap
Like the title suggests, the Sanjay Dutt-Imran Khan starrer is entirely dedicated to the theme of kidnapping even if it's not a particularly great movie.
Here, a chocolate-faced Khan captures Dutt's lissom daughter and puts the father to task like a reality-show host as ransom.
Eventually, we learn he's settling scores with Dutt for his unfair imprisonment as a teenager.
Hera Pheri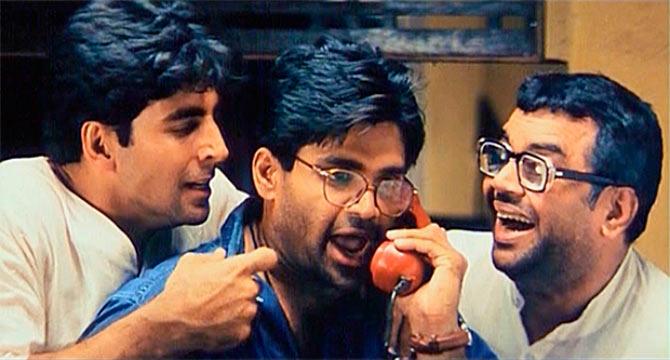 Image: Akshay Kumar, Suneil Shetty and Paresh Rawal in Hera Pheri
Priyadarshan's delightful remake of Malayalam hit Ramji Rao Speaking revolves three down on luck blokes who grab the chance to make money courtesy a wrong number.
As the pretend kidnappers of a wealthy man's grandkid asking for a hefty ransom sum, Paresh Rawal, Akshay Kumar and Suniel Shetty engage in all sorts of tomfoolery and confusion before they bump into the real kidnappers and become the child's saviours instead.
Andaz Apna Apna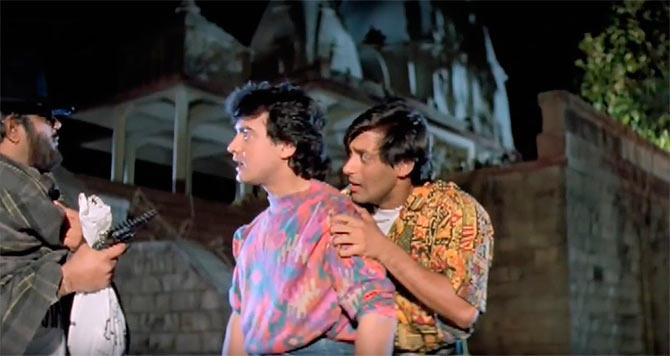 Image: Paresh Rawal, Aamir Khan and Salman Khan in Andaz Apna Apna
"You should have kidnapped the daughters and asked their father for a ransom. Instead, you kidnapped the father and are asking his girls for a ransom. Your plan is all wrong," analyses Aamir Khan in a typically criticising tone in a fun scene of Rajkumar Santoshi's madcap Andaz Apna Apna.
If one half of the story concerns itself with two good-for-nothing fellas trying to win the heart of an heiress, the other half focuses on bungled-up kidnapping of lookalike brothers -- one's a tycoon, the other a thief.
20 Things We Loved about Andaz Apna Apna


Hero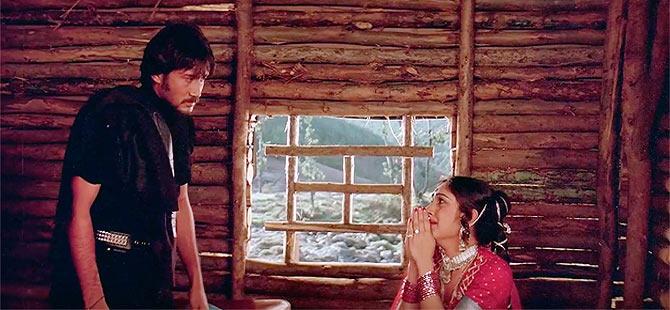 Image: Jackie Shroff and Meenakshi Sheshadri in Hero
In a bid to get his boss out of jail, minion Jackie Shroff takes Meenakshi Seshadri, a senior policeman's daughter as hostage so as to pressure him for release.
Only he and his gang masquerade as cops and dupe Meenakshi into believing they are her father's colleagues and she's actually in safe custody.
As it often happens in our movies, they fall in love and even after learning of his true identity, she insists on being a couple.
While the premise worked wonders for Subhash Ghai's Hero, it didn't floor the critics reviewing its recently released remake.
Aakhri Raasta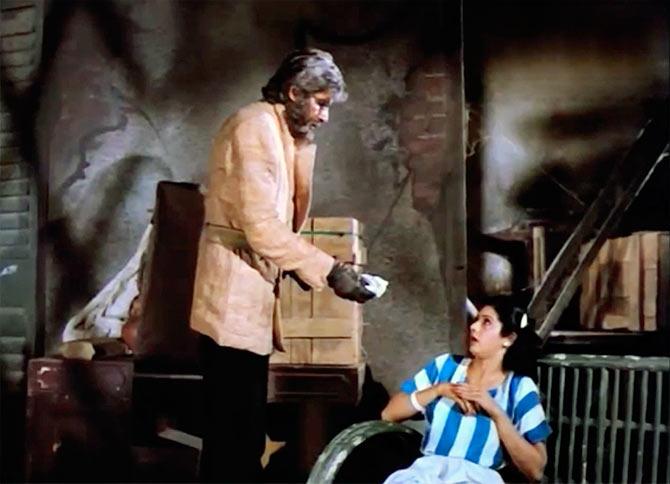 Image: Amitabh Bachchan and Sridevi in Aakhri Raasta
Any mention of kidnapping has to bring memories of Amitabh Bachchan's double dose in the revenge saga, Aakhri Raasta.
As a wronged man robbed off his innocence, wife and child, Big B Sr sets out to teach his offenders a lesson even as Big B Jr is hot in his pursuit.
Part of the plan entails kidnapping the latter's girlfriend (Sridevi in Rekha's voice), their unpleasant interaction that changes into a fond one after he learns about their relationship.