'They are out there, singing about their socio-economic status, their family structures, their politics, the way the system treated them, what they would like to change... and the beauty is that they are positive.'
'They are not bitter or cynical.'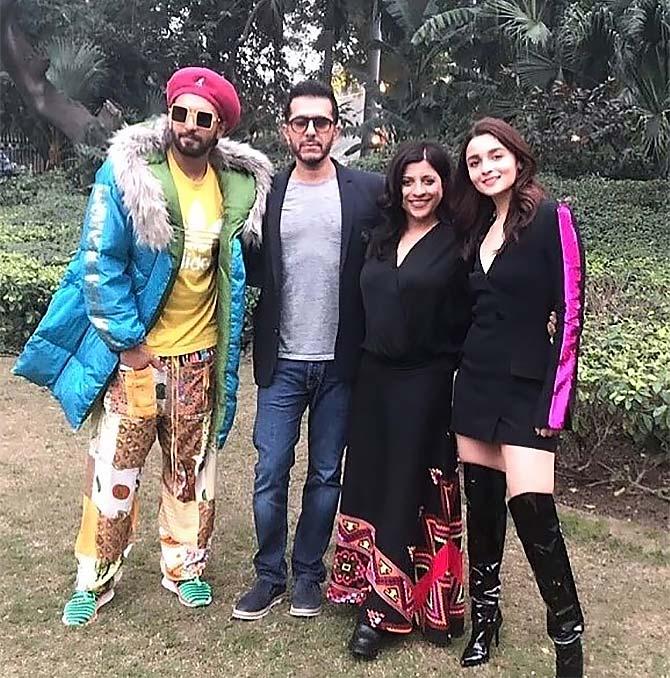 Zoya Akhtar's Gully Boy was invited to the Berlinale International Film Festival earlier this month where Zoya declares that the experience was "fantastic".
"It was an 1,800-seater cinema. I have never been in a cinema hall that is so huge! The screen was about 70, 80 feet tall! To watch your film on such a big screen is an OMG moment in itself," Zoya says happily.
The critics have applauded Gully Boys and the word of mouth has been remarkably good for a movie that is about an art form -- rap -- that many Indians are unfamiliar with. Clearly, Gully Boys reveals Zoya at the top of her movie-making game and tops her roster of fine films.
"Sometimes you make a lot of money, but the film is considered crap. And sometimes the film is genuinely good, but makes no money. You are lucky when it is great and makes money," Zoya tells Rediff.com Contributor Mohnish Singh.
Have you lived your dream as a director with Gully Boy?
I had a dream to showcase my film at the Berlinale, so yes, one part of it has been achieved.
But I have many dreams (laughs).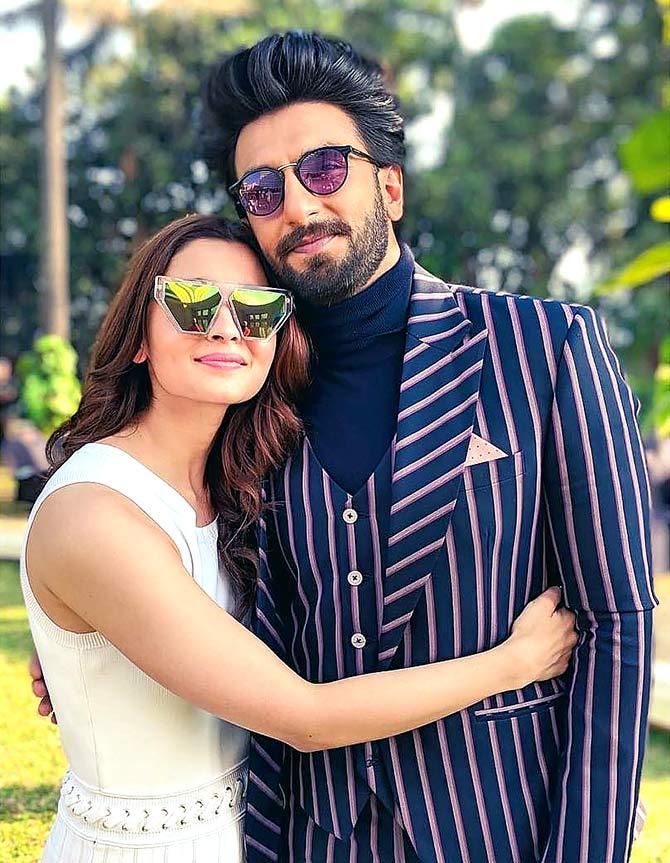 Ranveer is super-energetic. Was it easy to handle him on the sets?
He is a very easy person to handle.
It is my second film with him and honestly, I don't feel like handling him now.
Apart from Farhan (Akhtar), who is my brother, I have never been this comfortable with an actor.
We have known each other for so many years now -- we were friends before he became an actor.
Working with him in Dil Dhadakne Do made us realise that we have similar work ethics.
Was Ranveer always your first choice for Gully Boy?
Yes, I wanted to work with him after Dil Dhadakne Do.
Secondly, he is deeply influenced by rap music and the hip-hop culture.
He raps, writes lyrics, and is very proficient with the Mumbaiya-lingo. It doesn't sound fake on him.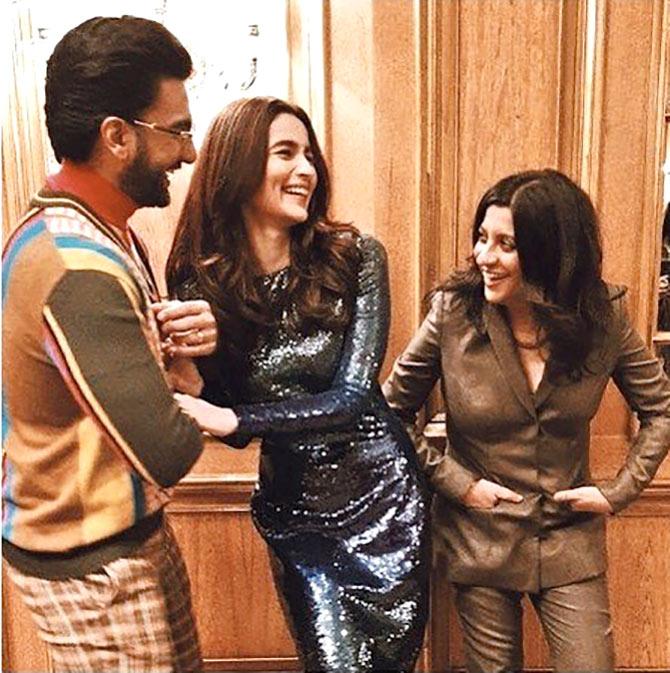 Ranveer said you weren't sure about his vocals for the film, and you tested him.
We have all heard Ranveer rap, but it is very different when you put out five songs and an album.
He is the lead of the film, where he is playing somebody who sings.
He cannot be even a little off-beat because it will reflect on him and on the film badly.
So, I needed to watch him in the studio.
When he jammed with others, we knew he was the voice.
How was your experience with Alia Bhatt?
Alia is an outstanding actor and a delight to work with.
She chased me to do her homework and workshops, and I was getting stressed out!
Normally, I have to chase the actors, but here, it was the opposite.
We went through her readings and scenes.
We got her a dialect coach who recorded her accents.
She sat with the dialogue writer and made notes on which word would sound like what.
She knew exactly the kind of emotional graph I wanted from the character.
She is possibly the easiest actor I have worked with.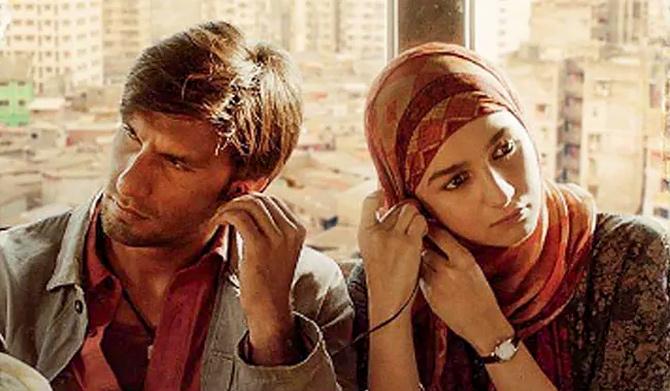 You said earlier that as a film-maker, you are attracted to milieus that you have seen and observed even if they are not in your bones.
As a film-maker and a storyteller, I tell a story because something about it is familiar with the audience -- and what makes it exciting is that it is completely new for me.
Take Dil Dhadakne Do, for instance. I am not from upper crust Delhi society where everything is about projection on some level.
I am not that kind person and that's not my life.
But I am familiar with it because I know people who have that kind of wealth and behave in a certain way.
But it's also alien to me because those people who, no matter how educated they are, still treat boys differently from girls, which is not my experience at all.
Similarly with Gully Boy, I understand what art means and that expression of wanting to be an artist.
I also understand the journey to become an artist; I have had those experiences in my personal life.
What is new to me is the struggle I did not face, like living in a rent house, living in a society that doesn't welcome you everywhere, facing class distinction issues...
These are new to me and that is why it is exciting.
What made you take up a film on the underground hip hop culture?
Their truth and honesty.
They are not trying to entertain, there are just expressing their story because they are not represented in the mainstream at all.
When was the last time a story was told about them, or something that represented that section of the youth?
It doesn't exist!
So they are out there, singing about their socio-economic status, their family structures, their politics, the way the system treated them, what they would like to change... and the beauty is that they are positive.
They are not bitter or cynical.
That is our country's talented youth.
That's what attracted me to them.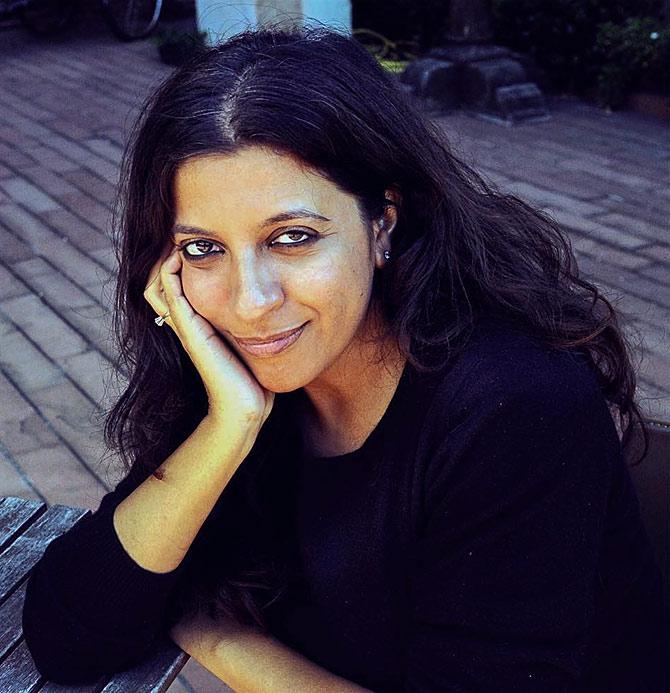 Your film will probably give a huge boost to the rap industry, especially DIVINE.
At the end of the day, every artist wants to grow.
You want the maximum people to hear your music, read your book or watch your film. It's natural human behavior.
What is happening with DIVINE also happened with Anurag (Kashyap) as a director.
He was like the king of Indie cinema, but the minute he got bigger, people changed their attitude and considered him non-Indie.
But you cannot remain that the whole time.
When you sell out is when you starlight.
The beauty of these artists is their honesty and truth.
As they keep putting work out, people will realise that they are still authentic.
Songs like Azadi and Jingostan have created political criticism. What is your take on that?
At the end of the day, anybody who votes is political.
I am a political person because I vote; I'm making a choice and taking a stand.
Rap is very conscious of politics and the socio-economy because it has come from the streets and from people who talk about the system that has not worked for them.
Azadi means freedom. It is a very strong word, also associated with the youth.
When we adapted this, I needed to fit it into my narrative which was about class denomination.
I have a problem with the class system. It bothers me.
So my film captures that and the socio-economic problems in terms of poverty and disparity.
This slogan Azadi can be used for anything that you find oppressive.
Rap is when you talk about your life and how you are treated by society.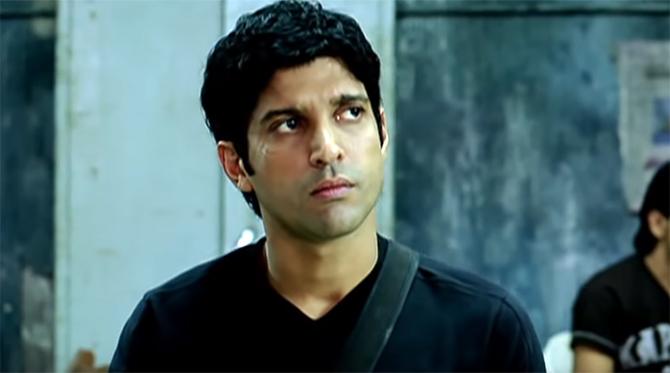 You made your directorial debut with Luck By Chance and though it is appreciated today, it did not work when it released in 2009. What was your learning from it?
It took me so long to make that film and when it came out, I did not even asked my producers about the box office reports -- maybe because you are so innocent when you are directing your first film.
My lowest review was 3.5 stars.
People were congratulating me and sending flowers.
The attention from industry was fabulous and journalists were so good to me.
On the fourth or fifth day, I asked them how it was doing and they said not well.
I didn't understood why because the reviews were so good.
After that, I got to know that the audience could not connect with my film.
At first, you get depressed. But then you realise that different films give you different things.
Sometimes it works and sometimes, it doesn't.
Sometimes you make a lot of money, but the film is considered crap.
And sometimes the film is genuinely good, but makes no money.
You are lucky when it is great and makes money.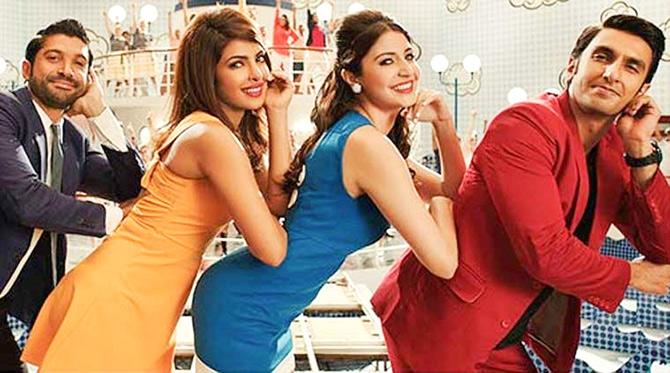 Is the sequel of Zindagi Na Milegi Dobara happening?
I get asked this a lot.
Trust me, I am dying to work with Hrithik again, and with Farhan, Abhay, Katrina and Kalki.
In fact, Hrithik and Farhan are my boys; I can't wait to work with them again.
But I cannot make a sequel just to capitalise on something.
It has to work as a story in itself.
When I get an idea on what to do with it, I will make it.
I am working on something already, so let's see.
Today, you are among the most successful film-makers in the industry. Do you feel the pressure?
You want people to like your work, no matter what you make.
When you make a film, there are so many variables that you don't have time to think about what will happen after the film (releases), like how to get that scene right, how to get the casting and music right...
Then, there's location, the actors, the timing, the crew...
You really don't have time to think about what will happen after the film is completed.
For someone like me who shoots the film in just one schedule, there's no time.
You think about people's expectations only a few days before it will release.
Somewhere I feel you must be honest to your story, and see that it connects with people.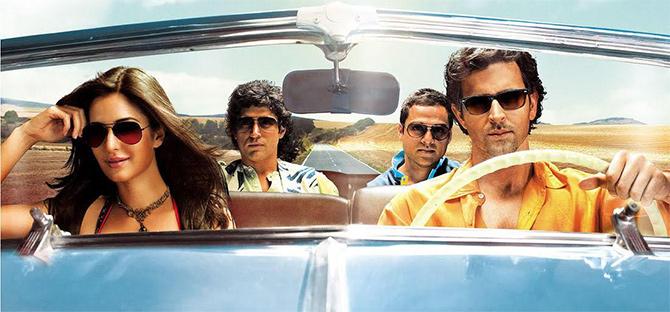 Going by your earlier films like Luck By Chance, Zindagi Na Milegi Dobara and Dil Dhadakne Do, it seems you love making multi-starrer films.
Yes, I love making multi-starrer films!
I also love watching them.
I love songs as well; there is some kind of energy in them.
Though Gully Boy talks about the protagonist, as the title suggests, the film is way beyond that.
Amrita Subhash is outstanding.
Alia and Kalki are exceptional actors.
There's Vijay Raaz, Vijay Verma, Siddhanth Chaturvedi, Sheeba Chadda, Vijay Mourya... Their level of performances is brilliant.
I am not from that school where there's a hero and heroine and the rest don't matter.
For me, all the actors have to be performing actors because it creates a world.
2018 was a great year for Hindi cinema. Which film was your personal favourite?
I have not seen all the films, so I cannot comment.
Since I was shooting, you don't get to watch anything.
But I did see Andhadhun and Badhaai Ho, which I loved!
I am going to watch Uri and Stree now.
What next?
Reema (Kagti, her long-time collaborator) and I have made a Web series for Amazon, called Made In Heaven. It will be aired on March 8.
It is set in the upper crust of Delhi and talks about wedding planning.
It's a crazy space and super fun.
Film wise, I have a couple of ideas, but my head space always changes after a film releases. I haven't locked anything yet.