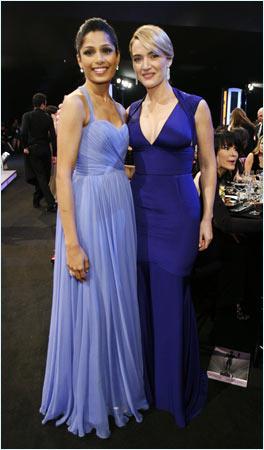 The rise to superstardom of Mumbai's own Freida Pinto has been so meteoric, it's almost impossible to believe.
From just another model in a city of so many aspiring to be the next Jesse Randhawa or Ujjwala Raut, in a few short months Freida has become the toast of Tinsel Town.
Recently, she was featured in a full-page portrait in high fashion magazine Vogue.
Now, she's been profiled by the Los Angeles Times, in an article titled 'Slumdog Millionaire's' Freida Pinto gazes beyond India'.
The article describes how far Freida's come -- from jeans and t-shirts in Malad to Moschino on Mulholland Drive -- and also shows how quickly she's adjusted to fame.
For instance, the piece describes a typical day out on the town for Freida, wherein she wears Chanel shades, casually interacts with paparazzi and is on the look-out for Prada wrist-wear. Not bad for a middle-class girl!
And, on the red carpet too, she's been the talk of high-profile fashionistas. Whether it's Oscar de la Renta or Christian Lacroix haute couture, Zac Posen or Marchesa, everything she's donned has been a surefire hit.
It's great to see such interest in a home-town girl. One who has half of Hollywood asking the same questions: What's next for Freida Pinto? And how can I be a part of it?
Freida poses with Kate Winslet. Photograph: Mario Anzuoni/REUTERS